A road approaching a burial ground in South-West Clare is "badly in need of repair," the most recent meeting of the West Clare Municipal District heard.
Cllr Gabriel Keating (FG) tabled a motion appealing to the local authority to complete a road restoration programme at Kilcrona Burial Ground including drainage works. "Sections of this road were completed in 2019 with the remainder to be completed under 3-year programme," he recalled.
His request will be discussed when the 2021 schedule of municipal district works is discussed, senior executive engineer Alan Kennelly responded.
"It wasn't done over the three years because of the work involved," Cllr Keating told the meeting. The Cross native highlighted that the majority of cars park on the road side of the graveyard. "I'd be insisting that we do this on this programme, it is only a small bit but it badly needs to be done".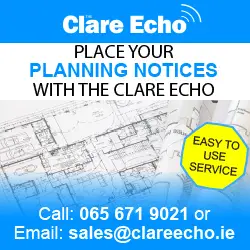 Adequate funding is allocated to Transport Infrastructure Ireland (TII) for such works, he felt. "It is badly in need of repair," Keating concluded. Cllr Ian Lynch (IND) supported his call.