Seven months into her tenure as CEO of Carrigoran House, Marie O'Malley has outlined that the return of friend and family visitations following the full vaccination of staff and residents across the campus has provided a huge lift.
Marie O'Malley took up her new post within the Newmarket-on-Fergus facility in November, having spent over 20 years in senior positions throughout nursing homes. The Limerick woman began working in nursing homes due to the circumstances of her life and immediately fell in love with caring for the elderly.
Returning to Carrigoran, where she worked between 2000 and 2011, followed by a spate at two other facilities including working in the area of spinal and acquired brain injury, Marie feels that there is "something magical about Carrigoran." Her duties include the overall responsibility of the campus including the day care facilities, independent living facilities, assisted living facilities as well as the nursing home and the surrounding land.
A renewed sense of freedom and happiness has reinvigorated residents across the 109 bed facility. "There was a sense of disbelief amongst people, saying 'have we got through this safely and how lucky are we, all being alive after this horrendous year and a half.' It's wonderful to see all the residents from different units chattering up and down the corridor, mixing and seeing their friends. Everybody is just beaming and smiling," the University of Limerick nursing graduate stated.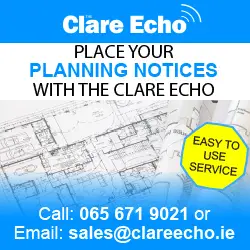 Following two weeks of nice weather, Carrigoran House prioritised getting residents outside into their walled gardens, with a mixture of walking, transit chairs and two of the facilities special golf buggies which were going "from morning to night." Residents are now permitted four visits per week, with two people allowed to attend each visit. These can take place indoors and are not solely limited to family members.
Looking to the future of the facility, Marie supports a big shift to home care, with the aim of "keeping people at home longer" through day care and respite services. In her eyes, this is the perfect solution, with many residents preferring to live independently with a small degree of assistance. Carrigoran House has always been noted for its vision around person centred care, before it became a popular concept in care, she stated.
"I always say a nursing home should be halfway between a hospital and a hotel. It should have clinical services and experience but also be about promoting lifestyle. It's about being appreciated as an individual. What we want here is a complete campus with freedom and fun. Life is for living, at all stages."