A retired Air Corps helicopter rescue pilot now living in Clare has penned a memoir detailing some of his most memorable rescues across a 20-year career in the military.
Born to a Liscannor man who was at the time, a headmaster in a primary school in Blanchardstown, Dublin born Commandant Frank Russell realised "his boyhood dreams" of flying when he joined the 39th Cadet Class in The Curragh in 1964 and later received his wings from the Air Corps in Casement Aerodrome, Baldonnel in 1968.
For four years he flew a De Havilland Vampire Jet, one of the last that the Air Corps had, which can now be seen on display at the National Museum in Collins Barracks in Dublin. In 1973, Frank decided to volunteer for the Helicopter Rescue Service within the Air Corps, who were providing the National Rescue Service and Air Ambulance within the country at the time.
Immediately assuming a dangerous role, Frank now "looks back with pride" at his rescues including those in Galway, Sligo and cross border military operations during the troubles. "Everything we did was for someone else, it's a great way to live and to work. At the end of the day or night, the feeling of rescuing somebody was something special," the retired Ballyvaughan resident added.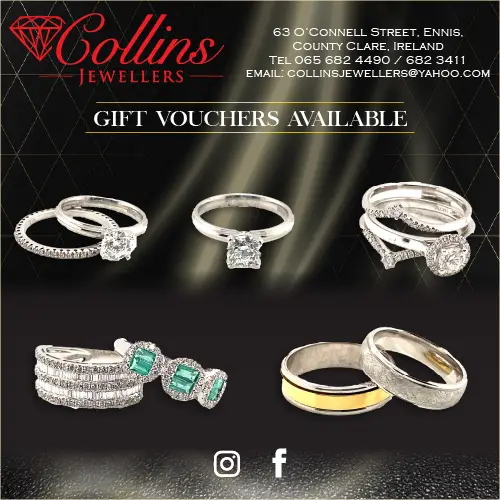 Opting to collate his memories into a collection during the lockdown, Frank teases readers by linking his first "most memorable" story and his last, which uncovers a mysterious element to his first rescue over 45 years later.
His first Search and Rescue (SAR) mission in the summer of 1972 is "certainly the most memorable" and "one that I haven't forgotten." Posted in Dublin, Frank and his crew received a call concerning two French sailors who were marooned off their trawlers along the coast of Co. Galway. "Taking two hours to get to them, we didn't think much of their chances before arriving," he admitted. Landing on the rock they were stranded on, one of the crew managed to winch the first heavy, large-bearded sailor onto the helicopter.
So excited to be saved from the clutches of an unkind death, he slapped Frank on the shoulder in a gesture of gratitude, causing the helicopter power lever to drop suddenly and the vehicle to plunge towards the sea. Managing to gain control of the helicopter "just above the head of the second sailor", Frank issued a warning to his crew to "calm that man with whatever means necessary." The second sailor when rescued was too tired for any such antics, he added.
A chance cup of coffee on Inishboffin and 45 year later would unravel the mystery of how two French men became stranded on a rock at the base of a cliff and what a French trawler was doing inside Irish Territorial Waters at the time. The first and last stories of Air, Sea and Land Memories – a pilot revisits are intentionally linked. All proceeds of the book will go towards LARCC Cancer Support Centre near Mullingar Co. Westmeath.
A Co-Founder of the Centre in 2002, Frank battled his first bout of cancer in 1998, being diagnosed with cancer of the neck. In 2006, he received the news that he had prostate cancer and has since, won his battle with a diagnosis that hits 3,890 men In Ireland per year and one in seven during a lifetime.
"There is a lot in the book for Clare people including a revisit of a crash from a Shannon flight, 607E in 1958, which I looked at as part of my role within the Department of Transport as an Inspector of Air Accidents that I retired from in 2009.
"I have a deep connection with Co Clare through my father, who was the first cousin of the famous Russell brothers, who renowned musicians from Doolin. My grandparents are buried at St. Brigid's Well along with my brothers Paul and Kevin."
Copies of Frank Russell's Memoir can be purchased from the Ennis Book Shop or Hayes Print Stationery Shop on Main Street in Ennistymon.