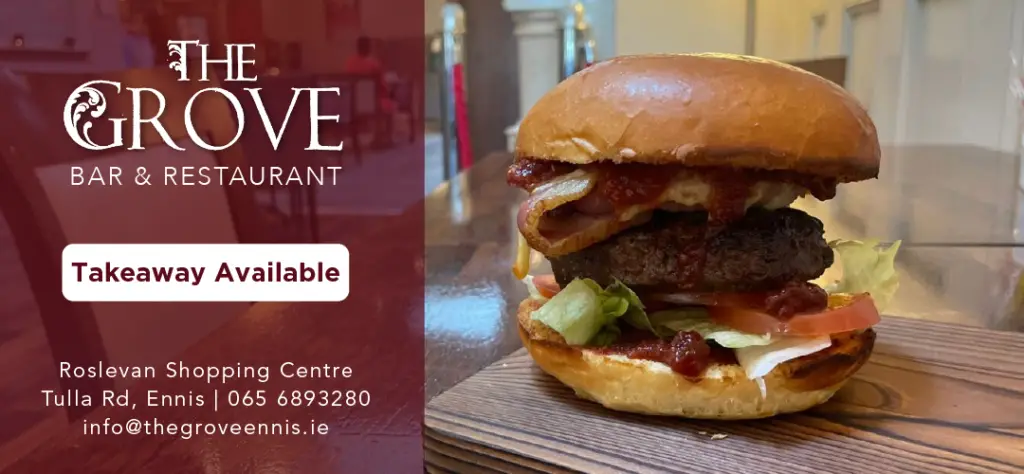 *Photograph: Joe Buckley
A NUMBER OF ROUNDABOUTS in Clare are to be considered for renaming in a bid to "enhance the marketability of the county for tourism and benefit of Shannon International Airport".
In a proposal before Clare County Council, Cllr Pat McMahon (FF) asked that the feasibility of naming roundabouts after famous people, historic events and local landmarks be considered.
Director of Rural Development, Leonard Cleary said the local authority would pursue "every opportunity to market Co Clare nationally and internationally and Shannon Airport as the gateway to Clare". He noted, "The naming of roundabouts, new roads, streets and monuments is a function entrusted to the placenames committee who would need to be consulted on this motion".
Sharon Shannon, Michael Cusack and Anthony Foley were among the names suggested by Cllr McMahon who also referenced the Kilfenora Céilí Band, Tulla Céilí Band and Spancilhill as possible ways to promote the county's ties to traditional music. Tuamgraney could have a sign to demonstrate it is home of the Aga Khan, he said while also mentioning the West Clare Railway. "We are called the Banner County and I wish we'd show that banner".
Tourism's importance to the county was stressed by Cllr PJ Ryan (IND). "We are all aware that tourism is an important part of our financial support and wellbeing of the county, it is one of the industries that can never be taken from us by a corporate body". Streets of Ennis pay homage to Daniel O'Connell and Charles Stuart Parnell, Cllr Pat Daly (FF) said while suggesting big names in local politics be remembered.
Use of roundabouts in France to promote rugby and the Tour de France was referenced by Cllr Mary Howard (FG). "We have these spaces we're not using and utilising, this is a very important notice of motion. Clareabbey is a huge green space which is not living up to its potential". She said the placenames committee had not met in eight years and questioned how the proposal would progress. Clarity was sought by Cllr Clare Colleran Molloy (FF) on the personnel sitting on the committee.
Icarus' statue in Ennis also entered the debate with Cllr Michael Begley (IND) calling for his exit from the town, "I'm not sure what significance he has with Ennis". Cllr Johnny Flynn (FG) advised his colleague that the statue was donated to the town by a private sponsor, he suggested mobile art features be moved around various roundabouts to "excite people".
Efforts of the late Colm Wiley to secure the name of East Clare roundabout by the M18 was acknowledged by Cllr Pat Burke (FG). "I don't normally praise the Fianna Fáil crowd, he stuck his heels in and got the roundabout changed, he was adamant it would get christened the East Clare roundabout".
Chief Executive of the Council, Pat Dowling said he was "listening carefully" to the views and noted the opportunity within their grasp. "Our roundabouts were used very successfully in the context of hosting Fleadh Cheoil, we developed a very good reputation with how they were used with modern public art".
Dowling reminded councillors of obligations under biodiversity and pollination for certain roundabouts, "many people in this room who want them left as they are". Though unsure of the placenames committee current standing, he committed to management engaging with councillors to develop pilot projects around the county "rather than naming every roundabout in the county, some of them have names already so we have to be sensitive about that".