David Reidy and Donal Moloney will have their appeals heard tomorrow (Saturday) in Croke Park to see if their suspensions will be lifted in time for the Munster Final against Cork on July 1st.
Éire Óg's Reidy was shown a straight red card in Sunday's eleven point win over Limerick. Referee James Owens dismissed him for a minimal strike on Diarmuid Byrnes, a former teammate of Reidy's at LIT.
Donal Moloney has been issued a proposed two month ban. This comes following an altercation with a match official during Clare's dramatic two point win over Tipperary in Thurles.
Moloney is determined to clear his name but feels it will be of little significance if his suspension is upheld. "I would always have respected officials and opposing team managers. We've great relationships with opposing team managements. We sometimes find this to be a lonely spot so we confer and collaborate behind the scenes quite a lot, much more than people actually think.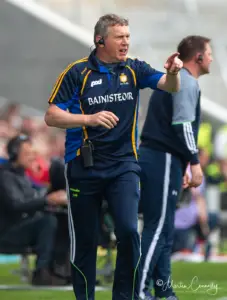 "We compare notes when we're in difficult spots and so on. That is always part of it. I am obviously going to appeal and whatever decision is made we will absolutely respect it. It doesn't matter whether I am on the top tier of the stand or down on the pitch because we're all mic-ed up and we've had different scenarios during the league and I went up to the gantry and Gerry stayed down on the sideline".
He added, "But David is key and I think, to be honest, we would hope that he could get some part to play. Video evidence probably shows he's not guilty of the charges put against him but I'm not going to pre-empt the CCCC – they have their processes and their duties and we will absolutely respect whatever decision they come up with."
On the injury front, Sixmilebridge's Seadna Morey is "doubtful" for the provincial decider. He sustained a dead leg in the victory over Limerick, his rehabilitation only started on Wednesday as swelling had yet to go down.