*David Reidy. Photograph: Gerard O'Neill
Back to the inter-county fold after a year's absence, David Reidy has upped the ante so far as his preparation is concerned.
Eagle eyed spectators of Clare's eight point win over Laois on Sunday would have noticed that the Éire Óg attacker wore different bodywarmers in either half. It wasn't to do with sponsorship deals and more rather trying to stay warm during a game that had all four seasons.
"I was fully prepared, change of shorts, change of jersey, change of socks, I had all the second gear in the bag," he told The Clare Echo. Such was the amount of spare time Reidy had during Storm Dennis that he even shared his egg juggling ability, a day before the Laois win. "It was stormy yesterday, we didn't get a chance to go out, I was bored at home so I had to occupy myself somehow".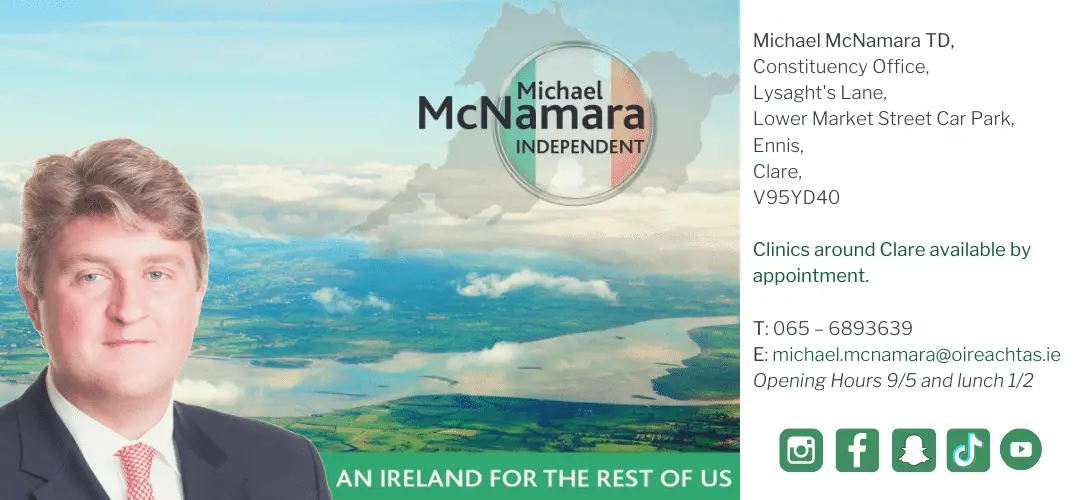 Players didn't pay too much attention to the weather forecast in anticipation of the game, the LIT Marketing Officer said. "Once the big shower of hail and rain fell it was complete cold, it was hard to get warm again. Any stoppage in play in the second half, I just kept moving to keep warm, the worse thing you could do was get cold because if the ball came you would drop it".
"We knew there was going to be wind and rain, driving here there was a bit of thunder and lightning but you have to prepare yourself to be game focused, if you're not doing that before the game you will be coming to it in the wrong mindset".
Sitting in the cold of the stand didn't deter substitutes who did well on their introduction. Reidy maintained their impact was "massive". Domhnall McMahon got a point, Aron Shanagher got three points, it gives you a new lease of life when those lads come on. Once you have the jersey you do not want to give it away, it pushes you on".