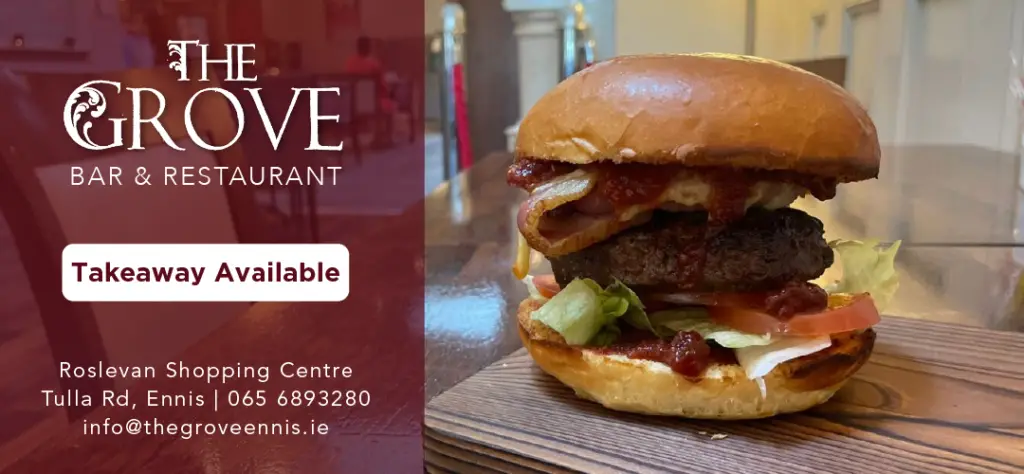 *Monica Callinan with Kilmihil's Eimear Considine. Photograph: Burren Eye Photography
RECRUITMENT OF REFEREES must be a priority for Clare LGFA in the coming year, the departing secretary of the Executive has said.
Kilmihil's Monica Callinan stood down from the role after five years as secretary. Her decision to resign had been known for some time with efforts ongoing to find a successor after none was appointed at the AGM.
Noting that it was the first in-person AGM since 2019, Monica referenced the difficulties faced by clubs and communities during the pandemic.
Fixtures prove to be a headache for most secretaries of sporting organisations and ladies football is no different. "Fixtures is something that has to be reviewed annually as every year throws up something new. The condensed club window in some instances resulted in a direct clash with GAA games which can leave our fixtures committee scrambling at the last minute to secure a venue and referee," she said.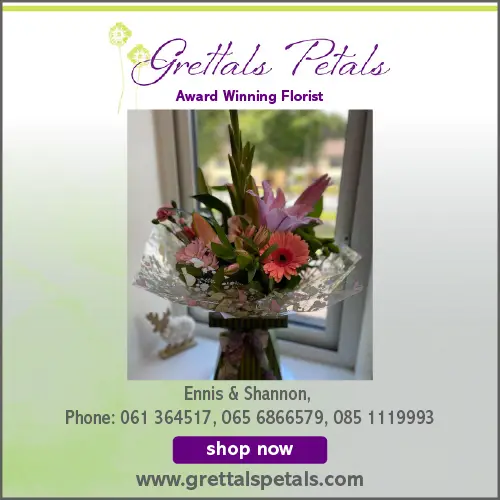 Marie Louise Kaiser, fixtures secretary of Clare Camogie and a member of the ladies football fixtures committee assisted to avoid dual-clashes where possible, Monica outlined. "While some unpopular decisions have to be made, they are always in good faith and in keeping with LGFA rules". Kaiser was joined by Ann Marie Callinan, Sheila Murphy, Edel Conway and her LGFA counterpart Deirdre O'Dwyer on the committee.
Adult championship "tends to present the biggest challenge, particularly the time the game is scheduled and I know this was highlighted on social media over the course of the year. I would like to take this opportunity to clarify that the default time for all adult championship games is 2pm Sunday, however clubs by agreement can fix a game at a time that facilitates their players' schedule. At adult level in ladies football, we have players as young as fifteen playing on adult teams, most of whom have part-time weekend jobs which must be accommodated. Another factor is pitch availability which can at times prove difficult. It is for these reasons that some championship games were played early morning and while it can be said this does nothing in promoting the game the alternative is to have games postponed and competitions ending up in disarray".
Between March and October, 42 ladies football finals were played with playing opportunities for over 2,500 players from U14 to adult level. Minor has proven to be "a difficult competition to organise as the majority of players in this age group have involvement across different levels that along with state exams and part-time work commitments impact on fixtures," she flagged.
A narrowing pool of referees is becoming evident for all games, Monica cautioned. "Referees are in short supply and with the split seasons it means ladies football on occasion is up against GAA games all pulling from the same pool of referees. Recruitment of new referees must be a priority for Clare LGFA going forward and I would ask all clubs to encourage suitable members to consider becoming a referee".
Organising the Clare U12 Peil na gCailíní competition which was held over July and August culminating in a festival of football on September 18th was a huge success, she believed. Sixteen finals were played across all divisions with all clubs represented on the day. Monica commended the Development Committee, particularly Claire Queally for organising the competition.
In her report, Monica commended all players and managements involved with county teams. "To be an inter-county player at any grade requires huge commitment and sacrifice and time away from family and friends and this is not always acknowledged so I would like to acknowledge that now". Clare winning Munster and All-Ireland titles at minor level was "a great achievement".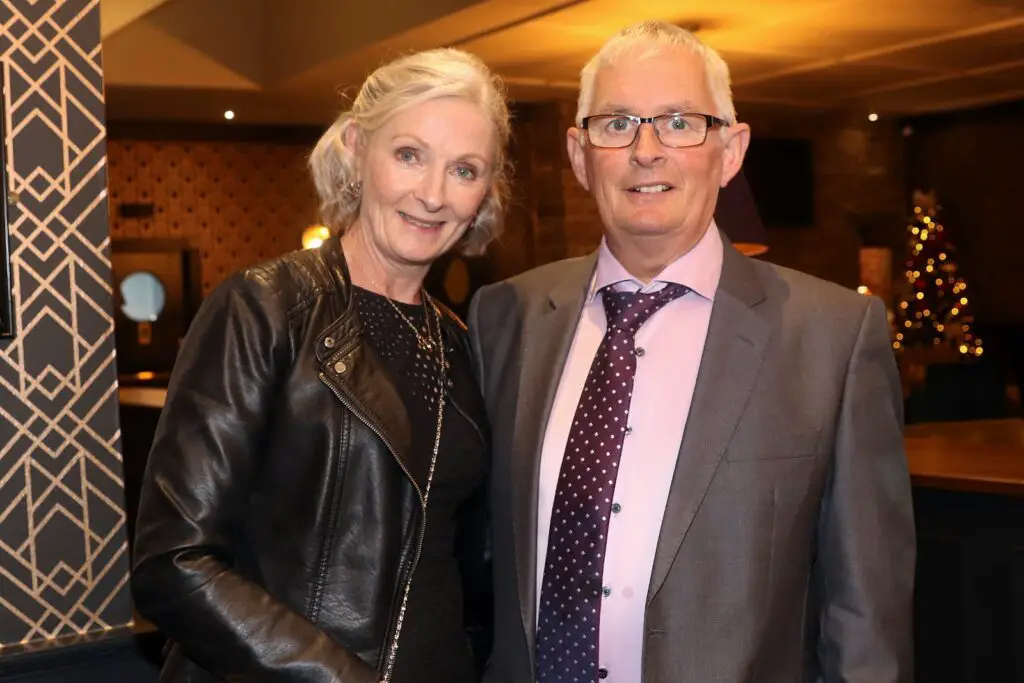 Callinan predicted the work of the Development Committee (Pat Walsh, John Torpey, David Nagle, Enda O'Flaherty and Claire Queally) would bear fruit in the coming years. "It is widely accepted that in order to grow our player base the focus at U12 must be on player development and remove the 'win at all costs' mentality from the game at this level". A player development program for U13 and U15 players plus a S&C equivalent for U14, U16 and minors were among the schemes ran to aid the improvement of players.
Relegation from Division 2 of the National League followed "a disappointing league campaign". Prior agreement meant despite Clare winning their three games in the Connacht championship that they could not contest the final.
She voiced appreciation to Evan Talty and his management who stepped down following their exit at the hands of Laois. The management continued "to improve the standards and creating a professional training environment for the team. I know we have a core group of talented and committed players who are willing to make the sacrifices necessary to achieve and I am confident that these players can achieve their ultimate goal".
Use of Cusack Park "on a number of occasions" in 2022 served as a big lift, the Monaghan native maintained. "It meant so much to our players to line out and represent their county and club in our county grounds and going forward I hope there will be many more such opportunities provided". The outgoing secretary paid tribute to all volunteers within clubs responsible for lining pitches, putting out flags, preparing dressing rooms and bathrooms.
Backing of sponsors has enabled Clare LGFA "provide much needed resources required to develop our players and prepare them for competitions. Rengen Power remain as the main sponsor of ladies football in the county.
Input of The Clare Echo, The Clare Champion and Clare FM in promoting the games was referenced, "I hope you will continue to promote our games and give these young women and girls the media coverage they deserve," she said. Photographers, Willie O'Reilly, Gerard O'Neill, John Kelly and David Dillon were also lauded for their "unique ability to capture the intensity of a game in one picture is so powerful and your images do so much in promoting our game".
Concluding her report, Monica remarked, "It is time to move on and give the opportunity to someone else to come in and bring their personality to the role. I have made friends because of my involvement with Clare LGFA and that is something that I did not expect but for which I am extremely grateful. I would like to acknowledge all the support and help I received from the club officers over the years. Knowing I could call on you for advice, support or help at a game made my job a much easier one. I have been very fortunate to have worked alongside some wonderful individuals on our Executive this past five years and I would like to thank each one of you for the time you give and the work you do on behalf of all the clubs and players in the county. I know I am leaving Clare LGFA in good hands with a committed Executive that will continue to put the interests of Clare LGFA first".
She offered sympathies to all involved with ladies football who suffered bereavements in 2022, "it's easy to sometimes forget there is more to life than football but when we lose someone it tends to put things into perspective". The death of Vicky Phelan was also referenced, the campaigner "who set aside her own issues sacrificing many hours of her time so that we the women of Ireland can expect to receive a better level of care in the future. Co Clare was a special place to Vicky so as the Clare LGFA board I think it is appropriate that we acknowledge her passing and extend our sympathies to Jim, her children, Amelia and Darragh and all her family and wide circle of friends".
Following her address, Monica was presented with a bouquet of flowers by Clare LGFA Chairperson, Seán Lenihan. "Monica has done a superb job as secretary, it is the hardest job, the chairman's job is a doddle when you have a good secretary and Monica has been exceptional, she made my job and that of my predecessor's Kieran Harvey lord rest him and David O'Brien very easy".