AS Storm Lorenzo failed to blow like a true fiery Italian last Thursday night, this writer instead opted for a spicy Indian when visiting Ennis's newest Indian & Thai cuisine restaurant, Red Onion. While there is already a selection of popular Indian and Thai eateries in Ennis, don't stop reading just yet – Red Onion should not be grouped among them and there are a few reasons for that.
The process of being greeted and seated at Red Onion is as seamless and friendly as you would expect from a restaurant of this variety, however I hardly had time to appreciate it as I soaked in the lavish surroundings. Soft, velvety furnishings and dim lighting paired with mammoth booths and a giant fish tank make this one of the most enjoyable settings in Ennis. While Indian and Thai food are popular takeaway options, the 'dining out' option is advisable here.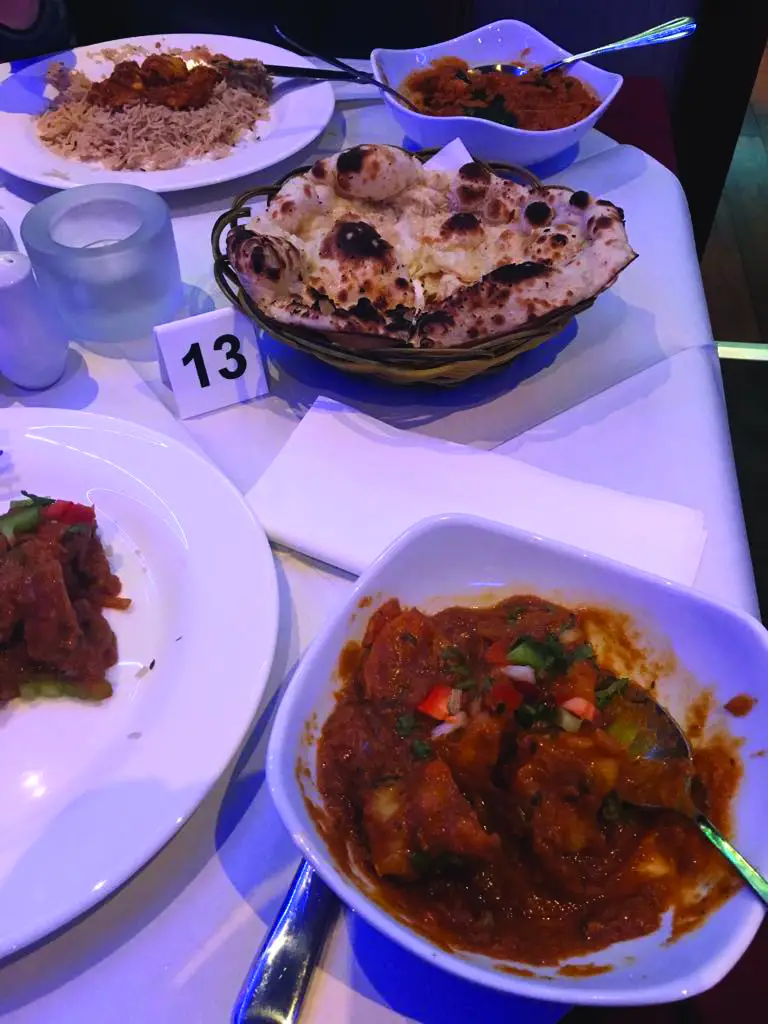 With the mood set, we chatted over papadums, a mix of chutneys with a cold beer in hand (one Tiger and a Cobra which is offered on tap!) while our starters were being prepared by Red Onion's two chefs Ram and Prem, who also happen to be the owners.
STARTERS
Two Indian classic starters were ordered to the table; vegetable samosa and vegetable pakora. The samosa was satisfying and worked well with the accompanying fresh salad and thick, tamarind chutney; the vegetable pakora was the best I ever tasted – a light and crisp outer layer with a bright coriander garnish giving way to its soft and ultra-flavoursome core. It all made for a well-balanced and moreish starter.
MAIN COURSES
For the mains, we ordered Chicken Madras and Prawn Balti with lemon rice and garlic naan bread. The bright and colourful presentation was matched in every way by the flavour and quality. The Prawn Balti sauce was delicately flavoured and more textured than what you'd expect from an Indian dish, the fresh vegetable ingredients adding a subtle crunch. The Chicken Madras however was the star of the show and in the words of my eating companion, "one the best Madras I've ever had". This beautiful breasted chicken was accompanied by distinctly fresh Madras curry sauce. This was well balanced and not overpowered by heat, as can often happen with hot curries of this variety. The coconut and tossed mustard seed flavours burst through this chunky fresh sauce and made this a dish to remember. Portion sizes were generous and it's worth noting that the naan was fluffy and soft in the right places, with a light smattering of garlic.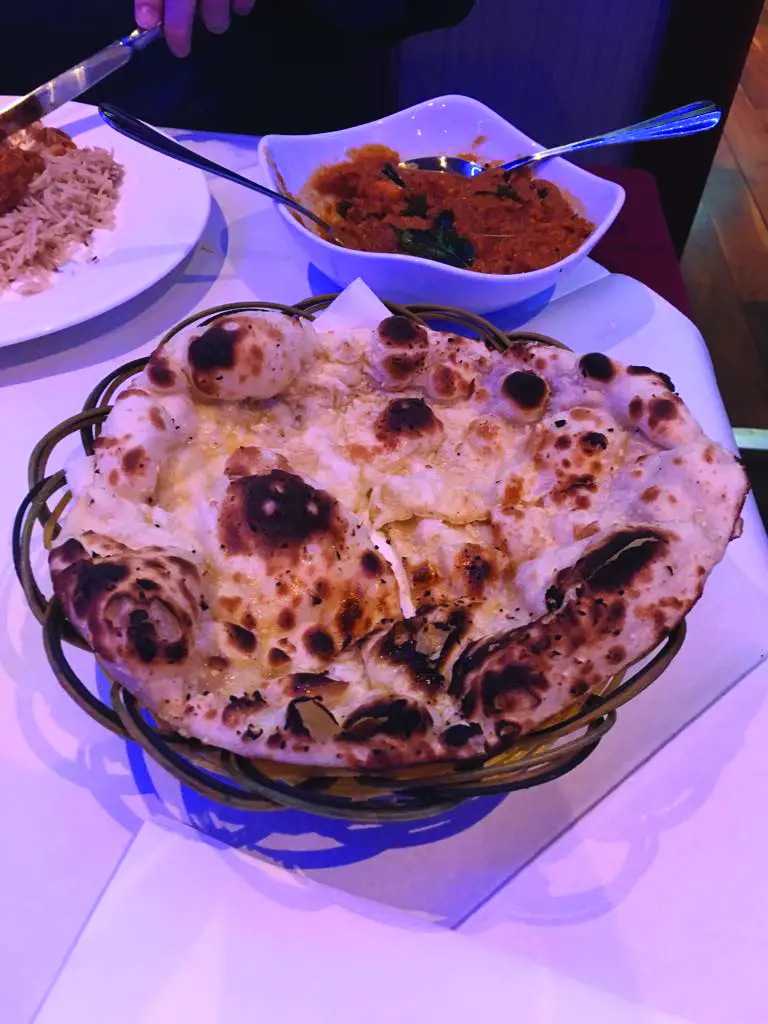 THE RED ONION WAY
Our waitress, Phriti took our dessert order (despite being full, she twisted my arm) and as we waited, Red Onion's co-owners Ram and Prem along with the restaurant manager Aneessha, who is a graduate of the Shannon College of Hotel Management. Together, they told me about their background and the Red Onion formula.
Ram and Prem are Nepalese natives who have a wealth of experience in the restaurant industry, having most recently worked respectively in the kitchens of Adare Manor and Copper & Spice (in Annacotty). With a hand-picked team of staff, they told me that Red Onion refuses to compromise on quality – and that definitely tied in with my eating experience. When you dine at Red Onion, there's a commitment to delivering the best ingredients available so everything from the meats to the sauces and rice are on the higher end of the quality scale. Ram tells me that since moving from Adare Manor, his regular customers have followed him to Ennis with his jumbo prawn butterly starter and famous Makhani (butter chicken) main course proving particular favourites (note to self for next visit). It's worth noting that a 3 course early-bird menu is available for a very reasonable €20 (5-7pm)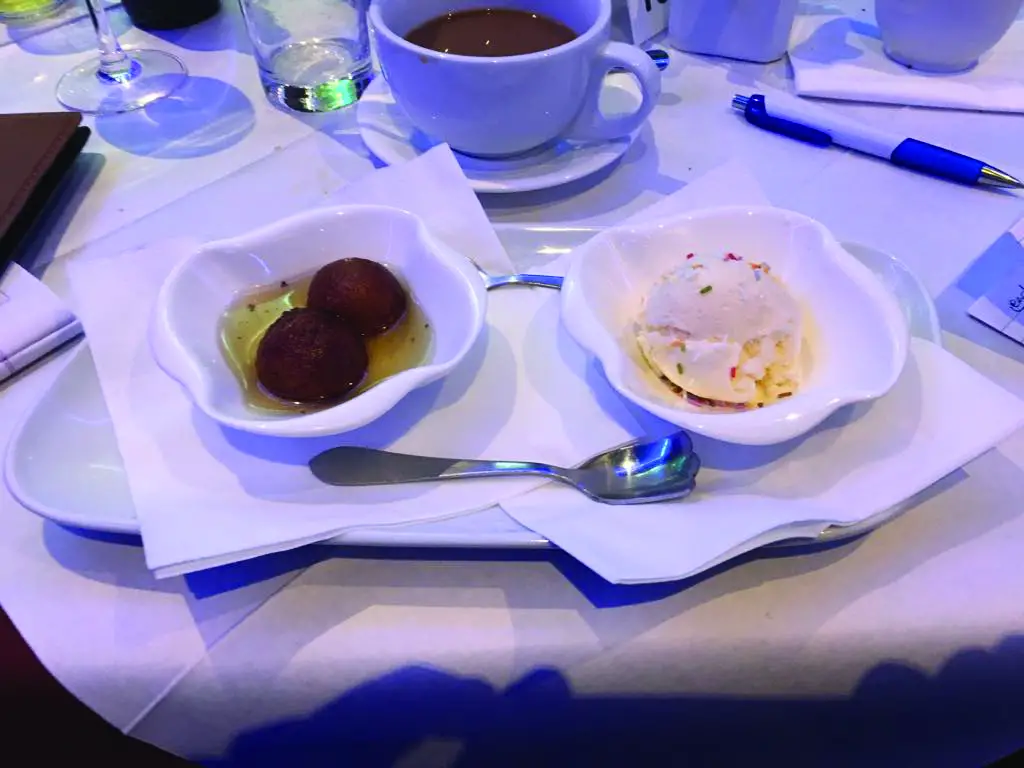 DESSERT
Much like peeling the layers of a red onion, the layers of this restaurant's high standards became more apparent the longer I experienced it. A fine example of this was when I was offered dessert, something which is all too often an afterthought at Indian restaurants. Not here, though. A succulent, delicately sweet and small treat called Gulab Jamun, which is a milk-solid based sweet reduced to the consistency of a soft dough. A small and sweet way to finish the evening.
VERDICT
I have to divulge that this wasn't my first time eating Red Onion. In its first week in business, I ordered takeaway and must stress that the dining in experience was head and shoulders above when it came to freshness and presentation; when the price is the same, eating at the Woodquay premises is definitely the best option. This would make a great contender for a Christmas party bash (there are huge tables and a private dining room) or a night out with the family for the Halloween Bank Holiday.
Each table is adorned with a pair of roses and I have to admit, love was in the air by the time I was finished dining at Red Onion. Storm Lorenzo turned out to be an over-hyped letdown, however the same cannot be said for Red Onion. I will return and if these high standards are maintained, Ennis people will be enjoying Red Onion for years to come.