*Photograph: Sean Curtin / True Media
390 new cases of COVID-19 have been recorded across the country with no increase in the amount of deaths.
Cork, Galway, Monaghan and Roscommon were singled out by Acting Chief Medical Officer, Dr Ronan Glynn as counties were strict obedience is essential regarding public health advice. "With the way this is moving it is possible that recommendations could be made about any county," he stated at Monday's Department of Health press briefing.
Of the new cases announced on Monday evening, 66 percent involved individuals under the age of 45. Detail on the geographic location has shown 209 cases are in Dublin, 27 in Cork, 22 in Donegal, 21 in Galway,14 in Kildare, 14 in Monaghan, 7 in Roscommon, 7 in Tipperary, 7 in Waterford, 7 in Wexford, 6 in Limerick, 6 in Longford, 5 in Laois, 5 in Meath, 5 in Offaly, 5 in Sligo, with the remaining 23 cases in 8 counties. It is unclear if Co Clare is one of the 8 counties.
"We know the key actions to take to stay safe, by keeping a 2m distance, reducing your social contacts, wearing a face mask, covering coughs and sneezes and staying at home and contacting your GP if you start to feel unwell, you are doing everything you can to take care of yourself and those around you," Dr Glynn stated.
Presently, 112 individuals are being treated in Irish hospitals for COVID-19. Liam Woods, HSE National Director, Acute Operations outlined, "As numbers increase in the community, the pressure on healthcare workers and frontline services intensifies. We need to continue to pull together in the coming weeks to minimise the spread of the disease in our homes, our communities and our workplaces, to ease the pressure on vital COVID and non-COVID healthcare services".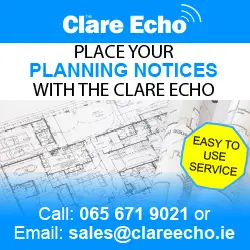 Following analysis by the Health Protection Surveillance Centre, it has emerged that there were 15 new cases in Clare on Saturday and not the 12 initially reported.
Monaghan 643 (+15)
Clare 558 (+15)
Kilkenny 454 (+2)
Laois 442 (0)
Roscommon 423 (+8)
Kerry 384 (+4)
Wexford 374 (+1)
Longford 335 (+2)
Waterford 330 (0)
Carlow 281 (0)
Sligo 175 (+4)
Leitrim 116 (+1)#COVIDー19 no new cases in 3/26 counties from Saturday's figures.

— Páraic McMahon (@thepmanofficial) September 28, 2020