This week, Miss Clare Rebecca O'Neill takes us inside our make-up bag and outlines her five key essentials.
For a lot of people, make-up is a large confidence boost to help people get out of their house. It can initially determine anyone's day, depending on their mood and how they feel while wearing it. A wide range of people cannot leave the house without having that key staple in their make-up bag.
My self confidence definitely increases when it comes to make-up. I want to talk about my top five must haves that are affordable, even maybe something to think about to treat yourself for Christmas.
1 – Foundation: My favourite foundation that I almost could not live without is Maybelline 24hour Super stay. This foundation is so light on the skin making you feel like you have nothing on your face! While ensuring you that it stays on your face all day long. Considering the masks we wear, this is most certainly essential and so affordable. It can usually be found in a pharmacy near you.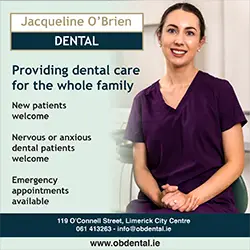 2 – Concealer: This product I have used for the past year and a half and I can't seem to budge from it! It is called the Milani Conceal + Perfect longwear concealer. This concealer is sure to hide dark circles, under eye bags and blemishes which is very handy when you get little sleep. This product can be bought on Beauty Bay online. Another concealer that has the same benefits is Maybelline Fit Me Concealer, which can also be found in your local pharmacy.
3 – Mascara: Definitely for some, mascara is a must have. As it applies colour to your lashes and makes them visually look longer, this can give an illusion of your eyes looking more awake and bright. My favourite product for this would have to be the Benefit Bad Gal Bang volumising mascara. This would be a perfect treat for Christmas and can be found on Boots' website.
4 – Highlighter: Inglot Jennifer Lopez collection in the shade "livin the highlight" is my favourite to highlight the high points on the face, while leaving a youthful and dewy glow. The best thing about this, is that you don't just have to use it on the face. You can also use it on your eyes and body. Giving you that healthy and dewy skin we always love. This product can be shopped on the Inglot website.
5 – Bronzer: There are a lot of different products that you could use to bronze your face. Also considering your skin tone and your favourite shade of bronzer. My favourite is the Mac Bronzing Powder. I use this to contour my cheekbones, forehead and nose to warm up the tones on my face. Maybelline Bronzing Powder is another amazing and very affordable product that can be found in your local pharmacy also.
A self confidence quote from Mandy Hale is one I really like and one to associate with this week's column. "Confidence is the ability to feel beautiful without needing someone to tell you".