Sixth class students at Quin National School (NS) have come together to create a proposal for the development of Quin village as part of the Clare County Development Plan 2022-2028.
Put together by senior management within the school, Clare County Council asked for pupils to offer their opinion on what the village needs. Delivered in the form of a YouTube video, filmed by 6th class teacher Mr. Murphy, students identified four key areas of development that they would like to see implemented into the plan: transport, environment, recreation as well as history and culture.
Quin NS was built in the early 1960s and has since seen several renovations and extensions leading to extra classroom space in 2016 and a new general-purpose room in 2017. "There has been a huge population growth in the village in the last 15 or 20 years," explains Fergal Lynch, who has been teaching in the school since 2007 and principal since 2015.
The primary school now accommodates 287 pupils and a total of 16 class teachers. Fergal explains that Cllr Joe Cooney (FG) and Roads Engineer Tom Mellett visited the school and advised to put in a proposal for forward planning.
Citing some concerns leading up to the proposal, Fergal states, "There are issues in relation to the safety of children travelling to and from school, with inadequate road structures and footpath, signage and speed limits that need to be reviewed. We hope to strengthen the village as a whole and make it a safer place to live. Quin is a unique place in that it is a historical village with the abbey, its close to the Wild Atlantic Way and it's between Ennis and Shannon as well as Galway and Limerick, making it perfect for a digital hub."
Quin NS places a huge pride in promoting sport in the school and is looking to strengthen its facilities by adding a four-lane running track around its GAA and astro pitch. "The school is also really steeped in the traditional Irish music part of the curriculum, with several teachers being members of the Kilfenora Céilí Band," Fergal informs. Adding that, "We hope to develop these areas further and promote the school to be the best in the county."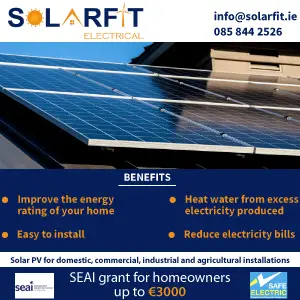 Fergal hopes that the proposal put forward by students will result in a youth club or facility that would meet the needs of Quin students when they reach the ages of 12 to 18. "Their input is very important so that we can see, through their eyes, what they would like to see in their village and also promotes a bit of pride of place there as well," the former Clare Senior Hurler concludes with.