*Madeline Taylor-Quinn being honoured for her contribution to Clare County Council by former Mayor, Tony Mulcahy. Photograph: Sean McInerney.
Clare's first female TD features in a new publication chronicling the contribution of women to politics Cumann na nGaedhael and Fine Gael.
Elected to Dáil Éireann in 1981, Madeline Taylor Quinn describes her thirty years as a public representative as a privilege, two years previous she stood successfully for Clare County Council. A chapter is dedicated to the Kilrush woman in 'Proud to Serve: The Voices of the Women of Cumann na nGaedheal and Fine Gael 1922-1992' which is written by Martina Murray and Maria Hegarty.
Launched on Tuesday by An Tánaiste Leo Varadkar (FG), the online event to celebrate its release also included a panel discussion with Minster for Justice Helen McEntee (FG), former Justice Ministers Frances Fitzgerald (FG) and Nora Owen (FG) which was moderated by Cllr Yemi Adenuga (FG).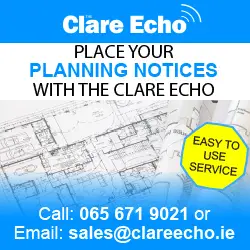 During her teenage years, Madeline made speeches in churches across the county when her father Frank ran for election in 1969. She set up branches of Young Fine Gael in Kilrush and UCG while she was the first individual outside the parliamentary party to hold the post of honorary secretary.
She recalled, "I had this wonderful, naïve view that if you got actively involved in the political system you could actually forge change in society. In my latter teenage years, I was particularly concerned about the poverty I saw around parts of rural Clare. I thought the treatment of women who got pregnant outside marriage was wrong, and the way children born outside wedlock were treated was appalling. People claimed to have all these great Christian principles, but they were applying none of them to children".
After losing her Dáil a seat in February 1982, she sat on the Seanad until returning to the Dáil in November of that year. In the book, she revealed that rumours of drink-driving and getting an abortion in England were circulated to upend her chances in a "character assassination". She addressed the issue at the next convention threatening to pursue legal action with anyone found to spread such falsehoods. "There were about eight hundred people there that evening, and afterwards not one person asked me what I was talking about. That, to me, was the biggest shock. It was much wider known than I had realised, and nobody had said it to me".
Taylor-Quinn continued as a TD until 1992, serving on the front bench as Fine Gael's spokesperson on Marine, Defence and European Security for six years alongside Clarecastle's Donal Carey, she referred to them as a duo as "some kind of pin-up novelties". She returned to the Seanad from 1992 until 2002 where she was Deputy Leader.
MTQ is credited with saving Fine Gael from losing their representation to Sinn Féin in the Ireland North-West Constituency during her run for European office. She polled 43,400 votes and helped to elect Jim Higgins (FG). She retired from Clare County Council in 2009, prior to this she became the party's first Mayor of the local authority.
"Women around an issue can be a powerful force, but until you get more of a body of women involved in the organisation, you can't possibly have as many women coming to the surface in conventions, despite the quota. As women we were part of a change and our presence brought a different view point into Dáil and parliamentary party discussions on many issues. You wouldn't be even aware sometimes of where you were making an impact," she outlined.