A public consultation meeting will take on board "the concerns of the community" on Tuesday evening ahead of a proposed development at Ashline, Kilrush Rd in Ennis.
Elected members of the Ennis Municipal District were briefed last week about the planned development. The Council recently acquired 0.683 zoned residential and low density residential from the Killaloe Diocese. They now intend to combine this with a 0.93Ha adjacent site in their ownership to develop a social housing scheme to address the high needs in the county town.
In 2017, the Council applied to the Department of Housing, Planning and Local Government for funding for forty units in Ashline. At present, an estimated 1,112 applicants are on the housing list for Ennis. The Department sanctioned an all inclusive budget to the sum of €7,854,000. This includes; housing construction, site costs, design team, utilities and abnormalities.
A brief given to councillors stated "given the complexity of the site, the Council is proposing to engage in preliminary public consultation on June 19th, 18.00 – 19.30 in the Temple Gate Hotel". It is anticipated that the scheme will be lodged for planning in September subject to Department approval. It would be the first housing scheme in the town in a decade.
Reacting to the brief, Cllr Johnny Flynn highlighted that "forty units are badly needed". He asked the Council to consider purchasing the right lane to resolve a public right of way issue. Cllr James Breen then requested that the bylaws in relation to illegal parking be brought before the next meeting in conjunction to Ashline bylaws not being adhered to, "it's not rocket science" he said of the appeal.
Cllr Clare Colleran Molloy stated that she passes the site daily. She has seen videos of parents being harassed when passing the laneway. The Quin native supported Cllr Flynn's calls to take ownership.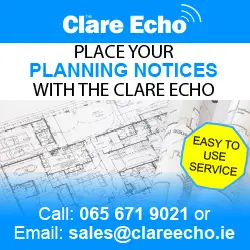 "There's a war between Woodhaven and where the houses would be", commented Cllr Pat Daly. Residents are very worried, he added and emphasised the importance of the houses design. "When we get to the building stage, we could have a problem with illegal residents in laneways", cautioned Cllr Ann Norton.
She added, "There is illegal encampment, are they going to move on when building starts, will they drive builders demented? The Council needs to have a plan in place so residents are removed, one particular family is getting away with dictating to Clare County Council with what they can and can't do".
Fine Gael's Mary Howard outlined that children are being scared by activity at the site. "Pups are running around frightening the children", she pointed out that punching bags are back up at the location and stressed the importance of the public consultation going ahead.
6pm is the start time for this evening's meeting at The Temple Gate.