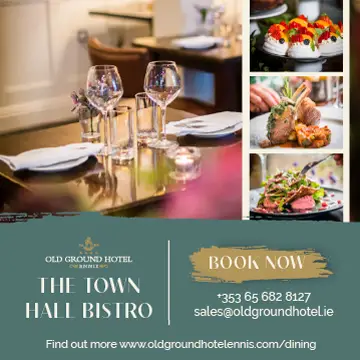 *Cllr Mary Howard (FG), Mayor of Clare. Photograph: Eamon Ward
History was made as Cllr Mary Howard (FG) became Mayor of Clare County Council on Monday afternoon.
Fine Gael now hold the most prestigious positions on the local authority for the first time in their history following Howard's election as Mayor (Cathaoirleach) and the selection of Cllr Pat Burke (FG) as Deputy Mayor (Leas Cathaoirleach).
Her confirmation as the successor to Cllr Clare Colleran Molloy (FF) is only the second time in the history of Clare County Council that one woman has replaced another as the first citizen in the county. This last occurred in 2008 when Madeline Taylor-Quinn (FG) succeeded Patricia McCarthy (IND) in the post. It was also the first AGM in which elbow bumps were the embracing form of congratulations as opposed to hugs and handshakes.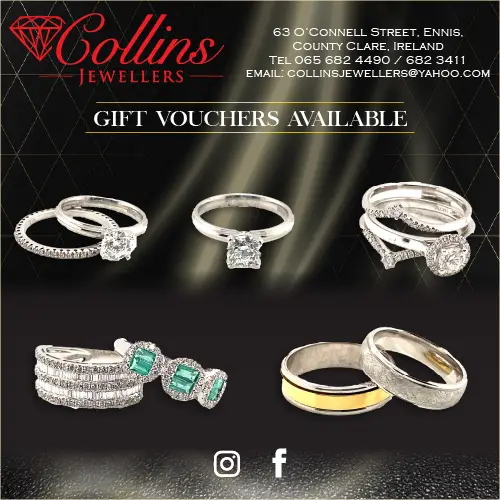 An emotional Howard took on the mantle after being proposed by Cllr Joe Cooney (FG) and Cllr Alan O'Callaghan (FF). First elected to the County Council in 2014, "she has achieved a lot for her local electoral area and county in that time. She believes in a fair and just society," Cooney commented. He referenced Mary's input in advocating for the rights of women and children, fighting for the return of Breast Check in the county and her efforts in promoting the HPV vaccine.
It was the mention of her late parents, Michael and Breda that brought tears to the eyes of the Ennis woman. Her father, Michael was a county councillor from 1974 to 1991 and was a Senator for eighteen years. "He had a great record and I'm sure he would be very proud of Mary today," Cllr Cooney outlined. "She is always positive and has a smile on her face," Cllr O'Callaghan noted who welcomed the return of hair salons in time for the AGM. The pride of Mary's parents and their love for Irish music was recalled by Cllr Pat Hayes (FF).
Collaboration between the political parties was highlighted by Cllr Gerry Flynn (IND) who believed the Council's power sharing arrangement put their national counterparts to shame, an arrangement that former Senator Howard played a part in establishing. He voiced his congratulations as did Cllr Clare Colleran Molloy (FF).
Easing of restrictions which enabled members of Mary's family to attend added to the special, Cllr Ann Norton (IND) observed, "you have worked extremely hard to get to this position". Council Chief Executive, Pat Dowling agreed that the post brought "huge honour" to the former General Election candidate, "you picked an interesting year to be Mayor, it will be difficult but will be laden with opportunities".
Addressing the meeting, Cllr Howard revealed she was fulfilling "a lifelong dream". She remembered her late parents and thanked them for being an inspiration. The restoration of communities in the wake of COVID-19 will be "a core focus" of her tenure, Mary said. "What shone like a guiding North Star, was our indomitable spirit, our willingness to volunteer and help others, and our overwhelming sense of community. This pandemic brought out the best in our towns and villages, but this is of no surprise. Throughout my life I have always been greatly impressed by the selflessness and altruism of the wonderful citizens of our county".
She was hopeful Co Clare would be seen "as a destination for people to come, to live, to play and to enjoy," with communities to be built in a sustainable way. Mary said she would be mindful of individuals with physical and emotional needs and their carers while wearing the Mayoral chains. "All lives matter," she said and stressed that the county must be a welcoming place for "people of every creed, colour, shapes and sizes".
Concluding her inaugural speech as Mayor, Mary quoted 'A Morning Offering by the late Clare poet, John O'Donohue. "May I have the courage today, To live the life that I would love, To postpone my dreams no longer, But do at last what I came here for, And waste my heart on fear no more".