*Declan O'Keeffe issues instructions to St Breckan's players from behind the wire. Photograph: Burren Eye Photography
EVENINGS MAY BE dark when it comes to preparations but St Breckan's can see the light in their bid to win a first-ever Clare SFC title, fuelled by the painful lessons of near-misses and championship exits over the last four years.
Since 2019, Declan O'Keeffe has been involved with the Lisdoonvarna club which also has players from Doolin and Kilshanny. His initial role was as goalkeeper coach to Tristan O'Callaghan, a year later he became the team's main coach and this year succeeded Donie Garrihy as manager.
"You wouldn't stay as long if you didn't feel welcome, there's no doubt about it but they are stone mad about their football, I was brought up with the game and where I came from it is everything, we are like-minded in that way, they are very genuine people and I've made good friends," he admitted.
On what has led the club to reach their first senior decider since 1996, Declan said, "It is a combination of the four years, you can't buy that experience, we were very disappointed in the first year back up to lose the semi-final to Cratloe in a free-flowing high scoring game, we were there or thereabouts at some stage of that game, Cathal Guerin had a chance to wrap it up but didn't take it and Cratloe's guile and experience outdid us in the last seven minutes of that game but it gave the lads confidence that they knew they could reach that level of the competition.
"The following year we came up against a very good Éire Óg team on their way to winning the first of a two in a row. Last year, losing to Ennistymon cruelly, we were two points up with six or seven minutes to go, there is an awful lot of educating and learning in that, we were crushed. It is a combination of that experience, you can't beat experience and going through them things, the lads would have learned and hopefully can learn the next day".
Their four-point semi-final loss to Cratloe in 2020 showed the "guile and experience" of the South Clare side which he noted "was there for everyone to see" in their most recent semi-final when they dethroned Éire Óg. "They are managed by Colm who has been around a long time, he has huge experience, I'm only a pup on the line compared to Colm, his record speaks for itself, I worked with Colm and have great admiration for him, he is hatching a plan for us, it comes out onto the field, he has Podge, Sean, David, Diarmuid Ryan, Kevin Harnett to mention but a few with huge inter-county experience".
For four years, O'Keeffe was goalkeeper coach to the Clare senior footballers when Collins was manager. "I know what I'm coming up against and it will be very difficult, it is another match at the end of the day, it just happens to be a final. We will just look at the opposition the same we have for every game for this one, we know what we're coming up against".
One constant companion for Declan whether it was with Clare or St Breckan's has been his son Paddy. "Paddy is with me all the time, he is a great support to me and great company in the car. My other young fella Sean comes and goes too, it is great for them to be around the environment. To be fair that is one thing about Colm, he is very good family wise and inclusivity, I learned that from him too, he was always coming with open arms to Paddy in the Clare squad, he got on so well with the lads and no more than the lads up here, they've welcomed him with open arms, it is a good sign of lads when they can bring a young fella like that under their bosom".
When Collins' tenure as Clare manager ended in July, O'Keeffe was one of the candidates in the ring for the vacancy which was since given to Mark Fitzgerald. "There's huge experience in that too, it has come and gone now, it's all about next Sunday week for me, as a wise man once said 'what's for you won't pass you', we'll see maybe it might come again".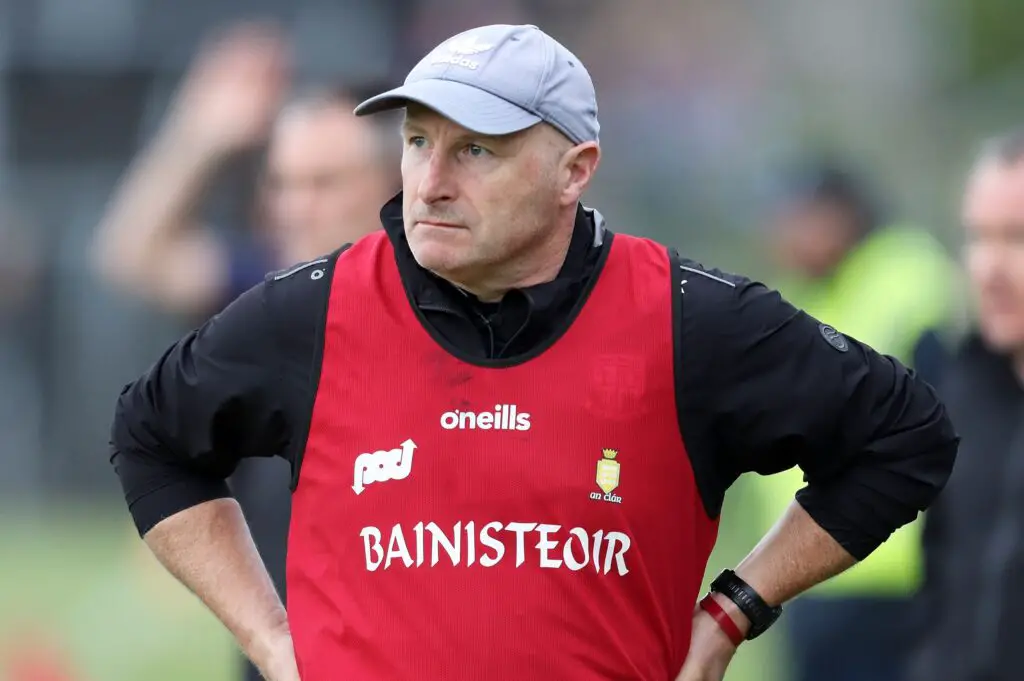 Though it would be easy to be disappointed about getting overlooked for the top, the two-time All-Ireland winner has been able to channel this into continuing to do his best with St Breckan's. "This gig isn't an easy gig, managing teams is tough but it is very rewarding, if it was easy everyone would be doing it but we love it, we love football, I know Colm is no different down below, people say about his longevity with Cratloe, they've won two county championships and he has been with them for both, they won an intermediate in 2009 with them so nobody can question that. I've been involved in football for over forty years, we love football, it drives us crazy at times but at the same time it is very rewarding".
Part of the reward has been seeing players for the club progress to inter-county level. "To be fair to Joe (McGann) and Alan (Sweeney), they were in the squad when I came with Colm in 2019. A few of the lads had come and gone off development squads, Colm (O'Brien) spent a bit of time on the panel, Maccon (Byrne) spent a bit of time on the panel, Joe and Alan were the constants, Tristan (O'Callaghan) came in, to be fair to him he played very well when Stephen (Ryan) was injured two years ago, I know he will probably be remembered for the Derry game but he was absolutely outstanding in the Meath and Roscommon game before that, it is not an easy place to be and to be parachuted into that position so I think he did quite well".
O'Callaghan's return from Australia poses a major headache for O'Keeffe and his management, do they start the ex Clare goalkeeper for the first time in this championship or keep faith with current custodian Mark O'Donnell. The dilemma is made even more interesting given the Kerry native's own experience as a goalkeeper, winning two All Stars between 1996 and 2003. "It is great to have headaches, we've a very tight squad, it is great to have the likes of Tristan's experience on board but equally Mark has been fantastic for us since Oisin had to leave the squad due to work commitments, he is doing fantastic for us so it is great to have headaches like that because we have enough fellas on foreign shores".
Tristan's younger brother Denis is unlikely to featue having also missed their semi-final win over St Joseph's Miltown. "Denis broke his collarbone against Doora/Barefield, it is very hard to push a broken bone so I don't see him having a part to play unfortunately so he is around the squad. Other than that, we have a few niggles from the semi-final which was a very energy zapping game, it's a short window between then and the county final, we're trying to get as much right as we possibly can in the next few days".
For that semi-final win, it showed a sense of character within the North Clare side as they first fell behind in extra time but steadied the ship to record a one-point victory. "Definitely one of the things to make you happy would be the character, when they did go down they were able to recover and dust themselves down and come back again, it is good for their morale that they can do that. They've an awful lot of work put into it but so do Cratloe and we know it is going to be the same on their side. That aspect was very pleasing".
While he pinpoints "guile and experience" as two key Cratloe traits, they had it in spades to take down a proven Miltown outfit. "It is a help that the lads can see that they were able to master the two Clearys, I know Eoin wasn't firing at 100 percent but he was still a danger on the night, Cormac Murray I have to say I really admired him the last day, I thought he was outstanding and I would encourage anybody to get him onto a county panel, any fella that can kick off left or right like that he really impressed me, Gordon Kelly coming up from the back and really rolling back the years, Conor Cleary and Oisin Looney, Kieran Malone they have an outstanding team and we knew we would come up against it, it's going to be no different the next day, Cratloe look very strong physically, it will be a huge challenge for us the next day".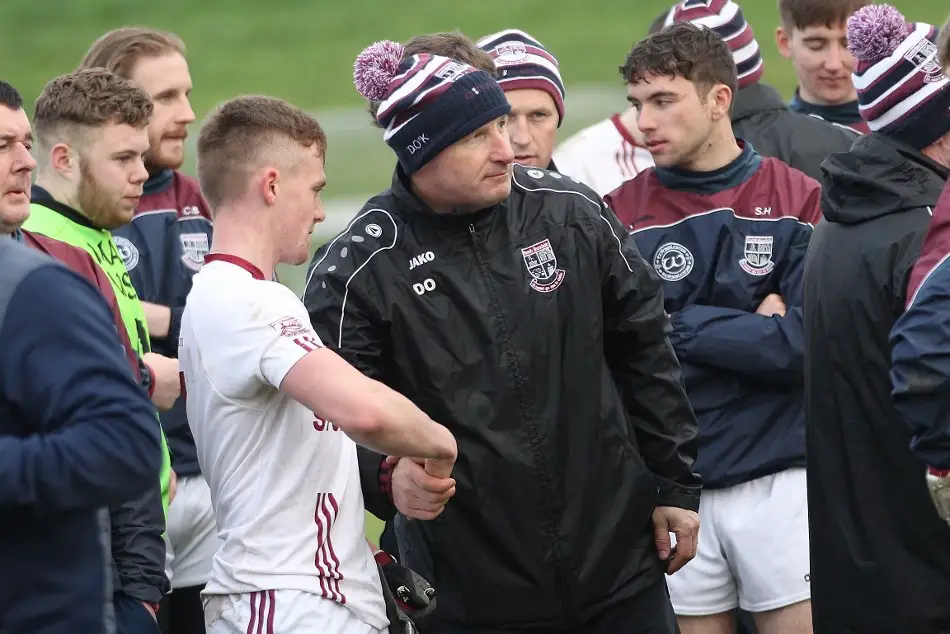 Considering they lost the opening round by a point to Kilmurry Ibrickane at the beginning of August, St Breckan's have responded superbly. "I was happy enough that we could go toe to toe with them, they have a huge tradition, Keelan was playing that night, he was a big loss in their last two outings, we learned a lot from that game, we haven't lost a game since, they are great challenges to have, you want to be playing good teams and going out from game to game, no more than the Lissycasey game against Horse Moloney, they were a very well organised team, we were fortunate to get over it, we played well enough on the day but the last day was a huge struggle for us and it will be no different the next day".
Scenes of jubilation followed their extra-time semi-final win and for almost twenty four hours they didn't know their final opponents, Declan told The Clare Echo that Cratloe overcoming Éire Óg was not a shock to him. "I'm around this game long enough to know anything can happen, I went to the game on Sunday to have a look and I wasn't surprised that Cratloe won, I thought it was a fifty fifty game because I was very impressed with Cratloe's defence against Kilmurry Ibrickane, I know Éire Óg struggled against Doora/Barefield and whether they couldn't react properly or just the fatigue of two championships back to back, I won three county championships on the spin with East Kerry, it was a time with Donal Daly, Seamus Moynihan and Johnny Crowley, I'll tell you we struggled to win the three of them, there was times in everyone of them campaigns when we were on the ropes, it is not easy win championships no matter where you are, Éire Óg are fantastic champions but it is hard to do three in a row so I wasn't surprised".
Doolin, Kilshanny and Lisdoonvarna has a certain buzz around it this week and O'Keeffe is keen for the players to enjoy the lead-up to the final while also focusing on the task at hand. "I played in county finals in Kerry back 25 or 26 years ago now, it is a new aspect now with social media and trying to protect the players, there's huge excitement in the town and the environs around here, it is 27 years since and there is no escaping that, I'd like the lads to enjoy the build-up but try focus in on the performance and get a performance in on the day, it is very important that the final wouldn't pass them by and they would enjoy the whole process but also perform".
His last connection to a county final does not evoke the fondest of memories, he was in goals for the St Joseph's Doora/Barefield side which lost back to back deciders against Kilmurry Ibrickane in 2011 and 2012. "Don't remind me," he quipped when it was brought to his attention. His maroon St Breckan's tracksuit top served as a reminder of the Doora/Barefield involvement, "I hope that is where that similarity ends," he remarked.
O'Keeffe reflected, "It was different experience because I was playing, I had no notion in the world of going back playing until James Hanrahan knocked on my door, thanks for that James! I enjoyed it too, it was just unfortunate we didn't get over the line, we had some great wins against Doonbeg, we beat them two years running and I thought we were going places after beating them the second year because they were a powerhouse and were strong.
"We came up against Doora/Barefield this year and they nearly knocked Éire Óg out so it is good to see them coming and to see football coming up in general across the county, I thought the level of preparation and coaching of teams in this year's championship was quite good, it is good to see it. We're very quick to knock it here, I know the hurling overshadows the big ball at times, I think we compare very favourably, I would like to see it keep going, there is a lot of interest in football in this county".
Given his debut at senior level for Kerry by Páidí Ó Sé, Declan found himself quoting the late Kingdom icon when assessing what winning the Jack Daly would mean. "This is my first spin as a manager, I've been coaching since I was with Roscommon back in 2016, I haven't won anything so it is my first and only spin at it, I'm looking forward to it, a lot of it is new ground for me but I'm really enjoying it, it is 24/7 and it is full-time but when the nights are darkening as P Sé used to always say to us 'when the nights are darkening in you know the prize is getting closer and closer', I'm happy enough to be travelling in the dark".