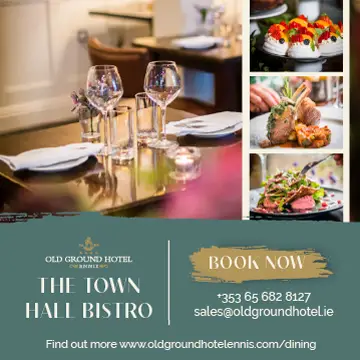 *Darragh Bohannon breaks away from David Byrne and Lee Gannon. Photograph: Gerard O'Neill
PRIDE, frustration and passion were just some of the emotions that Clare players, management and supporters were left with after leaving Croke Park last Saturday evening after a pulsating league encounter against Dublin.
For the second time in two weeks Clare were left empty handed after emptying the tank on both occasions and falling just short with the winning line in sight.
PRIDE:
This game was a tale of four different quarters with Dublin dominating the first fifteen minutes before Clare thundered into the game in the middle quarters before Dublin took control again in the final quarter. Dublin started the game in a lively fashion and were 0-05 0-01 in front and looking very comfortable.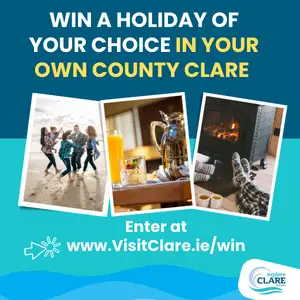 The Bannermen were struggling to get to grips with the Dublin running game who were punching holes in the Clare reargaurd with relative ease. In fact, the home team could have had a number of goals in that early period but for a fine save by Stephen Ryan, some resolute Clare defending and wasteful shooting. The peerless Cillian Brennan made a wonderful tackle to keep the Clare challenge on track and once they regained their composure and got a few scores on board you could sense the Clare belief and confidence growing.
From mid-way through that first half Clare took control of proceedings playing with real pride and sense of purpose. Top class points from Dermot Coughlan, the ever improving Emmet McMahon, the hard-running Eoin Cleary and Gavin Cooney saw Clare draw level before an opportunist goal from Cooney who looked sharp throughout put Clare into an unlikely three point lead at half-time.
The sizeable Clare support were now really getting behind their team as the team continued to play exceptional football in the third quarter and when they went up six points on the fiftieth minute it looked like a shock might be on the cards. The vast majority of Clare players were putting in heroic performances and really driving at the Dubs packed defence from all kinds of angles and positions.
THE BLUE WAVE:
This was the cue for Dublin to bring on the cavalry with multiple All-Ireland winners, Cormac Costelloe, Niall Scully, Jack McCaffrey and Eoin Murchan being introduced into battle bringing with them a wealth of experience, pace and fresh energy. Clare by now were starting to get a little leggy and had not the same reserves or strength in depth on their bench.
Even though Clare were ahead by six, Dublin didn't panic as they really upped their work-rate and intensity in the tackle. Clare players started to make some uncharacteristic errors as the home team punished every turnover, misplaced pass or wrong decision with a score up the other end. Clare for their part didn't score for the last twenty minutes and they needed a score badly to try and turn the tide when the momentum had shifted in Dublin's favour. With Hill 16 just coming to life with ten minutes to go Dublin began counter attacking at a ferocious pace and were like a Blue wave at times moving up the pitch. Clare manfully tried the keep the Dubs at bay with last ditch tackles and bodies on the line defending.
FRUSTRATION:
For the second week in a row Clare will be left frustrated at the end result and some of the refereeing decision in the last quarter in particular. Clare will feel some of the frees that were awarded to Dublin in this period were of the 'soft' variety and when the sides were level it looked as if Ronan Lanigan was fouled but Dublin awarded a free for overcarrying.
After a brief melee Dublin won the subsequent hop ball and before they knew it Cormac Costelloe had punched the ball over the bar and the referee blew the final whistle immediately.
Clare players were left frustrated that the referee hadn't allowed for at least another play taking the melee into account. It was such a cruel finish after such a brave display and huge credit must go to Colm Collins' side who deserved at least a draw from this encounter. Clare will also know that such is the cutthroat nature of Division 2 that you must be able to finish off teams when you have them on the backfoot especially against high profile opponents.
In order to get to the next level the Clare management will be concerned that they have not sealed the deal in their last two games despite being in commanding positions but they have an opportunity to rectify this again next Sunday against Cork.
Clare will take a lot of positives and learnings from the game in Croke Park and will hope to build on these in the coming week.
PASSION:
Cork for their part are an ever improving docket with former Cork and Castlehaven player, John Cleary at the helm. Former Galway player and manager, Kevin Walsh is also involved in a coaching capacity and he has a good knowledge and experience of inter-county football. The Rebels are playing a more direct style of football and have developed more of a cutting edge in recent times.
They have a dangerous inside forward trio of Brian Hurley, Chris Óg Jones and Stephen Sherlock who will all need close attention. Former All-Ireland minor winning captain Conor Corbett came off the bench in the rout of Limerick to score two goals and he is another of Cork's emerging talent as is midfielder Colm O'Callaghan.
Clare for their part have had the upper hand over Cork in recent league meetings but Cork are still warm favourites with the bookies to claim the points. Cork are the joint highest scorers and the highest goal scorers in all divisions with ten to their name.
This league meeting will have added spice as the two teams are gearing up to meet again in the Munster championship quarter final on April 9th at Cusack Park and both of them will be looking to lay down a marker ahead of this encounter.
Against Dublin, Clare showed a great deal of passion and pride and no little skill and this will be all needed again on Sunday and more. This week will be all about recovery with some tactical fine tuning and video analysis the order of the day. To avoid any more frustration or disappointments Clare will need to put Cork to the sword if the opportunity arises as the relegation battle is intense in the bottom half of the table.
A good Clare crowd is expected on Sunday and they will be needed to be heard in order to help the home side get over the line in this intriguing and ever evolving league campaign. After their facile league win over Limerick, John Cleary summed up Division 2 of the league brilliantly when he said "Division 2 will go down to the last minute of the last day".
Hopefully Clare will be the ones smiling on Sunday evening.