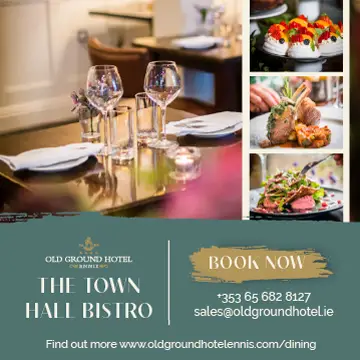 By Seamus Hayes
Woodstock golf club will host a presentation night for the club championships, Autumn League, matchplays, Costelloe cup and golfer of the year on this Friday, February 11 in Hotel Woodstock at 8pm sharp.
The following prizes will be presented;
Modified fourball matchplay—Mike Reen and Mike Kelly (winners) Gerry Griffey and Gareth Pyne(runners up);
Shanaway cup fourball matchplay—Kieran Quinn and Pat McMahon (winners) Brian Keogh and Cathal O'Neill (runners up)
Singles matchplay–Cian Moloney(winner), Darragh Casey (runner up)
Michael Cullinan memorial –Gerry Walsh
Club championship winner–Tony Neville
Woodstock masters winner–Mike Kelly;
Golfer of the year 2021–Brendan Keogh
Autumn League—Winners–Paul and Declan Coote, Fran Feighery and Chaye Kelly; Runners up–Ryan Enright, Pat McMahon, Brendan Quinn and Pat O'Brien;
Monthly medal winners–Adrian Kearney (May) Brendan Keogh (June), Barry Scanlan (July), Fiachra McMahon (August).
The members of the club's Costelloe cup winning team will also receive their medals at this function. The five pairings which helped bring the trophy to Woodstock are Kieran Patton and Brendan Arthur; Johnny and Cathal Clune;
Shane O'Doherty and Kieran Brennan; Paddy Meehan and Eugene Conroy;
Barry Scanlan and Joey Colleran;
Last weekend's club modified fourball was won by  Ross Darmody, B rendan Neylon, Jonathan Clohessy and John Brennan with 93 points.
The previous week's club singles was won by Pat O'Brien (12) with 42 points. Pat Keane (9) won category 1 (handicaps 0 to 11) with 39 points, Dennis McCarthy (12) was the winner of category 2 (handicaps 12 to 14) with 42 points while Ian Birchall (18) won category 3 (handicaps 15 and upwards) with 38 points.
There will be a modified team of four this weekend with two scores to count
Ennis
Last week's ladies 14 hole singles stableford competition at Ennis was won by Kathleen Frehill (39) with 28 points from Ann Pyne Gallery (29) with 26 points. In third spot with 25 points was Della Burns (19) followed by Sinead Herarty (17) with a similar score. Carmel Cummins (42) was fifth, also with 25 points
Phil Butler (28) won the 9 hole competition with 16 points from Mary 0'Halloran (32) with a similar score while Bridie Keane (34) was third with 14 points.
Last week's senior ladies competition was won by Geraldine 0'Mahoney, Alice D'Arcy and Ann 0'Loughlin with 58 points from Carmel Verling, Margaret Flanagan and Margaret McEnery with third place filled by Phil Butler, Liz Kelly and Maureen Maloney.
Kilrush
Week 1 of the Spring singles stableford for men at Kilrush resulted in victory for Des Murphy (17) with 28 points. Second place was filled by Pat Mulcahy (13) with 26 points and he was followed by Tom Cleary (14) with 26 points and Sean Lyons (11) who also returned 26 points.
Shannon
Last week's 15 hole singles competition at Shannon was won by Alan Small (10) with 38 points from Mike Carroll (17) with 36 points
Due to the adverse weather last weekend the winter league is being extended by one week. Teams that did play can leave their original score stand or replay