*Photograph: Eamon Ward. 
TEN STRATEGIC OBJECTIVES underpin the renewed Clare Rural Development Strategy.
Building social enterprises, growing multi-services centres and digihubs, co-operating with communities, managing the environment and transition to carbon neutrality, supporting age-friendly initiatives, sustaining a rural way of life, enhancing transport and wastewater infrastructure, building tourism, supporting the delivery of education, child and youth services plus population growth and meeting the needs of incoming communities are the ten areas of focus.
Clare's Rural Development Forum will monitor and evaluate the implementation of the renewed strategy. They will be examining the percentage increase of rural Clare's population, the percentage increase in commercial rates within each Municipal District, increased public expenditure due to the strategy, vacancy and dereliction rates, employment in rural Clare, rural transport usage, the teacher to pupil ratio in rural Clare schools, broadband speeds, fluctuations in deprivation scores and the percentage increase in rural population having access to improved wastewater treatment infrastructure.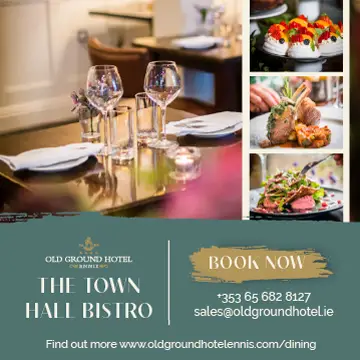 A total of 33 sub-actions aim to ensure the ten renewed objectives are delivered.
War in Ukraine has influenced the strategy. Included as a specific objective is addressing the "immediate and medium term needs of the incoming communities to ensure that their presence in Clare is welcomed". A rebalance of the "self-perpetuating circle of decline and poor development balance" in rural Clare can be achieved through the population of Ukrainians, it is believed.
Low employment levels have served as a big contributor to declining population numbers in rural Clare. Potential for employment creation exists within the agriculture, food and marine sectors, renewable energy industry, tourism industry, private professional services and the emerging 'working from home' and social enterprise occupations can tackle this, the strategy underlines.
Seán Ó Riordáin his review stated of the growth of multi-service centres and digital hubs, "it might reasonably be argued that the county is now a leader in Ireland in this regard with the development of DigiClare the most tangible manifestation of the strategy to date. It is evident from the footfall created around the hubs, along with the capacity created to enable hybrid working and the community activities facilitated by the hubs that the county has benefitted considerably from this welcome development which was foreshadowed in the strategy". Building on the capacity to facilitate further service provision should be considered, he said.
"Limited, if important progress has been made" when it comes to infrastructure delivery in towns and villages with hopes high for a positive outcome for Broadford's long quest to get a wastewater treatment plant.