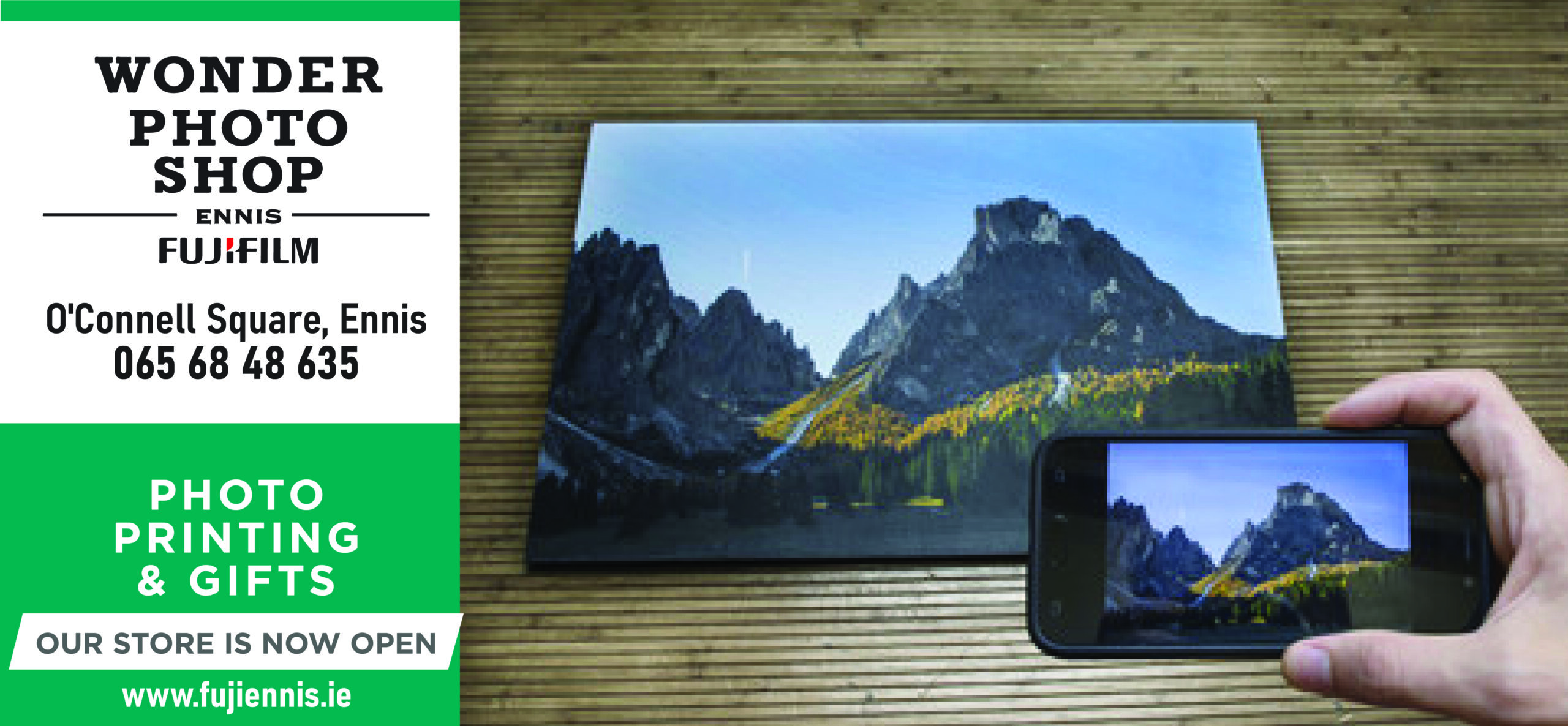 *An aerial shot of The Post Office field in Ennis. Photograph: Paschal Brooks
Upgraded plans for The Post Office field must coincide with the progression of public realm works in the town of Ennis, local representatives have stressed.
Discussion on the future of The Post Office field saw Ennis councillors voice their desire to see the amenity become more of a part of the town's fabric. A proposal from Cllr Johnny Flynn (FG) asked that initiatives brought before Ennis Town Council in the past to "provide family friendly, sustainable, environmentally friendly recreational amenities" be advanced.
He asked for "urgent consideration" to be given to the installation of a 'Tot Lot', a small playground for younger children.
As previously reported by The Clare Echo, The Post Office field has been identified as one of nine transformational sites in the Ennis 2040 Economic and Spatial Strategy. It is already earmarked as an opportunity site in the current County Development Plan.
Sustained public pressure prevented commercial development at the site which resulted in Ennis Town Council acquiring 2.5 acres in 1998. Prior to this, the grouping of Aontas na Pairce opposed plans for a €14m development on the site which was to include a hotel, shopping centre and multi-storey car park as well as a pub, night club and restaurant The group was re-activated in 2005 amid concerns that Ennis Town Council and Ennis Civic Trust had earmarked the Post Office field for development. The group called for the field to be designated a wildlife sanctuary to be enjoyed by viewing rather than opening it up for access
Investigations such as a flood risk assessment, bat surveys, a tree survey, site investigations, a landscape management plan plus ground penetrating radar and topographical surveys must be carried for the Council to consider further proposals, Linda Earlie, Senior Enterprise Development Officer stated. "Aligning future development proposals with these planned objectives will be key for ensuring a co-ordinated approach to town centre site development and that the needs across all age cohorts are catered for as part of this process".
Speaking at Tuesday's meeting of the Ennis Municipal District, Cllr Flynn described the Post Office field as "the most important natural asset we have in the town centre". He recalled previous plans to have a footbridge from it to Parnell St car park, "loads of documents have identified its potential for rest and recreation for people living and visiting town centre".
What he called "limited flood protection" delayed any developments on the field as he welcomed the fact no buildings have been constructed on it. When the niche destination plan for Ennis was being prepared, Cllr Flynn reflected that the old Town Council boundaries of Ennis in the shape of heart impressed consultants, "Ennis is like a heart and the Post Office field is the lung of Ennis". Reports on its use need to be updated, he said. "We are progressing the public realm, we need to upgrade what is the most important natural asset in our town".
Reference to the site in Ennis 2040 was referenced by Cllr Clare Colleran Molloy (FF). She believed the easing of restrictions would allow the Taoiseach, Micheál Martin (FF) to visit Ennis to launch the strategy. "It is part of bigger vision for the town".
Most recent reports need to be put before elected representatives, Cllr Ann Norton (IND) stated, "maybe we should pull this out instead of spending more money on a new report. It is an amenity that needs to be developed, it is a very valuable piece of land".
COVID-19 has "exasperated" the predicted changes to the retail sector, Cllr Mary Howard (FG) acknowledged, "we were told there was ten years left in retail. We need to rethink our places as destinations". The 'TotLot' would strengthen the offering of restaurants in the town, she felt by giving children an area to "let off steam" there as opposed to in the restaurant. The Post Office field is "integral" to Ennis 2040, she said and called for the former telecom building to be removed, "it is an eye sore that we need to get rid of, it has no commercial or heritage value".
Flood risks and wildlife must be remembered, Cllr Pat Daly (FF) commented as he spoke of Dunnes Stores viewing the site as they considered building there or putting a bridge across it.
In response to views expressed, Cllr Flynn said Ennis councillors must take a "leading role in pushing this forward and not be relying on economic and spatial strategy Ennis 2040 which I fully support it".