Two of Ennis' best known former residents were remembered at the unveiling of special memorial plaques in the county town on Wednesday evening.
Both Michael Tierney and Laura Brennan were remembered in what was one of the final acts of Cllr Mary Howard (FG) during her tenure as Cathaoirleach of Clare County Council.
Laura Brennan was one of the country's leading patient advocates up until her death at the age of 26 in May 2019. Her campaigning led to a surge in the number of young women taking the HPV vaccine.
The HSE said that since she first contacted the organisation in 2017, the uptake of the vaccine increased by almost 20 percentage points from 51% that year, to 70% today at the time of her death. Her family have continued her advocacy since her death.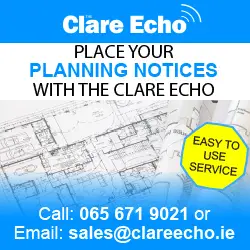 Michael Tierney was a standout figure amongst the masses, unmistakable with his make-up, flashy jewellery and large collection of wigs. Born in 1917, Michael lost his father to the First World War before he was born. Michael's increased femininity became apparent from the 1950's onwards at a time when homosexuality was forced to steer clear of the watchful eye of the public.
He was renowned for taking people on mystery tours around Ennis and held great compassion for the elderly community of Clare. Michael passed away in 1998 with one of the largest funerals ever seen in the town of Ennis.
A memorial plaque for Michael and his loyal companion was unveiled at the former building of Tom Mannion Travel on Wednesday evening. This was where many people clapped eyes on Michael distributing newspapers. The plaque dedicated to Laura was erected on Wednesday and is located at The Queen's Hotel.
Speaking prior to Wednesday's memorial events, Cllr Howard outlined, "For many years I have tried to have something permanent in the town of Ennis to remember the larger than life character that was the late Michael Tierney. Last June when I became Mayor of Clare, I promised that both Michael and Laura Brennan would have a permanent presence in the town".
She told The Clare Echo that the addition of the plaque for Tierney would compliment the walking tours of Ennis in allowing historians to recall the tales of the popular townie. A gathering is to be held in the coming weeks to pay tribute to the character, she said. "It's great to honour our flamboyant son in the town of Ennis".
An incredible legacy of Laura will be added to by the presence of the plaque, Cllr Howard said. He location of the Queens was agreed by the owners, the Brennan family and Mary to ensure the message of taking the HPV vaccine serves as a constant reminder to young people.