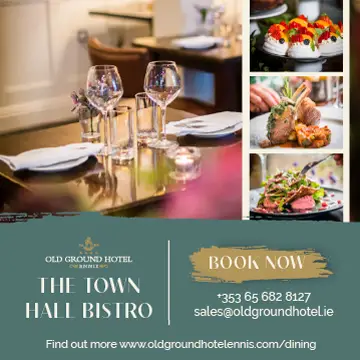 *Photograph: Joe Buckley
Organisers of the proposed Venue facility have insisted they will walk away from the project if Clare County Council do not acquire the Shannon site while an elected representative has claimed the local authority will purchase the plot of land.
Extra seats had to be added to the Bunratty Suite of Treacys Oakwood Hotel on Wednesday night for a meeting to discuss the future of The Venue, a community, civic, cultural and interpretative centre for Shannon. Initially enough seats were in place to cater for 160 people, a further 3 rows were added with 7 people standing for the duration of the discussions.
Broadcaster and writer, Rachael English who hails from the town chaired the meeting which heard passionate pleas from members of the community for the current promoters to stand by the project. "It's good to see so many people who care so much about the town" the RTÉ journalist said when opening the meeting. She confirmed all four Clare TDs had sent their apologies while Pat Breen and Joe Carey had sent representatives, neither of whom spoke.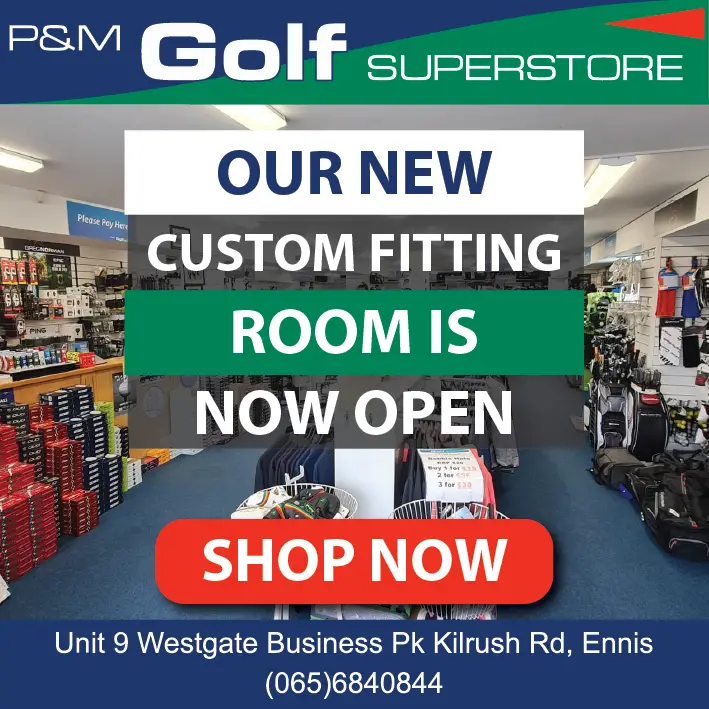 Kevin Thompstone who is part of the working group of The Venue provided an account on the seven year history of the project. "Shannon is a town of 10,000 people and is also a place of work for 10,000 people, on a given day there is 20,000 people here". He estimated the Shannon Municipal District generates €15m per annum, €11m of which comes from Shannon Town, "this covers 40 percent of the Council's rates". €10.9m is required for the development of The Venue with a further €0.9m for operations costs while Thompstone calculated its annual running costs would be between €600,000 and €800,000.
"By 2015 we had planning permission and effectively a shovel ready product," the former Shannon Development CEO stated, he also pointed out that from 2012 to 2015 the group had raised between €900,000 to €1m. "The site itself we picked deliberately because it's at the heart of the town centre, it was picked so we can bring something back to the town centre and some footfall". For the 2,600 sq metre site, Kevin outlined there would be seven multiple spaces all on one level to cater for wheelchair accessibility, the largest area could hold 350 people.
On funding to date, Kevin confirmed €850,000 had been received, €15,000 of which came from Clare County Council, €48,000 from the REDZ programme and €40,000 in Shannon Festival fundraising. Expenditure incurred to date includes; €290,000 (acquiring site, engaged design, planning), €14,547 (accounting services), €7,653 (marketing) and €4,735 (insurance).
Four detailed funding applications have been made by the group, all of which were unsuccessful. Thompstone revealed that in a meeting with Pat Breen and then Minister for Finance, Michael Noonan "we were told that €5 million would be provided by the Government via the 2017 or 2018 Budget". When nothing was granted in the October 17 Budget, "we were advised by Pat Breen's office that it would be in the December 17 Finance Act and we got nothing". A 2018 meeting with Breen, Minister for Housing, Planning and Local Government, Eoghan Murphy and Taoiseach Leo Varadkar "advised that the Urban Fund would provide the best solution", this fund then allocated €100,000 for a masterplan. "The Council have the mandate to deliver this, maybe it's better we take a step back and leave the pitch", he added, "The decision is not a lack of resilience, it boils down to us not needing a plan, what we need is action".
Local politicians were then asked what they were going to do for the project. Sinn Féin's Mike McKee admitted "there was scepticism when we first heard the plans but we fully support it, nothing has been asked of us only to support it and we have".
"In 1960 Shannon Development were given a blank page to develop, the necessary infrastructure to sustain a community wasn't put in place, it's not all Shannon Development's fault," Cllr Gerry Flynn commented. He said the door of Council CEO Pat Dowling "is open", and accused Rachael English of "not being fair". The Independent councillor said the Council were willing to support a planning application from Aldi to set up in Shannon "but the Town Centre rejected it, if Aldi were willing to come here we must be doing something right". He was disappointed not to have been invited to any meetings on plans for The Venue, "Ye got special privilege for the application, ye expected the Minister to carry it and he let ye down. Ye put all your eggs in the Fine Gael basket and I'm sorry it failed," he said with resulting jeers coming from the crowd. He confirmed "The Council are prepared to buy the site".
Fianna Fáil's Pat McMahon suggested that with an extra councillor coming into the Shannon Municipal District after May, the Council could utilise office space at The Venue for meetings. A regular theatre goer, McMahon highlighted the difficulty at getting a ticket for the recent run of Chicago by the Shannon Musical Society as an indicator of the popularity of such events in the area. "We're not just talking about Shannon, it will take in Cratloe, Sixmilebridge and Newmarket-on-Fergus, it is these areas that will make The Venue", Cllr John Crowe announced.
Pointing to the work of Limerick City and County Council with Troy Studios, the Hanging Gardens and LIT at Coonagh, Cllr Cathal Crowe wanted to see Clare County Council follow suit, "we need to have more skin in the game". The General Election candidate added, "If I'm elected to the Dáil it will be one of my priorities", this comment drew an audience question "If you were a TD would you be here" to which Crowe replied "That's a big what if, of course I would be here" and called on the Minister of Finance, Public Expenditure and Reform, Paschal Donohoe to be brought to Shannon to explain what happened to the 'promised' €5m. Promoter of The Shannon Venue, Derek Barrett said previous meetings with Ministers had achieved little for the project.
Independent councillor PJ Ryan was adamant, "the only way this will get over the line is funding from Central Government". He continued, "Whatever Government is there, they will have to fund The Venue, all I can do is lobby with my colleagues". Cllr Ryan lamented the departure of Limerick TD, Michael Noonan as Minister for Finance, "We lost a friend in Michael Noonan, if he was still there I think we would have got funding".
Purchasing manager with EI Electronics, Gerry Murphy revealed the company had been "involved since day one, we've been with them all the way". He reiterated his plea for the organisers "not to get off the stage", "if these guys walk away The Venue will never happen". Murphy was disappointed with the contributions from local councillors and declared "No Venue No Vote".
Ex Chairperson of the Mid West Simon Community, Geraldine Lambert felt there was a constant fight for facilities and services in Shannon. "There has been huge investment in the Industrial Estate but some of that needs to be realised in the town. I haven't heard about a proposed contribution from Shannon Commercial Properties, they made a lot of money out of Shannon and they have amazing funds". A pitch was made to Shannon Group plc "a number of times", Thompstone clarified, "we pitched to the past and present CEO". For 25 years Frank O'Hanlon has been involved with Town Twinning, their lack of a place to "host or welcome" visitors is a problem that would be solved by The Venue in his opinion.
"Even when there wasn't meant to be a town, there was", Ann Garvey stated of Shannon's early years. "There is a huge pioneering spirit here tonight, we are the people who made this town, if we keep going we will get there. We need funding at local and national level," she said.
Local woman, Dara Gough asked what the people of Shannon could do to help, "What can we do? Will we go to Dublin in buses, will that help". She added, "The town needs its own identity, we're not looking for special treatment, we're looking for what we deserve".
Responding to queries from the floor as to what happened after the promise of €5million and the Finance Bill, Derek Barrett admitted "We were never told", he continued "Kevin presented to the Taoiseach who wasn't aware what was said. At that stage we were ready to throw in the towel". Barrett believed they were getting "mixed messages" and was puzzled at some allocations of funds, "I can't understand how a €1.75 million market in Ennis is now a car park for 25 cars", he also questioned the €925,000 awarded to Holy Island for a detailed design for a tourism centre.
"Clare County Council have the opportunity to acquire the site. You can notice the change in Shannon over the last ten years, you can see the decay, we're trying to create a pulsing heart and trying to create outlets for people not interested in sport. The shopping centre is not a heart, often you're pushed out of there whether you're a teenager or if you're doing your shopping at 7 o'clock," Derek said. "The only way we would stay is if the Council acquired it and made it a number one or two priority. We just want a fair share". Managing Director of HIYA, James Sexton encouraged the working group to remain in place, "It would be criminal if ye left".
Concluding the meeting, Rachael English noted, "There are a number of issues that have arisen tonight, word will go back".
A number of individuals put their names forward to serve on the working group for The Venue while elected representatives sought for one councillor in the Shannon Municipal District to be invited to join the committee.