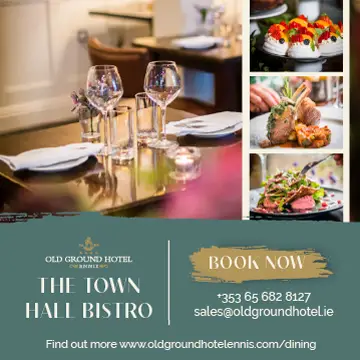 *Photo by John Mangan
A man accused by a judge of the elder abuse of his 83 year old mother arising from his court cross examination of her has given a sworn undertaking never to go near her home again.
At the Family Law Court, the man – described in court by his mother as once the 'perfect son', before their relationship turned 'toxic' – gave the undertaking after Judge Mary Larkin said that the man's cross examination of his mother amounts to elder abuse.
The man told Judge Larkin: "I can make this commitment to you and the court that I will never speak to my mother again and never approach the house."
The woman – who required assistance from her solicitor, Pamela Clancy to enter and exit the courtroom – was seeking a domestic violence Safety Order against her son.
The woman has right of residence in her son's property and in court, the man was representing himself and as he cross-examined his mother on her evidence, Judge Larkin intervened and asked the man "do you know what elder abuse is?"
The man said that he did and Judge Larkin said: "I have to tell you now that your conduct here  with your mother today amounts to elder abuse."
She said: "This is an elderly lady. Her husband and your father died recently and you want to subject this woman who will be 84 on her next birthday to this cross examination? To prove you are right and she is wrong? Is that what you propose to do?"
Judge Larkin said that the woman "has said you made threats of violence against her and that you frightened her?".
In response, the man said that he was "shocked" and "astounded" by the allegations of threatening violence towards his mother and completely denied them.
The man said that the evidence his mother has given is confusing because of her age.
Under cross examination, the mother agreed with her son that he had never once hit or struck her.
She said: "In fact you were the perfect son and that is why I am so surprised about what you have done lately."
The man admitted in court that his relations with her mother had turned toxic.
Judge Larkin said that she was concerned that this woman who is an old lady and who has buried her husband in the recent past is being asked questions by her son "instead of you saying 'I will stay from you Mom and the house and I will leave you to spend your last days in peace and not be arguing about property'".
After the man continued with his cross examination, Judge Larkin again intervened and said: "Do you hear what you are doing? You are having a property row with your elderly mother."
"What do you want to achieve out of this? You cannot continue with this line of questioning, because if you do, I will make a Safety Order for five years in the hope that she can live the rest of her days in that house without you going on about matters like roofs and floors that I find inconceivable."
Judge Larkin said: "You show no empathy and you show no regard for the fact that your mother is elderly. This cross examination is elder abuse."
"What is fair and equitable is that your mother spends the rest of her life in peace and quiet and relieved, if you excuse from saying so, from your obsession about your house."
Asked would she be prepared to accept her son's undertaking, the mother said: "Yes as long as I have peace and quiet. I just want to have peace and quiet for the rest of my life."
In his undertaking, the man said that he "undertakes to this court to stay away from my mother's house as long as my mother is alive and I undertake not to watch or beset her or the property."
After the man gave the undertaking, Judge Larkin struck out the Safety Order application and the mother said that she was agreeable to this.
Judge Larkin said that when the Safety Order application came before the court on a previous occasion and the mother was seeking an adjournment after her husband had just died, their son wanted the case to go on. Judge Larkin said she adjourned the case on that occasion.