*Violet-Anne Wynne. Photograph: Martin Connolly
Sinn Féin are riding high in the national opinion polls, Violet-Anne Wynne (SF) is hopeful such sentiment will become a reality when the Clare electorate head to polling booths this weekend.
FACTFILE
Occupation – Mother
Family – I have five children. Two older brothers.
DOB – 30/03/87
Schools/Colleges Attended – St Colman's NS in Tullamore, Colaiste Muire in Blakestown, Trinity College
Political CV – Contested LE19 in Kilrush LEA. Campaigned on 8th referendum. Member of Sinn Féin since 2012.
Top 3 priorities – Housing, Health, Mental Health
Something the electorate don't know about you – I was in the army for three years in the reserve defence forces as an infantry foot solider.
Contesting her second election in less than a year, Violet-Anne's addition to the ballot paper came in late January. She was the last of any party candidate to be selected in Clare, as such the Offaly native has a lot of ground to catch up on. "I feel a lot of pressure with time and trying to get to everybody and make sure everyone is aware that there is a Sinn Féin candidate in the county. There is a time pressure there," she admitted.
Noeleen Moran's treatment within the party has been criticised, the Ballyvaughan woman had been selected as a candidate in 2017 but was subsequently deselected and then opted against going forward for convention.
Wynne managed Noeleen's social media accounts for the 2014 local elections. When asked by The Clare Echo what she felt of Moran's treatment, Violet-Anne stated, "It wasn't just Clare that was left till the last minute, we had intended running our conventions in January but the way it was organised ours was left as being one of the last along with other areas such as Mary Lou's constituency.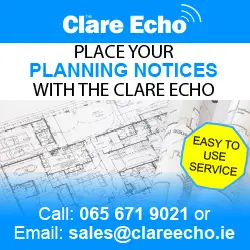 "I appreciate it was time pressured but if you're intending on running in an election you have built a profile and are working away in the background, you're waiting for the convention to happen. I appreciate that it wasn't great timing, within the party it was done that way for everyone".
National opinion polls released at the beginning of this week had Sinn Féin on a level footing with Fianna Fáil and ahead of Fine Gael. The Kilrush woman is hopeful this will be reflected in the Clare vote. "No one can really tell. I'm getting great positivity towards Sinn Féin and our message at the doors, people feel they can relate to us. I'm hoping with turnout that a lot of people would exercise their right to vote".
Securing the youth vote is identified as key to determining how Sinn Féin fare in this election. "I feel the youth have been hit very hard over the last few years, jobseekers allowance hasn't been reinstated, measures haven't been put in place to understand their hardship and meet their needs. Sinn Féin are about giving people like that a break and more support and recognition of how hard it is with costs of everyday living going through the roof".
"It's been a great experience getting out there, meeting people and hearing their stories, I'm learning an awful lot because there is so much involved in making policies and legislation, it has been a great experience, I've become well informed and more educated in areas I hadn't much experience in. People will see us as the alternative so I hope those people come out and exercise their right to vote, now is the time to take a stance, for those who haven't voted before to give us a shout and see what we can do," Violet-Anne concluded.