*Paul Hickey. Photograph: Joe Buckley
A Rineanna man has taken up poetry during the lockdown and has credited the form of literature with helping to get through the restrictions.
To date, Paul Hickey has written two poems, 'Lockdown 2020' and 'Lockdown 2021' which chronicle the restrictions and their various impacts while adhering to an 'AA BB rhyming scheme' throughout.
A general operative with Clare County Council for the past fifteen years, the Newmarket-on-Fergus said the turn to poetry during COVID-19 was "a spur of the moment thing". He admitted, "On the long cold dark evenings in the winter, it gave me something to do and passed away the time".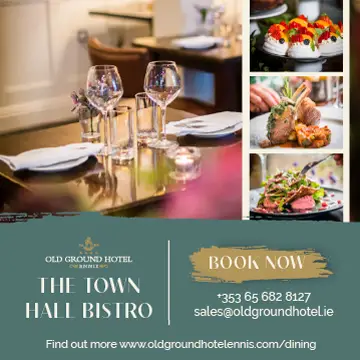 It was back in his schooldays that Paul last dabbled in poetry and he revealed that no poet has held a major influence on him. "I'd do a couple of hours during the week, I wouldn't do any on the weekends, if you get a chance on the weekends you would be going out walking, the midweek was when I'd be doing the poetry".
Hickey's new hobby came at a time when he was unable to watch sport or travel to local club games. "There wasn't much on the television with very few live games, they're coming back a small bit, you can't go anywhere".
Focusing in on dominant news stories allowed Paul to intertwine the topics with the various restrictions including school closures, out of work musicians and under pressure healthcare workers. "I got a small bit of a kick out of it when I read it out, it brought back all the bad headlines of what we went through and are still going through. The headlines kicked me off, Brexit and what went on in the States with Trump were in the news around the time".
He is hopeful of penning a third poem later in the year when more vaccines are rolled out across the county.
Two friends of his have died as a result of the virus and Paul revealed that turning to poetry has helped in the grieving process as he was unable to attend their funeral due to the restrictions. "It is sad for a lot of families, to lose mates, I've lost a few myself, it has affected everybody. Hopefully we will see the light at the end of the tunnel in the near future, the quicker the better".
"We couldn't go to the funerals to say goodbye, that is hard on a lot of people. The poetry helped in a way, it got me through it, I can't speak for anyone else, it helped me in the evenings to put it together," the Smithstown resident concluded.