*Photograph: Gary Collins
Parking spaces will be lost should junction improvement measures be introduced at Corrovorrin and along the Tulla Rd in Ennis.
Progress on plans for junction improvement measures at the location "to address traffic, cyclist and pedestrian safety" was sought by Cllr Johnny Flynn (FG) at a recent meeting of the Ennis Municipal District.
Senior executive engineer, John Gannon confirmed that the Corrovorrin/Tulla Rd junction would be included in Clare County Council's application for funding under the Department's low cost safety improvement works for regional and local roads to be carried out by local authorities in 2021. Subject to departmental approval, autumn 2021 has been identified as the expected time frame for completion.
Disruptions have been experienced by residents of Kevin Barry Avenue and Corrovorrin "for well over forty years," Cllr Flynn told a meeting of the Ennis MD. He recalled first seeking improvements in 2004, "I understand that previous funding from the Department didn't get benefit of support of then town councillors to go ahead with scheme at the site". Up to 15,000 vehicles traverse along the Tulla Rd daily, Cllr Flynn stated.
Residents have had their patience tested, Cllr Clare Colleran Molloy (FF) acknowledged. "It is a real problem for long-standing residents, we all know it to be a problem. The officials have it on the top of their agenda".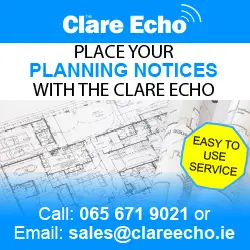 "It is very frustrating," Cllr Mary Howard (FG) agreed. She noted that it was one of a couple of "pinch points" that have been causing inconvenience for a number of years, another being Shanaway Rd.
Both Cllr Mark Nestor (FF) and Cllr Paul Murphy (FG) were hopeful funding would come to pass to cater for a solution. "This is going on too long, it is going on for the last ten to fifteen years," Cllr Pat Daly (FF) vented. He said that residents have to wait up to ten minutes in some cases to get from the junction onto the road.
Addressing the meeting, Gannon assured elected representatives he understood the concerns of residents. "Any modification of the junction be they temporary or otherwise, I would be advocating the otherwise, they need a design, it is not just the residents using it, we all use it and it has to comply with a standard".
He confirmed that funding was previously granted "but it wasn't taken by the local authority and we missed an opportunity". He cautioned, "Whatever junction design is put in place there will be a loss in terms of parking spaces".