*Photograph by Gary Collins
If successful in his attempt to be re-elected, Cllr Pat Daly will celebrate twenty years on Clare County Council in May, parking, health and housing are top of his agenda as he prepares to commence his latest campaign.
Daly was selected alongside Cllr Clare Colleran Molloy to contest the local elections in the Ennis Municipal District. Just the two were selected despite both Bernard Hanrahan and Mark Nestor putting themselves forward, Fianna Fáil issued a directive for a two candidate strategy which annoyed members. "My preference would be three", Daly revealed.
As it stands Fianna Fáil has three sitting councillors in the EMD but with Cllr Tom McNamara relocating to the Kilrush area, his pool of votes are now left open, securing those votes won't be easy. "It's going to be difficult because it's gone from an eight to a seven seater and you have seven outgoing councillors looking for seven seats so someone is going to lose out whether it's the Independents, Fianna Fáil or Fine Gael. The Independents have two seats, Fianna Fáil and Fine Gael have three each so it's going to be very difficult".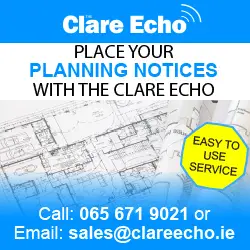 First elected in 1999 when he topped the poll in Ennis, Pat told The Clare Echo that the lack of social housing built since 2011 is one of the most concerning issues that has occurred during his time on the Council. "I'm not going to go down the road of what Fianna Fáil did or what Fine Gael did but since 2011 there's very few social houses built so that explains the whole story. There's 3,000 people in Clare alone on the list so it's a serious issue that has to be solved very soon. The HAP scheme is fine but there's no houses for people for apartments they're finding it very hard to get them and the HAP is going to run out because the houses or apartments aren't there".
Parking is a problem in Ennis and it is something Daly wants fixed in the next Council term. "I've a proposal put in many times for a site in Drumbiggle where the old town council was, I want someone to build that whether it's public or private way of doing that so 400 parking spots could be built in that would look after the staff members of Ennis. The major problem at the moment is staff members who have no other choice but to park on the street or in the car parks are taking up all the spots and there isn't room for the customers, it's not the staff's problem or fault because the parking is there. A multi-storey car park in the Drumbiggle site would solve a lot of the parking problems we have in the town and I'm pushing that to the hilt".
Views have been expressed locally within Fianna Fáil that there is a lack of youth involvement with the party, a top down approach is needed to rectify this poor engagement according to the Ennis councillor. "There is no doubt that there is a major lack of youth, we're not getting young members to join the party for many years and particularly in the Comhairle Ceanntar because I'm a member of it there would 120 people there and the average is plus fifty, there's something wrong, we need young people to join the party and there should be a push at the top to do that".
Born and raised in Parnell St, few individuals were more happy than Daly with the recent announcement that €1.4m will be allocated for regeneration works on the street and a further €189,000 will go towards Barrack Square and Old Barrack Street, O'Connell Street and High Street. "I see a great opportunity there. At the moment there's too many properties closed in the capital of Clare, O'Connell St, Francis St, Market St, Barrack St are all going well and Parnell St will go well if this new development goes ahead. I brought all the councillors down there and the management and we got it going. The €1.6m is awful welcome news and it's great for Barrack St".
He and his family once had a drapery business on Parnell St and one of the factors for them to close their doors 27 years ago was the maintenance of the area. "We got out in 1991 because of the decay of the street at the time, there was no traffic going through and there was no people going down the street, that's a long time ago, I don't like even talking about it".
Being there to have a role to play with the redevelopment has given the former Mayor of Clare an extra incentive to win back his seat. "I want to be there to see the completion of the Parnell St development, I want to see Ennis become a model three hospital and the twenty four hour A&E reopened, I want the parking issue sorted out, I want to see more social housing, I could write a book on it".