Hundreds of mourners attended the funeral mass of Canon Reuben Butler in Newmarket-on-Fergus on Sunday.
Celebrated by Bishop Fintan Monahan at The Church of Our Lady of the Rosary, the service heard warm tributes to the Dublin born priest who lived in Claremorris, Co Mayo and Templederry, Co Tipperary before enrolling as a boarder to St Flannan's College, Ennis in September 1944.
He would return to Flannan's fourteen years later, this time as a member of staff, during the 1960s Butler became involved in counselling and career guidance, between 1977 and 1981, he was Chairperson of the Institute of Guidance Counsellors.
Reuben was president of St Flannan's when he was appointed parish priest of Newmarket-on-Fergus in October 1989, a post he held until 2006, three years ago, he celebrated his Diamond Jubilee.
Whilst in the parish of Newmarket-on-Fergus, he play an instrumental role in the establishment of both Obair and Meals on Wheels. In 2015 Reuben combined with local historian Máire Ní Ghruagáin to publish The Story of Newmarket-on-Fergus, an account dating back from the earliest human settlement stretching through the centuries to the present era which was acknowledged by President Michael D. Higgins who held a reception in their honour at Arás an Uachtaráin.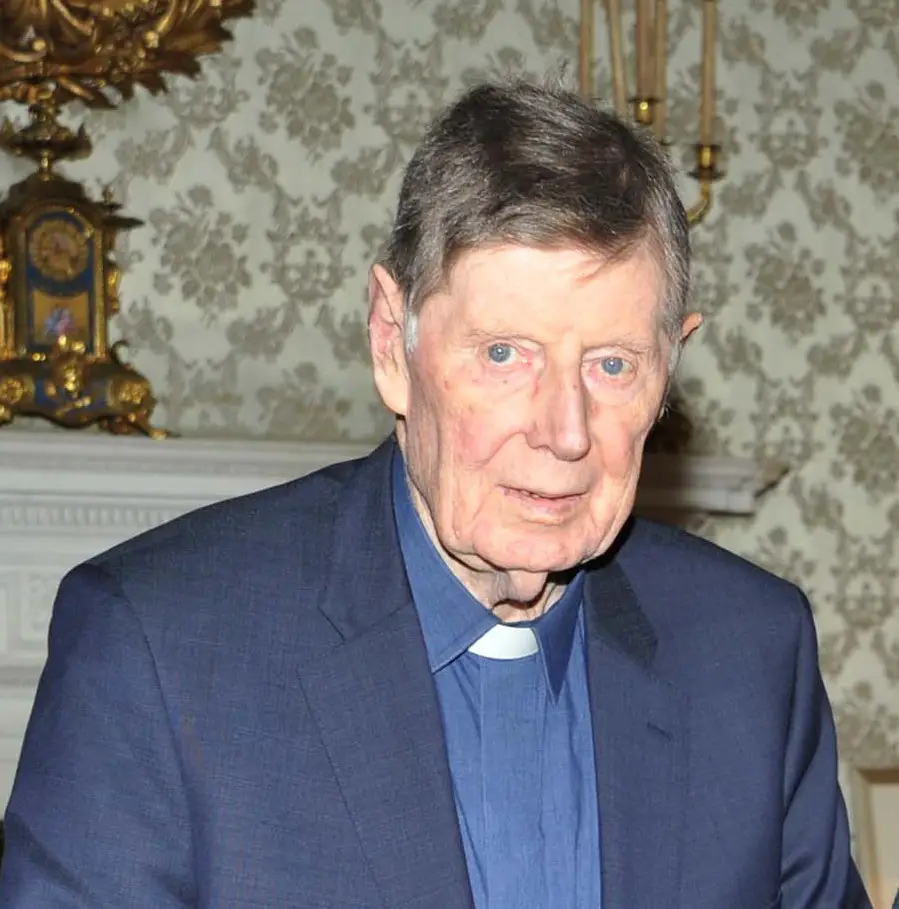 Born in 1931, Reuben died on Friday following a short illness. "Over the past few years Reuben struggled with indifferent health and a gradual decline in the diminishment of the body, something he bore with dignity, forbearance and fortitude," Bishop Monahan told the large congregation.

Bishop Monahan noted Butler's "outstanding talent and success as a pastor". "Everyday he turned his hand to achieving success with such competence and ease. He was a pastor, teacher, pioneering educationalist, scholar, historian, sociologist, author, broadcaster, technophile, golfer, bridge player, a many of gentleness and wisdom. More than any of these descriptions, one word that people use to describe him again and again is kindness. He was a quite and unassuming man with a caring and listening ear. He was just as comfortable in the company of the ordinary man and woman on the street as with Uachtaráin na hÉireann".
Quoting his predecessor, Bishop Willie Walsh, Monahan added, "It was often observed that he would fall on the side of the pupil in relation to education matters, he could always see the larger picture in the context of the pupil's life. When some might be calling for severe retribution for students in trouble, Reuben would quickly paint a wider picture on the individual's struggle and had both sympathy and understanding. The problem with Butler as his colleagues would sometime say was that 'he was too Christian'. He trained a number of hurling teams in the college but one of his colleagues remarked 'he didn't have sufficient poison in him or the ruthless streak necessary to deliver the killer blow to kill teams off at the crucial time'".
Fr. Brendan Quinlivan who was inspired by Canon Reuben to enter the priesthood recalled his school years at St Flannan's. "I will always remember Reuben's kindness and care, at a time when children were meant to be seen and not heard he gave us a sense of value and self-worth".
His nephew, Fergal told the mass that Reuben was still planning his next trip to Lourdes and spoke of his pride at showcasing their family tree at a reunion last June. "Reuben was adopted by the Banner County over seventy years ago, our family would like to thank the whole community for welcoming Canon Reuben to Clare and making it is home".
Fergal continued, "As I listened to Bishop Fintan and he talked about asking the Lord to find a way to forgive any failings Reuben may have and I thought 'what would that be now'. I would search myself to see what failings he had".
Parish priest of Newmarket-on-Fergus, Fr. Tom Fitzpatrick who was described by Fergal as his uncle's "wingman" acknowledged the kindness and empathy showed by the people of Clare to his late friend. "When you think of Reuben two words that come to mind for me are; love and service it summed up Reuben very well. We have been absolutely overwhelmed here over the past few month since Reuben was hospitalised and especially over the past few days with the river of love that has been overflowing towards us. I just wanted to mention in passing, a few months ago shortly after Reuben was taken to hospital, somebody said to me 'I hope Reuben knows how much he is loved in this parish', I think plain and certain Reuben did know".