More than €1.6m was paid by UL Hospitals Group last year for transporting patients for dialysis treatment.
Taxi costs for transporting Clare dialysis patients to University Hospital Limerick (UHL) in 2018 hit €95,000. This figure has increased over the following two years. Transport fees for bringing in-centre dialysis patients from Clare, Limerick and Tipperary to UHL 2019 amounted to €1,628,293 according to figures obtained by The Clare Echo.
A further rise was recorded last year for transporting dialysis patients in the Mid-West during the pandemic. From January 2020 to the end of October, the fee hit €1,664,992.
Available data on numbers of persons receiving peritioneal dialysis from home in 2020 suggests there has not been an increase in the numbers of patients availing of home-based therapies during the pandemic. Numbers receiving peritoneal dialysis have varied from a maximum of 20 patients in January, to a minimum of 14 in July, a spokesperson for UL Hospitals Group confirmed.
Previous calls were issued by Cllr Pat Daly (FF), Cllr Pat McMahon (FF) and retired councillor James Breen (IND) for a dialysis centre to be set up in Ennis General Hospital to cut back on the transport costs.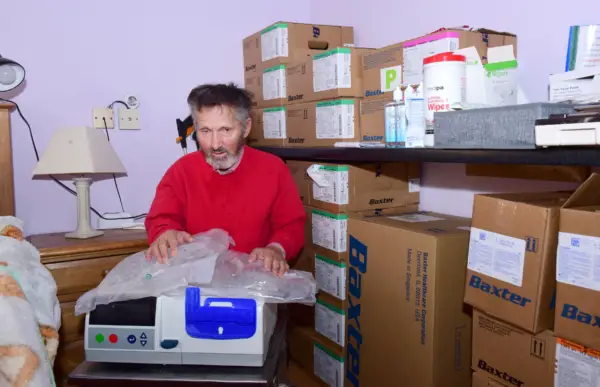 Corofin native, Dermot Hayes is currently receiving dialysis from home. He is among the supporters for the dialysis centre to be established in Ennis. "It doesn't need a huge big room, it is possible and the levels of skills that the nurses have are great and the technology that is there, even if there was only ten people a day, it is ten less travelling to Limerick, I know some people are travelling a long way from West or North Clare into Limerick, if they could pop into Ennis and get it done it would make a difference. It would also relieve the pressure on the unit in Limerick, some people on the edges in Limerick have to go to Cork and same for the people in Tipperary because there aren't enough facilities in Limerick even though they are new. It would make a big difference".

UL Hospitals Group have confirmed to The Clare Echo there are no plans to open a satellite dialysis unit in Ennis. Strategic planning of the National Renal Office is informed by a national patient management system. All adult patients commence dialysis in one of the 13 hospital dialysis unit settings, and continue to receive dialysis in either the hospital unit, or at one of 11 satellite dialysis units strategically located across the country.
"Many of these satellite units were opened in the past decade in response to the increasing number of patients requiring in-centre haemodialysis treatment. UL Hospitals Group provides in-centre treatment at UHL and the Fresenius Satellite Unit on the Dock Road, Limerick, which serves the population of the Mid-West," the spokesperson confirmed.
Last September, UL Hospitals Group provided in-centre dialysis treatments to 222 patients. This total was composed of 139 who attended the clinic in UHL, and a further 83 at the Fresenius Satellite Unit on the Dock Road, Limerick. A total of 2,833 treatments were provided during September, During October 2020, there was little change in the numbers presenting for dialysis treatment in-centre. The same number (83) attended the Fresenius Unit, and just three fewer than the previous month were treated at UHL, for a monthly total of 219 patients. However, there was an increase in the number of treatments provided in both centres, 1,885 at UHL and 1,048 at the Fresenius Unit, for a monthly total of 2,933 in-centre treatments.