*Photograph: John Mangan
"They don't get enough credit or respect for the fantastic work they do".
Earlier this year, one Clare woman expressed her appreciation for the care and warmth she was receiving from nurses in University Hospital Limerick. "They look after you as if you were one of their own family," she stated.
During an off-the-record conversation with this writer, the lady requested that her identity be withheld but appealed for some sort of gratitude to be extended to the men and women that managed to leave a lasting positive effect on her life.
As a weekly reader of The Clare Echo, this publication was the one in which she chose to see her message of appreciation extended to a wider audience and so contact was made with this writer to help amplify her acknowledgement to the masses.
This conversation was held prior to the outbreak of COVID-19 in Co Clare and before Taoiseach Leo Varadkar (FG) uttered the line, "not all heroes wear capes, some wear scrubs and gowns". It is a comment that wouldn't have washed well with this Clare woman as she referenced the regular battles nurses have to go through to secure adequate pay and the constant stress of the job dealing with overcrowding and at times difficult patients.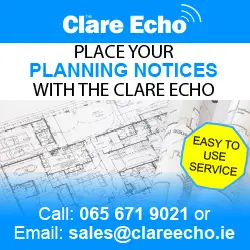 From seeing the interactions between the woman and her nurses, they defiantly outlined that she did not fall into the category of being a difficult patient. Healthcare staff who became acquainted with her were in fact emotional to see her leave the hospital, their experience had alerted them to what was coming.
A follow up visit to see the woman who was then receiving treatment in Ennis heard another plea for an article on the topic of nurses to be dealt with at the right time, this conversation taking place soon after the first cases of COVID-19 were confirmed in the county.
Since then, COVID-19 has impacted the entire country. Across Co Clare and further afield, elderly persons have began to watch the news on television with rosary beads in their hands to pray for the deceased, the daily rate of which is slowly decreasing.
Sadly, after a short illness the Clare woman passed on to her eternal rest. Just as she would have liked, the funeral proceeded with little fuss, taking place prior to the restrictions but at the period when people were beginning to take individual actions to protect themselves and thus limiting those in attendance to family and friends.
To tell the story of this lady and the family in which she reared is worthy of an entire edition of this newspaper. However the wishes were to express her gratitude for the nurses and to remind people not to take them for granted, her desire to get the message out in her final weeks is fitting while the views she was so keen to impart should be followed.
This story appears in this week's edition as a reminder to appreciate the efforts of our frontline heroes whether it is during a pandemic or on a typical Thursday in the near future when life will begin to go on, again.