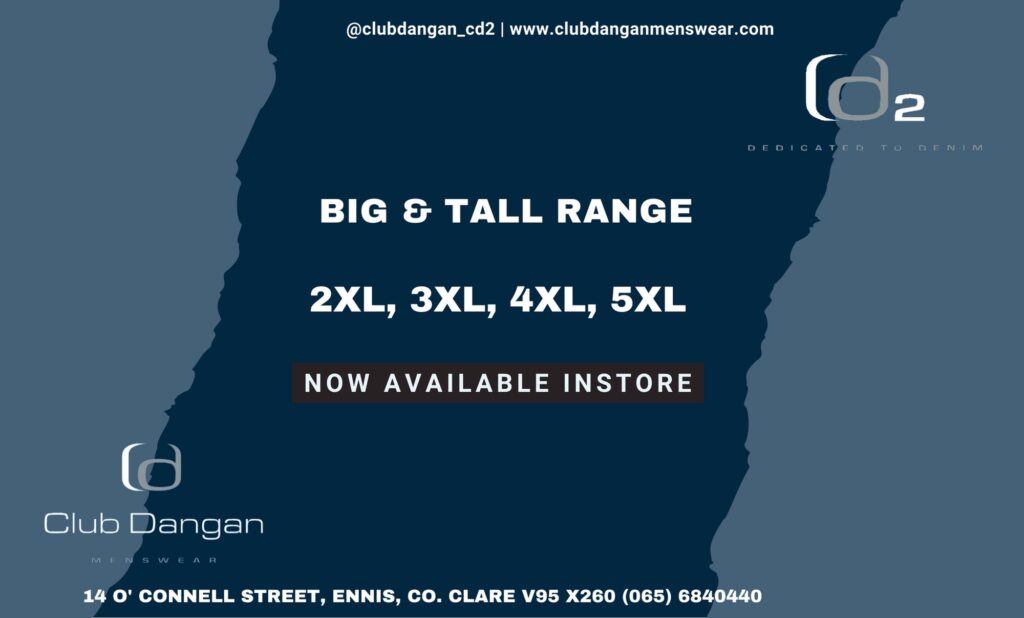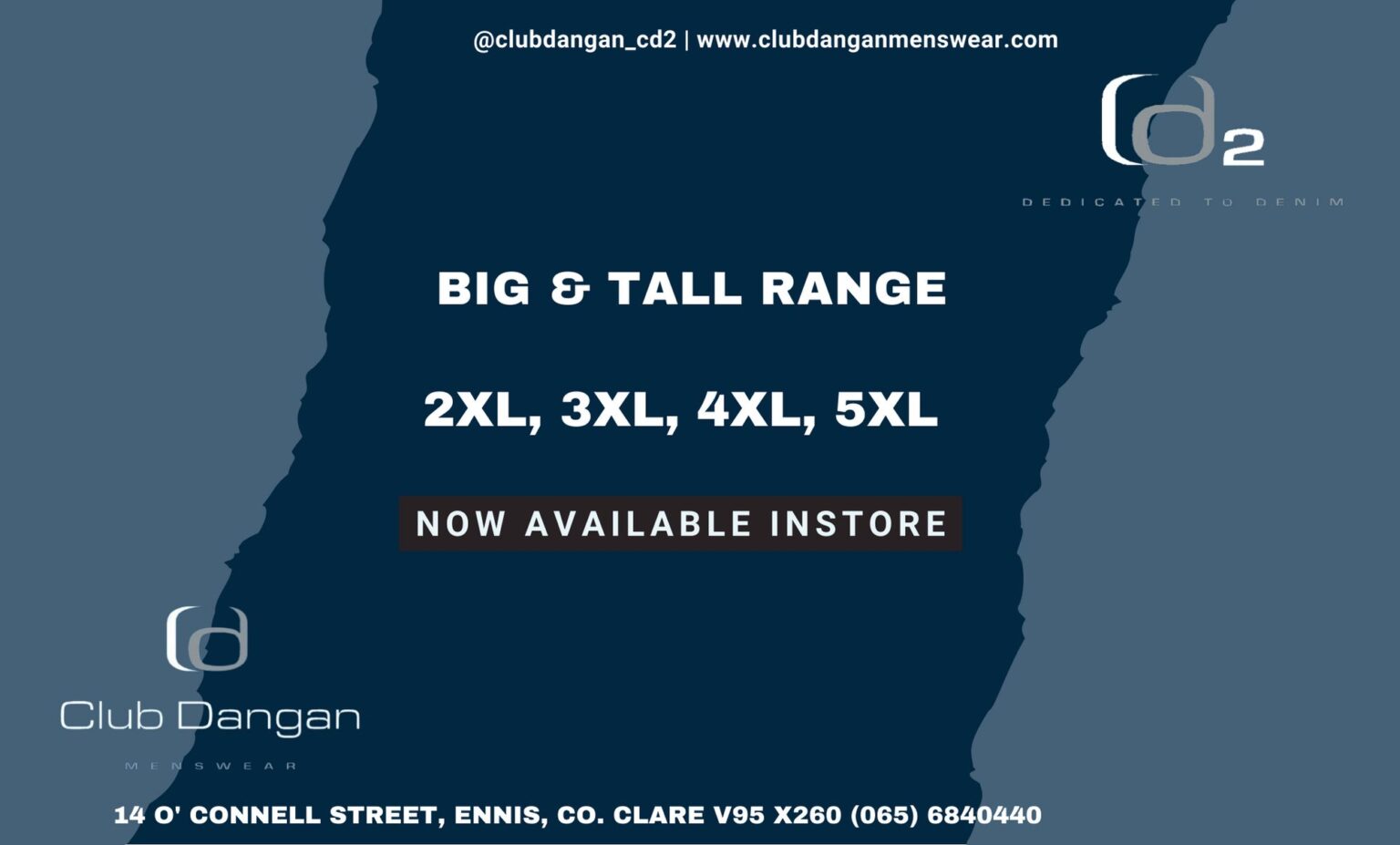 *Chris Droney (RIP) with his daughter Ann Kirrane. Photograph: Martin Connolly
As Clare mourns the loss of one of its greatest musicians in Chris Droney, The Clare Echo's Páraic McMahon gets the views of other leading musicians and broadcasters in the county on the contribution made to our culture and society by the Bellharbour native.
Peaceful Corcomroe by Chris Droney –
There's a Sacred place beneath the Burren Mountains where Cistercians came and preached long long ago
Tis the resting place where lay our forefathers in the lonely graves of Peaceful Corcomroe.
When our time on earth is ore and all our trials they have ended and the time has come when we just have to go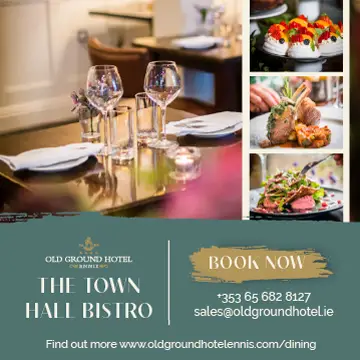 So let's thank the Lord today as we proceed on our last journey and
To our quiet resting place in Corcomroe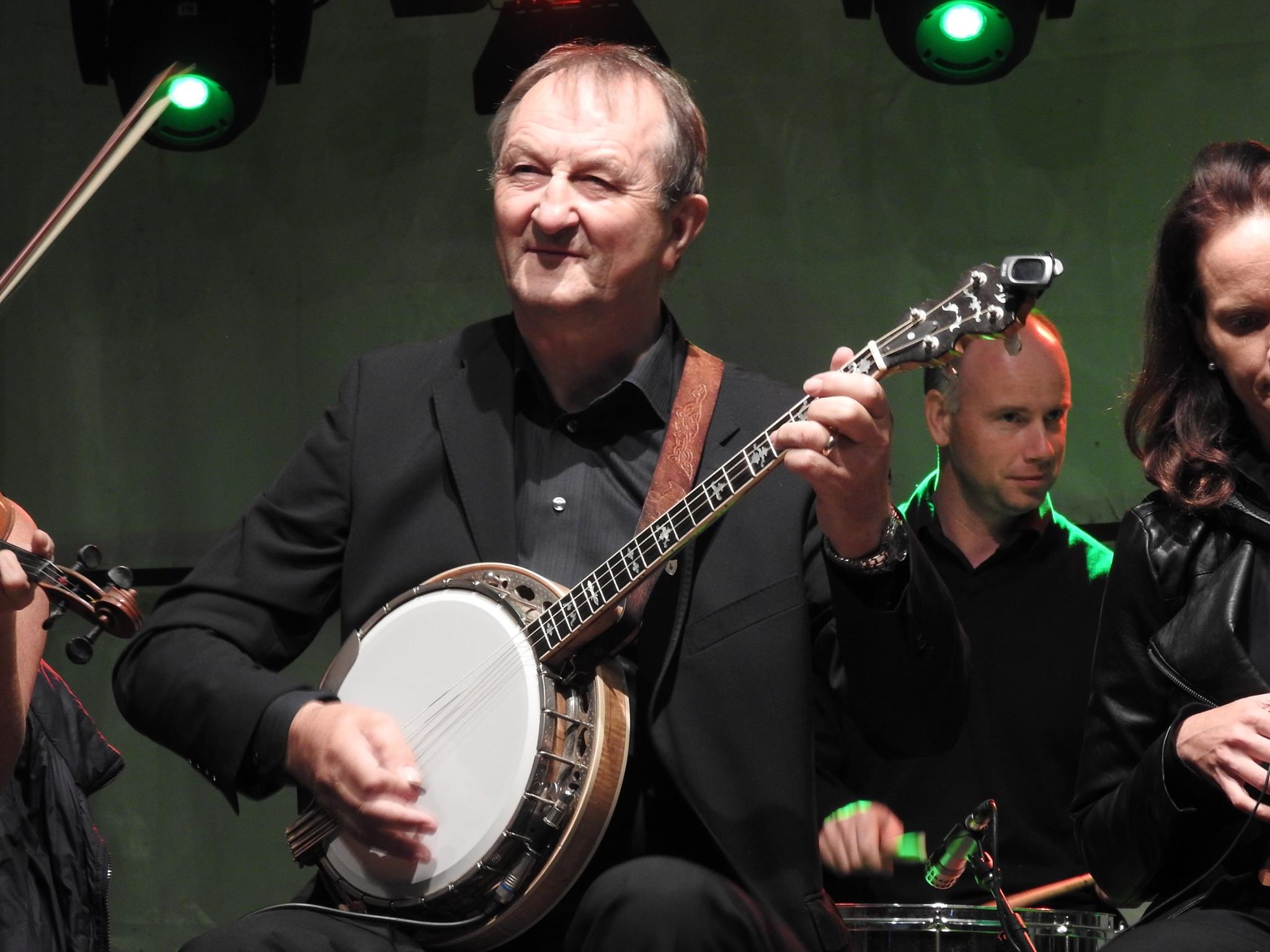 John Lynch, Leader of the Kilfenora Céilí Band:
"Whenever you met Chris Droney there was always fun and devilment going on, anytime I'd be walking towards Chris Droney, there would be a smile on his face and a smile on mine, we had a great relationship. He was a superb family man, a brilliant farmer and a brilliant musician and entertainer. Wherever he went he brought joy. He won ten senior All-Irelands on the concertina, he won a senior duet with Gus Tierney, he was Clare man of the Year in 2012, in 2014 he received a TG4 lifetime achievement award, in 2018 he won the MÓRglór award, that shows you the integrity of the man. As a musician, dancer and storyteller he was superb, with all that honour and glory Chris remained a gentle, humble man. He demonstrated how we should strive to live our lives, that is what epitomised Chris Droney for me.
"He lived to see three generations after him, there was a picture taken just last week of himself and Liábhán who is his great-granddaughter, he is smiling and she is smiling, he gave tremendous support to all them people and never let them down in any way. He was an exceptional farmer, Chris Droney was the first man to bring the combine harvester to his parish, he was an innovative man and was never afraid to take a chance. He always remained grounded and I think the farming did that for him, he was above in the Burren and was very much aware of where he was and the land he played from. One of his favourite tunes was the Bellharbour Reel which was played when he was being removed from the church, it shows how grounded he was and how aware he was of where he came from, he was very proud of where he came from and the people he came from".
"Chris Droney was known throughout the world for his music, he travelled throughout the world and played music for dancers, his music came from that sort of a background of playing for house dancers, his music was full of lift and rhythm in the North Clare style, he was an exponent of that. I'm a generation younger than him, Jimmy his son and myself would have played football against each other. Those people were our idols, Kitty Linnane, Gus Tierney, Chris Droney they were the Gods that we looked up to. He was an ambassador for Clare and his home place in traditional music circles, he was proud of where he came from and that is the same frame of mind we have going forward and that is because of the likes of Chris Droney and those that set the example for us".
"I would like to offer my sincere condolences to his wife Margaret, his children, grand-children and great grand-children on the sad passing of Chris".
Noel Hill, world renowned concertina player:
"I had great time for Chris from a very young age, before I started playing I would have heard Chris through the recordings, they were made by Ciarán Mac Mathúna and broadcast on the radio. There were many styles of concertina playing around but there was a great regard at home in Caherea in our house for dancing, one thing about Chris Droney when he played was that the music was always very strong in rhythm. Chris didn't pay great attention to ornamentation or anything like that, he was much more focused on playing a style of music that came down through Jim Droney his father which was a simple style full of rhythm and very much for a dancer, a dancer would always be very pleased with his playing because it was straight, simple and strong in rhythm, it was savoured by dancers and our house at home used to have dancers. My mother used to say that Chris was such a hearty player that he would lift the dancers off the floor, I recall that from before I started playing so we're going back more than fifty years. There was only six years between Chris and my mother, their birthdays were near to each other, my mother's birthday was the 18th of December and I think Chris' was three days later, I think he was born on the shortest day of the year and would be one of the longest living concertina players. There was a great grá for him in our house, particularly with my mother, they got to know each other very well over the years. My mother was in Kilmaley Day Care Centre, Chris was very generous with his time and he used to come down to Kilmaley and play for the old folks, that was the kind of man he was, he was very pleasant and a man you would love to meet, a man of tall stature and great quality, I loved meeting him, he was reliable.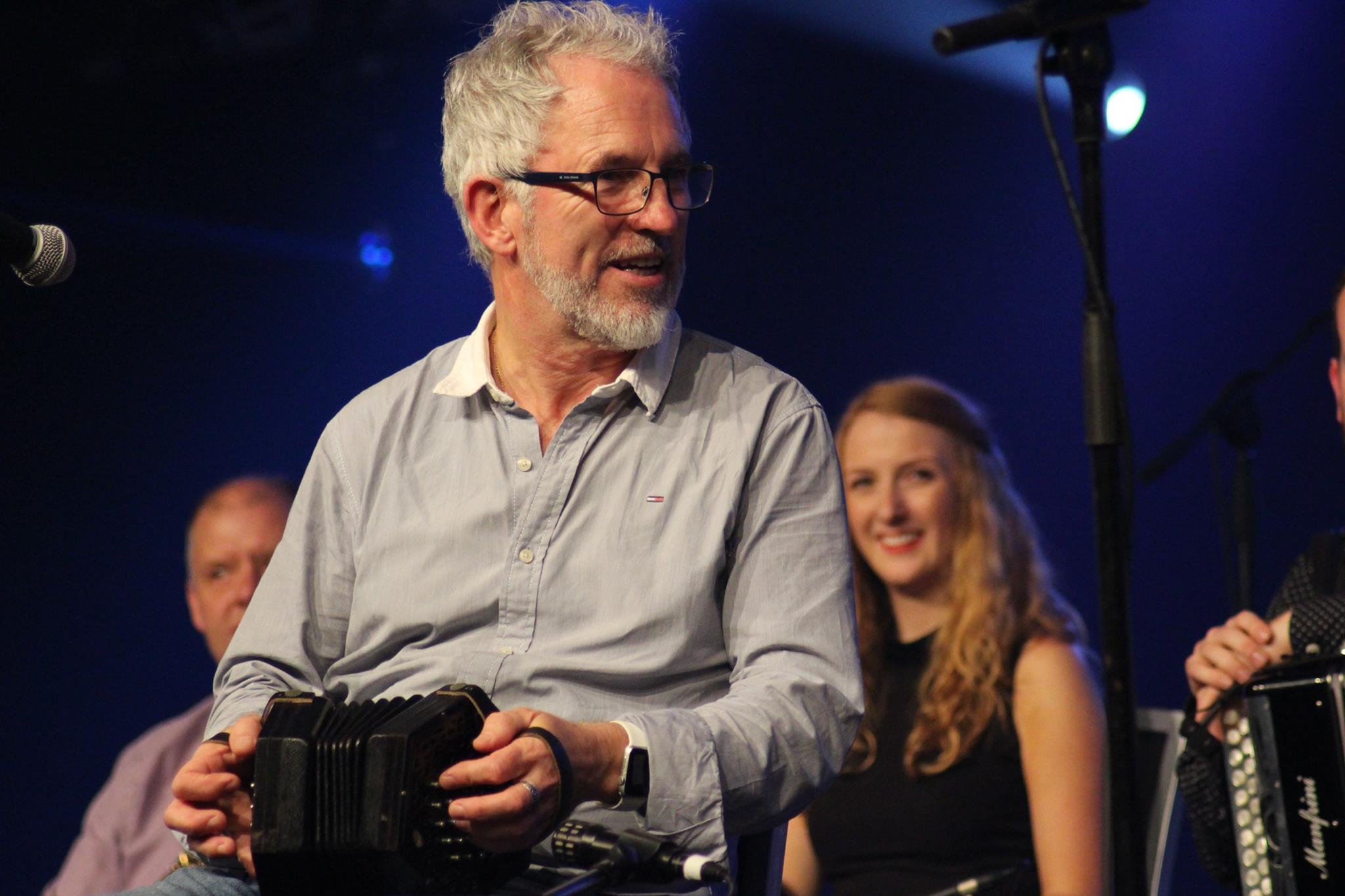 "One of the sad things the longer I live is the way we are losing great people. The group of the older generation left is becoming smaller and smaller, we've lost Micho Russell, Bobby Casey, John Kelly, all great people, Chris battled on longer than nearly all but he is now gone to his eternal rest and I will really miss him, a reliable man, I came back from a farming background so I used to admire the neatness of his land in Bellharbour anytime I would pass, a man that was very generous with his time and his music, always very pleasant. A great loss but the only consolation is that he lived a long and a good life, he had great family values and they are shown in his children, grand-children and great grand-children, he is a great loss to all of those people".
"Chris Droney's father Jim also lived a long life, he was born in 1885, he had a concertina which had 20 keys therefore his style was limited by the instrument whereas we all play with 30 keys, that style was handed down to Chris, Jim lived right until 1972, you had a lineage there and Jim Droney's people before him played music right back until the Famine, there is a continuity there which I find very important. It brings it all back to the fact that we are the guardians and custodians of the music of our lifetime and for it to be passed on, Jim Droney's ancestors did the same, then you had Chris come along with another long life playing that style was that there in that corner of North Clare which was an entirely different style to the style I was brought up with around Mid and West Clare. That is the great richness of it all, you have the North Clare style with the Droneys and Pakie Russell and Pakie Flanagan around Doolin, down to Kilmihil you had Tom Carthy and Solus Lillis, back to Kilrush you had Mrs Crotty, John Kelly in very West Clare near Kilbaha and over the road you had the people in my part of the world Paddy Halpin, Johnny McMahon and up in Kilmaley there was the great Paddy Murphy in Connolly, over to East Clare and you had another nest with John Naughton and all these people, we were surrounded by this richness and I greatly value it, I greatly regret the passing of these cornerstones, it is up to our generation to take it the rest of the way. During the 1930s and 1940s the concertina went into serious decline but you had a bunch of players that kept it going and provided a bridge to my generation, there was a time when you count the number of concertina players, Chris and all those people I mentioned played a vital role in keeping this living bridge to my generation, I started recording in the 1970s and the concertina went from being on the very verges of almost failing into extinction to now being such a powerful number of players, it is the second most popular instrument at Scoil Samhraidh Willie Clancy from the point where it was the least popular in terms of numbers. I started teaching there in the mid 70s where there were was four students, now there is over 200 students, it goes to show the importance of these men like Chris in bridging it to my generation and people like me drove it forward to a stage where the concertina is at a strong level and we have the likes of Chris to thank for that".
Paula Carroll, music producer & Clare FM broadcaster:
"Chris is right up there at the tip top of the traditional music greats in Clare. He was not just a wonderful musician but he was that old style musician, his music was very straight forward, very rhythmic, it was for dancers, that's what musicians were for in the days when Chris was born and was a young man and that was how he delivered his music. Another reason that he is up there at the top is that he represents a time when music was one part of a person's personality, Chris is equally known for being a great family man, a wonderful farmer, he was the neatest of men, the house and the farm was in fantastic condition. I was speaking to his son Francis the other day and he was saying of his father that his priorities were 1: family, 2: work and 3: music but you would never know that if you just knew Chris through music because he embodied music, he loved to dance, he could lilt and he could play, he was a great man to go the extra mile and knocked a great sense of fun out of every situation he was in. If you only knew him socially you might not know that he was a real Renaissance man, he was interested in the well-being of the people around him in his community, he was really interested in his work. His grandfather was a cattle drover in the 19th century, I think it was when the Land Commission divided the land up around there and Chris' grand-father was able to buy the house in Bellharbour and moved them from being an agricultural worker on an estate to owning his land and a fine property, they became great farmers themselves, I always felt Chris had a great pride in his work and his music".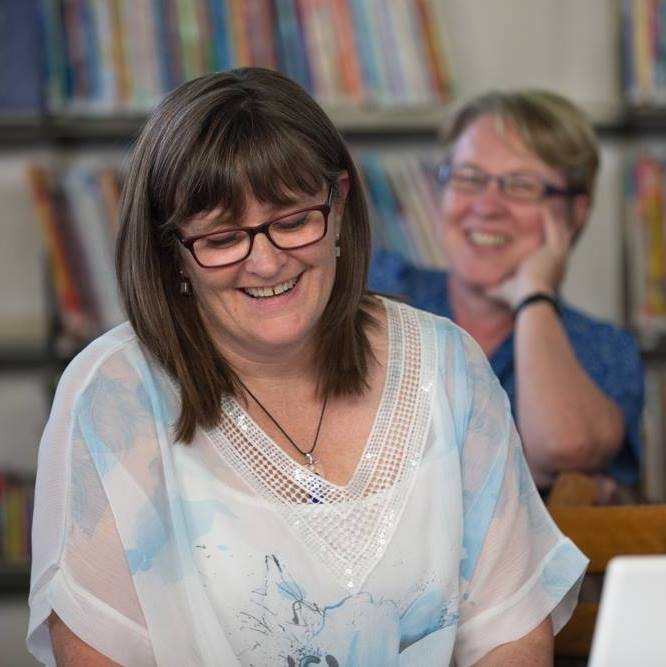 "I have many great memories of Chris. We did a kitchen session live from Chris' house in 2007, it was one of the first kitchen sessions we did, the owner of the house would invite in their friends and neighbours and basically have a party with loads of music and singing and we would broadcast it live on Clare FM, that was when I first met the Garrihy sisters they were just teenagers at the time. Joe Rynne cracked a joke about Chris being a great dancer, he said he would only dance if Joe lilted for him, he was 82 at the time, Joe Rynne was somewhere about to go for a sandwich or something, he came back in and totally impromptu he lilted and Chris at 82 years of age he got up and danced a solo step on his own kitchen floor to rapturous applause, I just thought it was a wonderful moment because he had spent most of his life delivering music for set dancers but he was a great man to dance too".
"I think all of county Clare is poorer for the loss of Chris Droney because he was that kind of renaissance man, because he was a great storyteller, a great musician, a great community man no matter what you asked him to do he would do it with a smile on his face, a light heart and a joke to crack, he had a huge sense of fun".
"I remember when we were doing a tribute to Paddy O'Donoghue, my great friend and departed colleague Pat Costelloe was one of the people interviewed on the night, he said Paddy was a man of two halves, you had Paddy and Bridie his wife, they were a real musical unit I felt and I feel the exact same about Margaret and Chris Droney. You never saw one without the other, they were always together, she played the traditional role of the woman who was slightly quieter than the men when she was out, she was always with him and was a huge support to him as he was he to her. My heart goes out to her, when a unit like that is broken it must be really painful, even though he had a really long, hugely productive and creative life in which he was very much loved, it is no doubt a really sad thing for Margaret".
Kate Purcell, singer/songwriter:
"I was so sad when I heard the news about Chris. We played an awful lot together down through the years, we started playing music together as part of an initiative by the Arts Council where we would go to the different nursing homes, we went to all the different nursing homes from Raheen to Cahercalla to Kilrush and Kilkee, we used to play music, sing and read poetry and that was then the first time I got to play with and meet Chris. The minute I met him I felt a connection with Chris, he was one of those older stock of people and musicians that just played the music for the music and the love of it, he was so generous with his music and himself, he was a lovely, gorgeous, warm gentleman who always had a funny story or a bit of craic going on in the background. You would ask people to do their party piece and he would play along with anyone who was singing anything it didn't matter, he was there to coax them and help them. I started doing a concert series in Tuamgraney in the old church there, I used to run three concerts a week and used to invite Chris almost every week, at least once if not twice in the week Chris would come over and play for the tourists, he was always such an amazing character to sit up in front of an audience and tell the tourists stories from his childhood and how he learned concertina, he was a wonderful composer of fabulous tunes, it smacked of the real style of his own playing in the Burren area but you would hear the age of the music. I would sing Johnny Patterson songs from the late 1800s and when Chris would play them with me you were almost back in that era because his music was so old style and you could hear the style from his grandfather who taught him to play, you could hear all the wonderful style coming through. He was such a lovely man, when I sent the message to the members of Cherish the Ladies the band I play with in America, everyone got straight back and they were talking about their memories of Chris and how he was such a lovely generous person with his music and himself".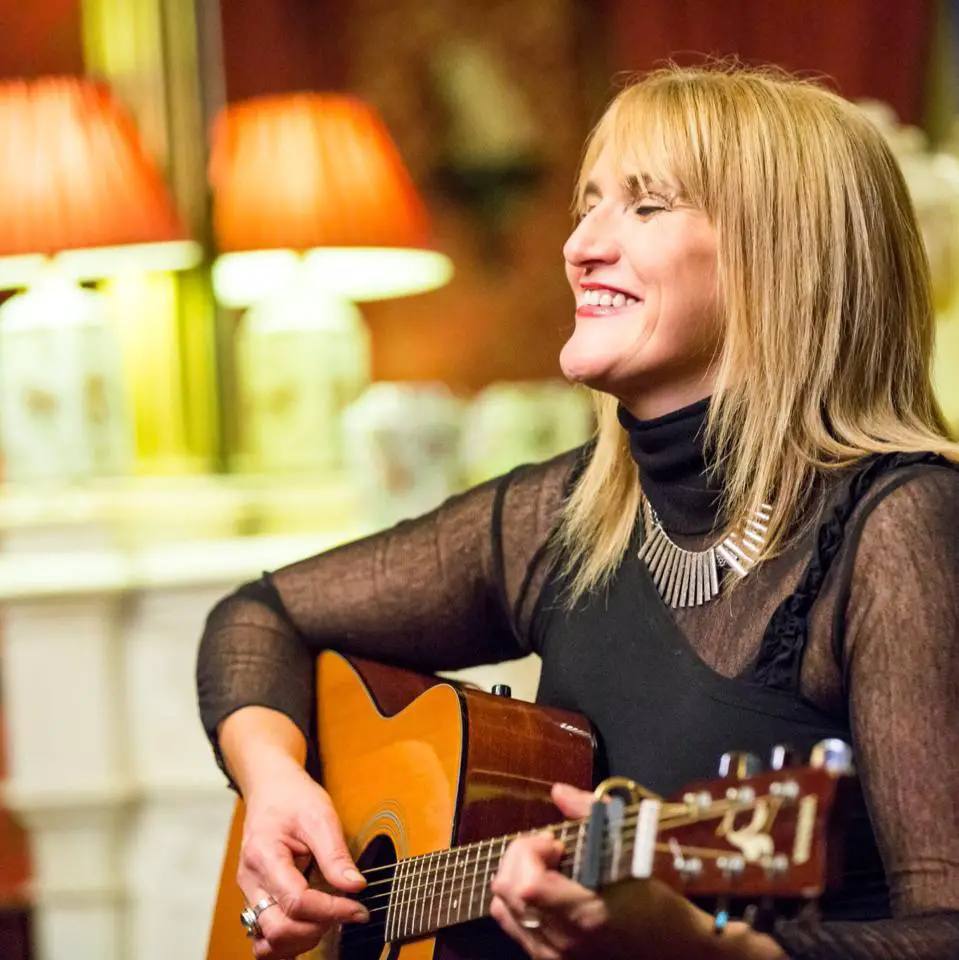 "He was one of those people, he was always there, he had a larger than life character, you never thought he would pass on because he was such a part of the Burren and of Clare, you could never imagine him being gone from it. My father who is 98 next week, he and Chris were very friendly, my father runs an event in Feakle, Looking Forward for people on their own four times a year, Chris and Paddy Hynes used to come down every time it was on and play for the night, they would play beautiful music and have people out dancing waltzes and a set, they travelled from Bellharbour and New Quay and would stay until the last person left the building, Chris was a beautiful man we will miss so much".
"I immediately thought of his lovely wife Margaret when I heard the news, they were together probably 70 odd years, what a beautiful lady she is. I'm thinking of the whole family, his daughter Ann Kirrane who I know well from singing, I've met all the family on numerous occasions, they are a great family who I'm sure are heartbroken and my heart goes out to them for losing such a legendary soul who we all miss terribly".