*Newmarket Celtic manager, Mark O'Malley. Photograph: Natasha Barton
RED IS THE ROSE is the anthem often belted out in the aftermath of Newmarket Celtic claiming silverware of any description, it may not always be easy on the ears when kitman Owen McCarthy gets going but the hope for manager Mark O'Malley is that some rendition will be heard from his charges this weekend.
Apt in a way that the ballad is originally sung by the High Kings because within Newmarket Celtic, the O'Malley clan can certainly be classed as High Kings of their own right. His father Mike represented and managed the club's A team as did his brother Mikey who also had the distinction of lining out for Clare on several occasions including the Oscar Traynor winning side of 2004.
Reflecting on the family ties to the club, Mark said, "You know what the O'Malleys are like in Newmarket when it comes to soccer, you're born in a ball in your hand. It's funny, my Dad says 'give it up, it's taking up too much of your time' and I tell him 'I'm only doing it because you got me involved so you're to blame'! We love the club, my brother Damien is starting out doing a bit of management now, it comes with the territory, I won't say we're expected to do it but if you don't do it you're saying why aren't you doing it".
Mark himself a no-nonsense full-back in his time is the holder of two Premier Division medals. "There's a tradition with our family, Mikey played with Newmarket, I played with Newmarket, we both captained Newmarket, we've both managed Newmarket to Cup finals, my Dad win a Premier as has definitely been involved with the A team over the years, it is a great personal achievement for us as a family to have done that but it's one of those things, there are families that are connected to sport and clubs and that's the way it is, it is one of the things you have to do".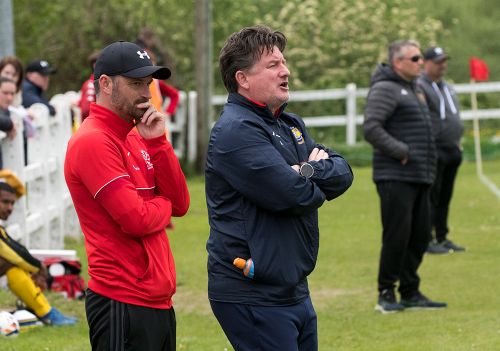 Now in his second season over the club's first team, Sparky is determined to oversee the retention of the League and Cup titles. This time round, they must win in their final League clash to be crowned champions while as with every Cup final, they must get the result on the day. "There's not much between the two teams compared to other seasons, we won the Cup semi-final against Avenue A last year 4-0, we played their B team then in the final but Avenue are a lot stronger this year, they've a lot of lads that have come through and younger lads that have gone further down the road, we class this as a fifty fifty game, we're looking forward to it but it will be a tough ask".
With a five day window between the games, it comes as a headache for O'Malley and the side's coach Donal Magee. "The Cup final was supposed to be the last game of the season, the league was supposed to be last Sunday, it had to be changed, we got a bit more respite from our perspective preparing for the Cup final. We had a very tough game against Shannon Town, now it is all eyes on Avenue, the Cup final is D-Day, it's supposed to be the last game of the season, you're in Frank Healy Park, you have the build-up, it's like championship day and it's D-Day to be involved in, thankfully we've been involved in ten of them, all we can do is look forward and fingers crossed get through it on the day".
Injuries and the loss of players such as Callum McNamara signing for Treaty Utd have also resulted in the Kilkishen resident reaching for a Panadol. "We started the season in July, we came back after COVID like everyone else, you had other sports like the GAA running coinciding with the soccer, we weren't the only club to have to deal with that but then we picked up three severe injuries against Shannon Town just before Christmas, two of the boys haven't come back unfortunately and they were flying it. We've been picking up niggles and injuries but you get that during the season, we've probably been unlucky with a few of them but you have to continue what you are doing and prepare, that's why we have a 22 man squad every year to deal with this. Now we're probably in the best shape we have been in the last twelve months, we're happy coming into this game".
Due to being cup-tied in 2000 and taking charge of the B team at the beginning of the nine-in-a-row, Sparky missed out on winning a Cup as a player, for the clash of Newmarket A vs B in the 2018 Cup final he did come out on the losing side. "Unfortunately I've no Cup medal but I got into management early. Managing and playing are two totally different things, it's a totally different challenge, I like it, the same principles apply you're working for the club and trying to make sure the club does well. The lads that won nine cups in row, it's an unbelievable achievement, hopefully we get to double digits and it continues, it's a phenomenal achievement what they've done so far".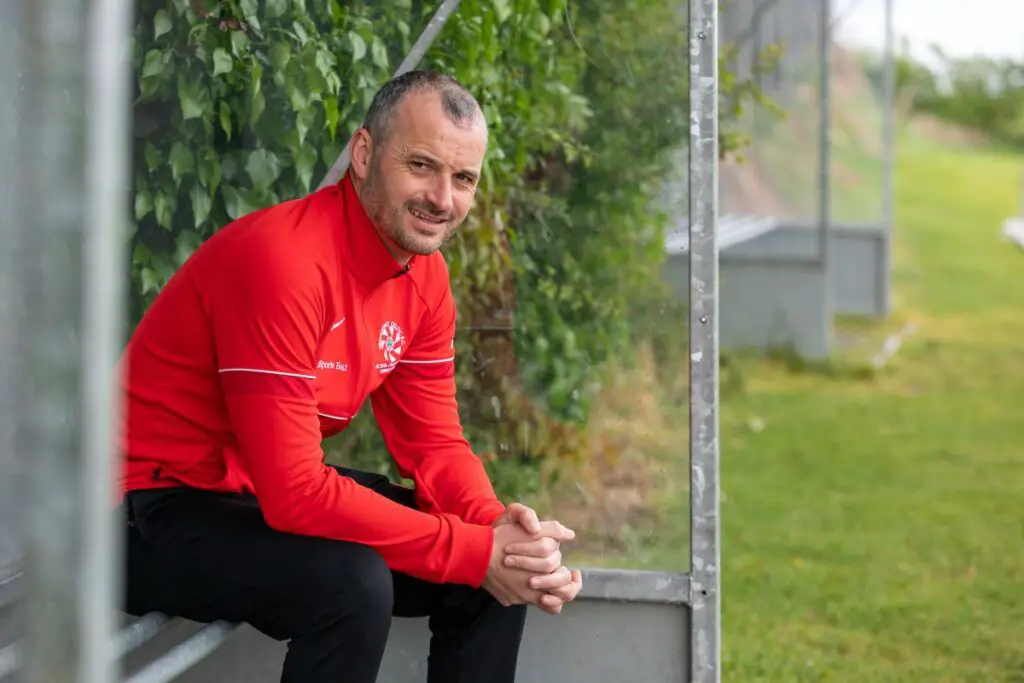 Of his time in management, he commented, "It's nearly ten years, I think I was 31, I went back playing, I gave up for a year and I came back, I wasn't going playing for the A team but Keith McInerney put me on the A team, I didn't want to give the full commitment but then the B team were at risk of pulling out and I said that can't happen so I ended up taking them. I didn't mean to get into management so early, I did of a bit of playing management when I was with the B team, you were there for a few games anyway! It's been eight seasons but including COVID, it's been ten years".
Adding young players to the fold was part of the stall set out by O'Malley and Magee at the beginning of the campaign. "Tadhg Noonan is only eighteen but he is as strong as any man I've met, we've five or six on the panel, they've been with us constantly, even if they don't get a game I want them involved getting used to the bigger games and meeting the squad, seeing how we prepare, they are buying into it and they love it, they are thanking me so much after training. Callum McNamara came through the Youths and then the B team, there is a few more on the B team in fairness so there is a good strong team in fairness. Junior soccer and Youths soccer are different ball games, there's players that played Youths that were supposed to be unbelievable and were never seen kicking a Junior ball, it is a different step up and we're just trying to get them used to stepping up, we're trying to bring players through but time will tell if it's been successful or not".
He also promoted Eoin Kelly and Ciaran McCoy from the B ranks, "They are lads that I trust, they have never let me down over the years, we lost players from the A team with people retiring and caught with different jobs, I could name four or five players straight off that had to step away, then you are trying to sign players. We brought in three or four new signings, you have to get them to gel in with the panel. Once I took the A team job I brought Alan straight back to the A team, I knew bringing in Eoin and Ciaran that they would be fine to do whatever we needed, they know the club, they know what I'm about and what I expect, it was a neat transition and they have given a lot to the club, they've often been called back into squads to cover. I spoke with them at the start of the season, I told them I thought they were good enough and it's up to them to make the commitment but I said it was a different ball game to the B team, there's no excuses, I had that approach with the B team but it's a different level again with the A team, you're nearly going seven days a week between training, recovery, dealing with the physio and management, they've taken to it like ducks to water, I can't fault them".
Securing ten Clare Cup titles in a row would mark history for Newmarket Celtic and Clare soccer, should they accomplish it, then it would be fitting to have an O'Malley leading them on their way.