"IT WAS the sixth of September, 1996 when we opened," begins Donie O'Keeffe, as he recalls a quarter of a century in business in Ennis. The Kilnamona native was just 26-years old when he set up shop in the Turnpike, however he was an experienced operator at that stage having left school aged 15 to become a butcher.
Donie learned his trade with various Ennis butchers including Malones, Vincent Kellys, and Galvin and Gaffney's. A spell working in London was followed by a return to Clare in '89 when he worked in Ennistymon with the Haughs for the following seven years.
Armed with 11 years' experience and his grounding in a farming upbringing, Donie earmarked the Turnpike as the area which would fulfil his ambitions and Donie O'Keeffe Champion Meats was born.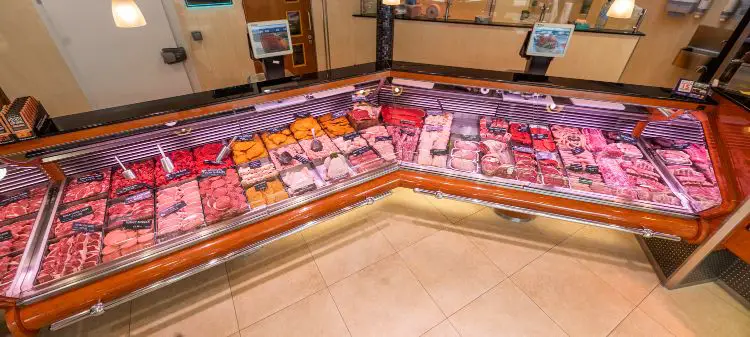 "It was the year that Limerick knocked us out of the championship after Clare won the All Ireland in '95. I opened where CS fish shop is now – next to my current premises. The only business near to me was the Clare Fruit & Veg shop and across the road was Darcy's Bar. Urlan TV was here where I am located now, Fitzgerald's Guest House was on the corner and you had O'Dowds up the road. That was really it in Turnpike. That's what I remember, it was totally different times."
"I had a farming background, and my brother Pat who works with me buys all the cattle and lamb. We always planned to open our own place and had been looking at this place for a while, we thought it was a good location for a butchers especially with the veg shop being there. Next thing, it's 25 years later."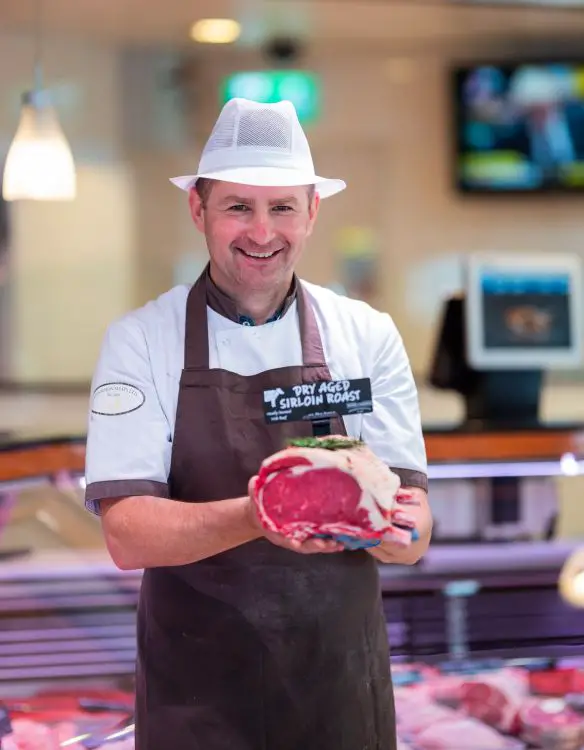 From Day 1, the support from what Donie calls "the great community" of the Turnpike has been an integral and loyal support to O'Keeffe's, along with customers across the Ennis and Clarecastle surrounding areas. He has also found a loyal customer base in the people of West Clare, "Where we're situated, it's probably the road home for most people in West Clare when they come to town. If you're from Quilty or Labasheeda or wherever, on the way home, people will come up by the Old Ground and this is the road home and they pull in here and get their meat and veg."
Today the scene is different with more businesses having sprung to life in the bustling Turnpike. And while much has changed, O'Keeffe's remains an anchor of the community, employing 12 staff among whom he can count his siblings Pat and Bridget. A trusted master butcher and family business, O'Keeffe's supplies high quality, locally sourced beef, lamb, poultry and pork (some of which grazes at the family farm in Kilnamona). Donie O'Keeffe now also offers his loyal customers Dry Aged beef from his state of the art dry Aging Chamber in store while his team of master butchers are available for expert advice on the best cut of meat for their needs along with cooking tips and recipe ideas.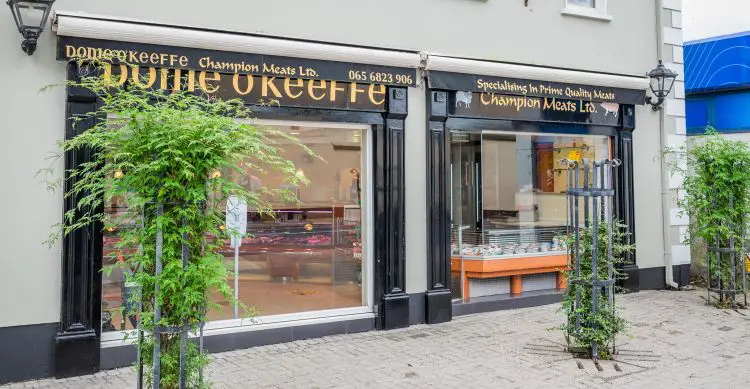 Of course, O'Keeffe's know the importance of origin, and everything sold is fully traceable back to the farm. "We buy our own beef, we buy our own lamb, we mature it properly. We kill it at a local abattoir in Cratloe, it's maturing there for 14 days. We then bring it into our shop and we bone it out and we put our sirloins and our T-bones into a new dry-ager that we've invested in this year and it's maturing there for another 14 to 21 days. Basically, we know quality and can stand behind our products."
Donie has developed a keen interest in the Turnpike area during his time there. "I've heard stories and read books about it, going back to the time de Valera used to come to Ennis in the '50s or '60s. I've met people who remember when there was no Clare Road so the main road into town was the Turnpike. There was a toll there also, you had to pay coming in. De Valera used to come in through Turnpike and there used to be huge crowds out and then I suppose other history we have is Muhammed Ali, he came to Turnpike in 2009, his great grandfather originated in Turnpike. So there is a lot of history with it, it's quite unique and they're very loyal people. We've got to know them, many have come and went over the last 25 years but the next generation are coming into us now and they're lovely people, we've a good connection with them. They're proud to be from the Turnpike and we're proud to serve them every day".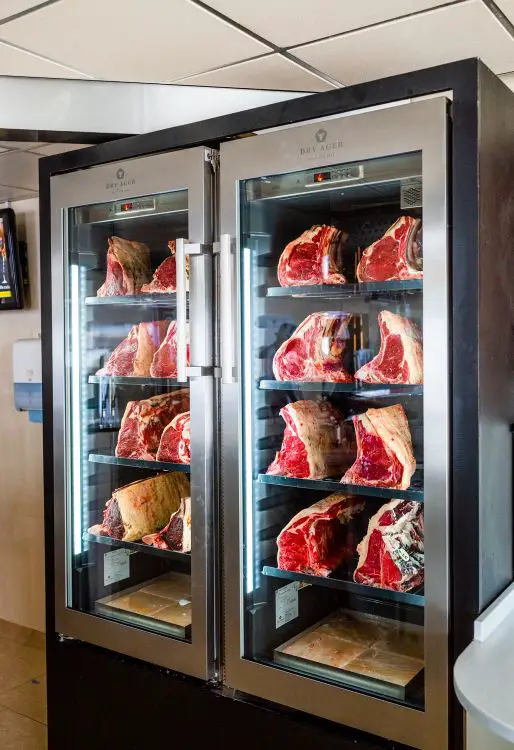 Sandwiched in the middle of those 25 years was a move next door to No 1-2 Turnpike in 2008. Despite the move coming at the beginning of the recession, it proved to be one the family butcher would never look back from. It would also see O'Keeffe's become one of the first in the midwest to modernise their offering to a boutique-style butcher, modelled at the time by Dutch shop fitters Techna Koude.
"It's hard to believe we're here longer than we were next door, when I say it out loud," reflects Donie. "It has been a big success. When I bought it originally, it was the start of the downturn in 2008, and things started to change but we found we started to get busier. Maybe people were going to restaurants less but it was probably a combination of that and the move to the more prominent location."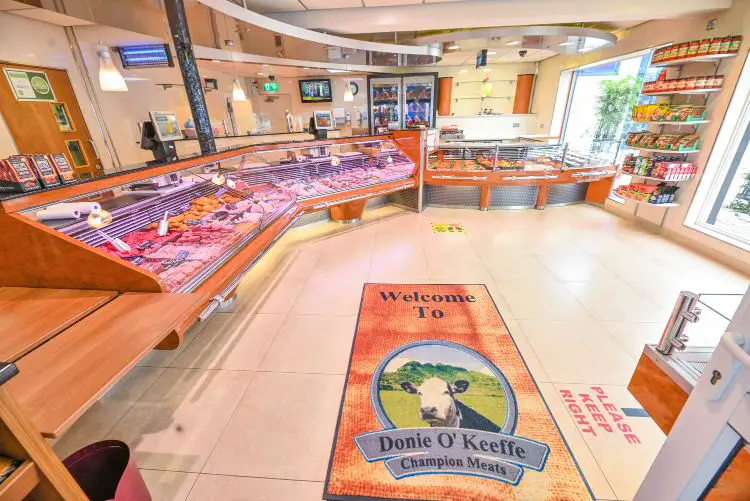 Donie admits that customer habits have changed over the years, and the team at O'Keeffe's offer a wide range of cook-in bags from joints of bacon to stir fries for the modern-day customer. The customer, he explains, is at the centre of everything they do which is evident in their successes in being twice listed by Retail Excellence Ireland as a finalist in the Top 100 Stores in Ireland. Donie also keeps records every Christmas of his customer orders to help them fill out their order the following year, depending on how many they are cooking for. "It's the same week in week out, we advise people based on what numbers they're cooking for." And while O'Keeffe's are ever-evolving to meet the needs of the modern customer, the family hold tradition dear. This is evident in the stuffing recipe handed down by their grandmother Nell Vaughan, which is still sold in their premises and continues to be popular.
While thanking his customer base, Donie thinks for a second when asked the secret to O'Keeffe's secret to success and longevity. "I suppose a combination of consistency with quality, consistency with staff and hard work. We're fortunate enough to have loyal staff, and good customers. You have to keep changing it, it evolves all the time … but essentially it comes down to providing good quality, value, and a personalised service."
CHAMPION MEATS in Turnpike are Open 6 days Monday-Saturday 8am-6pm with late opening Friday until 6.30pm.