Cratloe's Pat O'Gorman has returned to the role of a County Councillor, sixteen years after losing his seat.
Nominated by members of the Fianna Fáil Shannon Comhairle Ceanntair on Sunday night, Pat was officially co-opted to fill the seat vacated by newly elected TD, Cathal Crowe (FF) at Monday's adjourned meeting of the local authority. Robert Frost, Louise McNamara and Noel Broggy also contested the convention.
His father, Joe was previously co-opted to the local authority in the early 1970s and it is believed they are the first father and to both be co-opted onto Clare County Council. Cllr PJ Kelly (FF) described Joe as "one of the most colourful councillors we've had".
Speaking at Sunday's selection, the former Mayor of Clare revealed that he withdrew his name from the contest on Thursday morning following a decision from Fianna Fáil headquarters to select the candidate based on an interview process. "Michael Healy-Rae does to be talking about passing the Red Cow and the rest of the country being forgotten about, that's exactly the way I felt and I was prepared to forfeit all this for the grassroots of Fianna Fáil".
"I was delighted to put my name back in again and I was delighted to go around canvassing Thursday, Friday, Saturday and Sunday morning asking people for support. It goes to show what canvassing is all about because it all came down to number twos, number threes and number fours". No official vote was given to party members on Sunday but The Clare Echo understands McNamara received the most first preferences with O'Gorman winning the seat as he received every single transfer from Broggy.
He added, "I want to pledge to everyone here in the Shannon area that I will work 100 percent on your behalf, 100 percent with Cathal Crowe helping me and guiding me now because I'm so long out of it, the last time I got my first mobile phone, we're gone from the laptops and everything since. It's a coincidence more than anything else, it was 1971 when my father got co-opted to Clare County Council, I think we're the first father and son to be co-opted to Clare County Council in its history".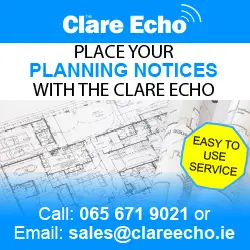 An unsuccessful local election candidate in 2004, 2009 and 2014, Pakie told party members, "I could have ran as an Independent but I didn't, I stood by Fianna Fáil like all my family did, that's the way I like it, it gives me more pleasure being elected here tonight with this co-option with all members of Fianna Fáil electing me, that means more to me than anything else".
Proposing his co-option at Monday's meeting of Clare County Council, Cllr Pat McMahon (FF) believed the returning local representative "offers much positivity". Cllr Pat Hayes (FF) recalled, "He comes from a long tradition of politics, his father was a colourful councillor and we had many a colourful debate when Pat was here before".
Support for his return was voiced by Cllr Gerry Flynn (IND), Cllr John Crowe (FG) and Cllr Clare Colleran Molloy (FF). Cllr PJ Ryan admitted that his hair "was a different colour" when he canvassed for Joe O'Gorman while Cllr Pat Daly (FF) suggested O'Gorman could take up the singing void left by James Breen.
"My wife was a next-door neighbour to Pakie, after I brought her to O'Callaghans Mills, Pakie's brother Joe followed us to the Mills" Cllr Joe Cooney (FG) quipped. "My brother might have followed Joe to O'Callaghans Mills but he is still a Fianna Fáil man," O'Gorman responded.