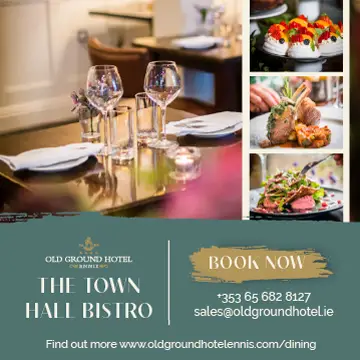 *Minister for Public Expenditure, National Development Plan Delivery and Reform, Paschal Donohoe (FG). Photograph: Arthur Ellis
RENEWABLE OFFSHORE ENERGY will restore an economic imbalance towards the west of Ireland, the Minister for Public Expenditure, National Development Plan Delivery and Reform has said.
On Monday, Ennis Chamber's Presidents Lunch focused on offshore energy opportunities for Co Clare with Minister for Public Expenditure, Paschal Donohoe (FG) the guest speaker.
Pace at which the reform of the regulatory system for offshore energy in Ireland is moving prompted both Equinor and Shell to withdraw from the market, both companies had been involved in companies off the Clare coast.
Speaking to The Clare Echo, Minister Donohoe insisted, "I believe we are maximising our potential but it is one of the reasons why events like this are successful because you get to hear directly from the frontline regarding the feedback they have on the efforts of Government".
"I believe the renewable energy opportunity for Ireland is as big as the FDI opportunity was for Ireland in the 1990s, the vast majority of it is concentrated on the west coast of Ireland so it is a once in a generation opportunity and if you look at the fair critique of so much of our economic development in the last century which is that it is too eastward bound and that it hasn't delivered the overall proper national development our country wants, in the last few years accelerated now by the war we have now realised the need to get to energy security and the renewable sector can deliver it for us," he added.
Minister Donohoe said he was "satisfied" despite the frustrations and subsequent departures of Equinor and Shell. "I am happy and satisfied with the pace, we always want to go quicker, I know some in the sector are critical of the progress we are making, I'm equally ambitious for us to do more faster but the Government does have to weigh up a lot of competing priorities as well which sometimes means that not everything moves forward at the pace as those working in the sector want it to move forward on".
When asked if offshore renewable energy could restore an imbalance in economic development, he responded, "Categorically. We have an opportunity to be one of the few energy exporters into the European Union, the raw material that will help us do it is mostly concentrated on the west and south-west of Ireland so there is a truly extraordinary opportunity in front of us".
In capitalising on this potential, there is a need to focus on the county's infrastructure in order to encourage more people to live in counties like Clare. "There's always a need to improve infrastructure, that's why we have to build more schools, we have to make sure our roads are in good condition but what is exciting for the issue we are talking about is that so many other times when we've been talking about opportunities for regional development we've been saying how can we create the demand for industry to be located here, now with the renewable energy opportunity the demand is already there and that's what makes this so different from any other issue or opportunity we've pursued in the past.
"In the past, we'd have talked about how do we move industry to the west coast, it's why tourism has been so important for the west coasrt and counties like Clare for so long because the industry is located here, with the renewable challenge the sector and the demand is here so it means we have a head start but it also means we really need to challenge ourselves to step up to do more to grasp this opportunity, I'm getting a lot of feedback today on what we do well and what we can do better".