*Michael O'Connor pictured at the 2019 Clare GAA Convention. Photograph: John Mangan
Crusheen's Michael O'Connor has announced he will not be seeking contesting the election to the post of Clare GAA Chairman.
He is one of four nominees alongside PJ McGuane (Cooraclare), Jack Chaplin (Cratloe) and Robert Frost (O'Callaghans Mills) to succeed Joe Cooney (O'Callaghans Mills). Both McGuane and Chaplin have confirmed to The Clare Echo they will be contesting the election while Frost will make his intentions known prior to the deadline.
O'Connor will continue as public relations officer of Clare GAA but cited his role as Gaelic Games Officer with NUIG and the fact he will be "engaging in a masters in health promotion" at the University plus his efforts as Chairman of Crusheen as reasons not to contest for county Chair. He said he was "bowled over" with the level of support received inside and out of Clare since receiving the nomination.
A meeting of the Clare GAA Executive took place on Wednesday evening. The PRO did not inform fellow officers of his decision until sending all clubs in the county an email subsequent to the meeting.
In correspondence to the clubs, he stated, "There is a body of work that requires investigation and solutions to find agreement to continually energise our county at all levels from development squads, county sides and infrastructure. One unit comprises many parts to work together for the betterment of the unit. The role of Chairperson can at times be overly exalted in any organisation. The collective efforts of the executive, board delegates, team managers and all engaged parties is what creates movement, progression and success".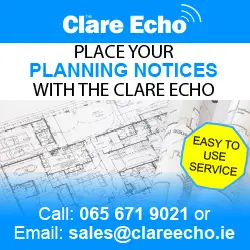 He outlined that "a far greater media presence" is needed by Clare GAA on Twitter, Facebook and Instagram. He also said Clare GAA TV has shown potential but needs "greater expansion, improvement and delivery". Fundraising efforts must also be reignited to support all county teams, "I am prepared to step up to the mark on this agenda," he admitted. A "definitive mental health and wellbeing policy" for players, officers and club members is also needed, O'Connor felt.