*Ger O'Connell. Photograph: Burren Eye Photography
There is a lot of positivity in the Clare camogie camp ahead of Saturday's All-Ireland senior championship first round clash with the reigning champions Kilkenny according to the Clare manager Ger O'Connell.
The Clonlara clubman readily admitted that "it's a tough draw, to be in a group that includes the two teams that played the league final just a couple of weeks ago. Look the players have stepped up when we have met them in recent times, against Kilkenny in the league last year in Kilkenny and recently against Galway in this year's league".
The All-Ireland minor hurling winning goalkeeper with Clare in 1997 stressed, "we are not looking past Saturday's meeting with the All-Ireland champions. It's a massive game for us and we have home advantage which is important. It's going to be tough. The girls have trained really well for what will be a really tough game".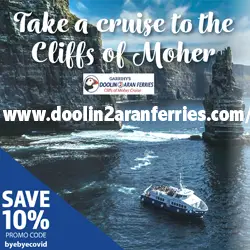 O'Connell and his backroom team expect to be able to select from a full panel. "There are the usual few niggles but, as of now, everyone is available", he told the Clare Echo this week. "The win over Dublin in the league relegation play off recently provided a really good lift for us. It was a pressure game. Our league form prior to that was inconsistent. We started poorly but finished strong. We have tried our best to learn from those games".
The Clare boss accepts that "Kilkenny are the standard bearers, they never give up and that's what the good teams do. We showed last year that they are beatable. They can be rattled and they were really rattled by Limerick recently while Tipperary had them rattled in the league semi-final. We will target them in certain areas".
O'Connell, like all involved in the squad is looking forward to having some spectators attend the game. "The girls have been training since February and its been tough. Indeed it's been tough for the last year and a half. Everything we have done has been targeted towards this time of the year. We have to go into this game with positivity", he concluded.
Kilkenny will carry the favourites tag and they are hotly tipped to get their challenge to retain the title off to a winning start. That said, they will be wary of the challenge they are facing as recent contests between the counties have been very close.