*Tom O'Callaghan is congratulated by Cathal Crowe TD (FF) and Gerry Reidy. Photograph: Joe Buckley
AHEAD OF HIS CO-OPTION to Clare County Council, Tom O'Callaghan has said he's determined to grasp the opportunity to show the electorate of the Ennis Municipal District what he has to offer before the 2024 local elections.
On Sunday, members of the Ennis Fianna Fáil Comhairle Ceanntair voted at their selection convention for Clarecastle based O'Callaghan to fill the Council seat vacated by Mark Nestor. He reached the quote in the first count and defeated Bernard Hanrahan, Darragh McAllister and Amanda Major to get the nod.
How O'Callaghan put together a "professional campaign" was referenced by Mayor of the Ennis MD, Cllr Clare Colleran Molloy (FF) in Hotel Woodstock where he made house calls to several of the Ennis members to get their vote. "I have to give thanks to all the Fianna Fáil members that made me welcome in their home, when you put your name forward it's not an easy decision. Mark Nestor was an absolute gentleman, a person whom I believe was a great asset to Fianna Fáil, young, energetic, passionate and duly deserved to win the seat that day, when Mark decided to move on into the priesthood which is a fantastic challenge," he said.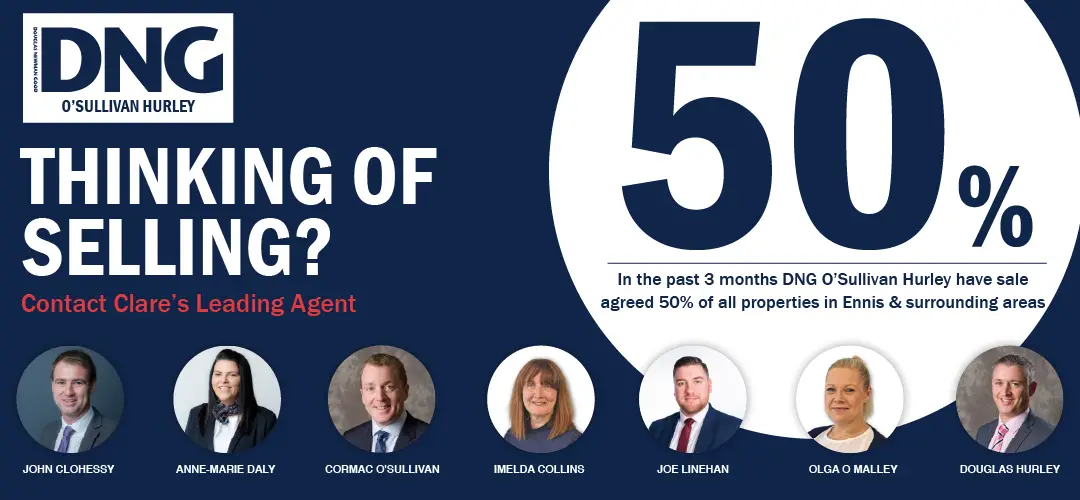 In the spring of this year, Tom was elected as the Ennis Ceanntair's Chairperson, a role he must now vacate.
Upon hearing the result of Sunday's vote, two individuals sprung to mind for Tom, his sister Evelyn and grandfather Michael Lawlor, both of whom are deceased. "We in my family had a tragedy over twenty years ago, we lost my sister to a horse riding accident and I always recall the overwhelming support we as a family received, especially my Fianna Fáil family, the Dalys from Cooraclare who were members, it was something on that day in the mortuary that I genuinely believed that community is paramount and priority, it can never be about money or material assets, it has to be about protecting each other and I always said on that particular day which was very disruptive for us as a family, my poor Mam collapsed at the church and the grave, on both occasions a member of the community was there to grab her and I will never forget that".
O'Callaghan continued, "My mother is Evelyn Lawlor and she would say to me that she can always recall looking up at her father Michael and de Valera 'up Dev', he was going through Ballynacally and he organised to turf at either side to be lit, Mam has always maintained that she can see Lawlor in Tom O'Callaghan which is a wonderful thing because I never met my grandfather. At the time when the vote came back, two people came into my head, you know something it's nice to tell the truth, Michael Lawlor my grandfather who I never met but heard so much about and my sister Yvonne".
Chairman of the Independent Postmasters Group, Tom is likely to raise the matter of post offices within the County Council chamber. "I've been vocal on the post office issue, I can tell you this truthfully 6,500 emails have gone to Government from Tom O'Callaghan with a proposal that I believe will be of benefit to the people, tonight is a night for community, I'm very grateful to get a fantastic vote, it's one thing to say you will do one thing but to get the backing and for people to give the vote is another thing, I've a job to do and I intend to do that".
His parents hailed from Lissycasey and Ballynacally but neither area is included within the Ennis MD. However, he does have an advantage over other new candidates considering putting their name on the ballot paper in 2024 in that he has eighteen months to make an impression before the public go to the polls, "To me, tonight was about do people really believe in you and that vote tells me yes, I've a job to do and I will not let you down".
Tom told The Clare Echo, "I will say this, give Tom a chance. It's people first, in everything I do and every decision I make we're conscious of all the issues there today but I believe very strongly that we have to protect each other, I hope I can be an asset. I'm really looking forward to being on Clare County Council, in 2013 I had an issue and a concern about the post office network, the Council of Co Clare were the first Chamber in all of Ireland to back me and they have backed me 100 percent since, I'm looking forward to working with my Fianna Fáil colleagues but more importantly to be of help".
Hope was expressed by Tom that the party has a bright future. "Fianna Fáil is by no means dead, you could see in the room tonight the heart is there and the badge is there, people believe and I think there's a great future, it is crucial the young people realise politics is there for all, don't be afraid, put your name forward and you'll be more than welcome. It's wonderful to see Amanda putting her name forward, wonderful to see Darragh and Bomber, it just shows you that we want to be part of the community and to be of help. I'm thrilled, tonight is a night that my family are very proud of, my Mam and Dad and for Ennis, I'm looking forward to the challenge".