*Banner toast their success. Photograph: Gerard O'Neill
Normal service was resumed on Sunday evening in a Banner Ladies backlash that sent reverberations around the county and beyond following a commanding final victory over West Clare Gaels in Shanahan McNamara Park in Doonbeg.
Banner Ladies 3-21
West Clare Gaels 0-07
Venue: Shanahan McNamara Memorial Park, Doonbeg
12 months on from being unceremoniously dethroned by Kilmihil at the same stage and location, the Ennis side were back to their ravenous, formidable best to snatch back what is an unparralleled 11th crown in just 13 seasons.
Six of those have now come at the expense of West Clare Gaels whose new-look side did their utmost to stem the tide mainly through goalkeeper Ciara Harvey who produced four outstanding saves to ultimately prevent a rout.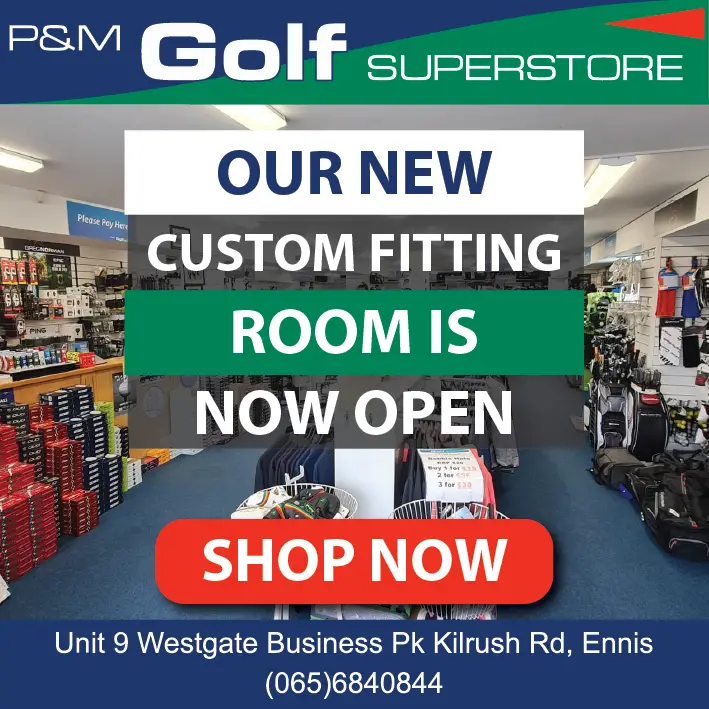 However, the waves was simply too frequent and overwhelming to sustain over the hour as Niamh O'Dea (1-9), captain Grainne Nolan (0-7) and Aoibheann Malone (1-2) alone combined for an unstoppable 2-18 of their healthy tally.
Full of running, desire and power, late first half goals for O'Dea and Malone effectively settled the tie by half-time at 2-11 to 0-04. And having attempted in vain to contain and counter, West Clare Gaels duly went toe-to-toe with the leaders on the restart but only left defensive holes that the Banner gladly filled when outscoring their flagging opponents by 1-9 to 0-1 by the 50th minute.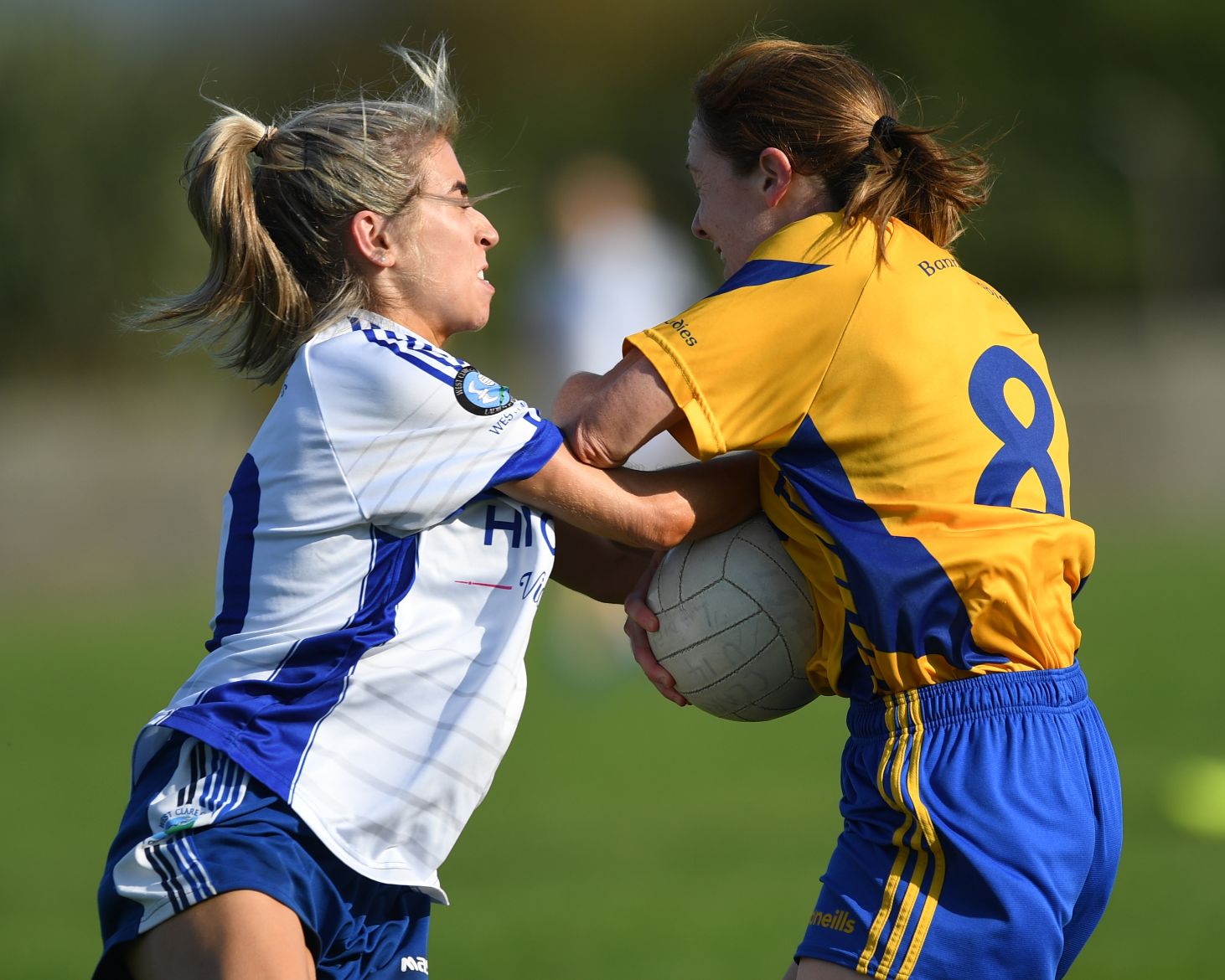 Becky Madigan and Caoimhe Harvey kept running at the Banner rearguard for the former to raid to two late points but by then, the Banner had emptied their bench and were already thinking ahead to their night of substantial meals.
The narrative, if not the result, could have been much different had Banner goalkeeper Emma O'Driscoll not come to her side's rescue after only 25 seconds when Fidelma Marrinan raced through from the throw-in.
In their first county senior final in five years and a large sprinkling of newcomers in their side, one felt that West Clare Gaels needed to take every chance that came their way. And so it proved as the Banner juggernaut thundered into gear with the first six settling points inside nine minutes through Grainne Nolan (3), Niamh O'Dea (2) and Aoibeann Malone.
Fidelma Marrinan did finally get the Gaels off the mark a minute later and they would match the Banner's effort on two more occasions by the 25th minute at 0-9 to 0-3.
However, the gap soon became a chasm by the interval, starting in the 26th minute when a teasing Niamh Keane delivery caused enough hesistancy in the Gaels' last line for the determined O'Dea to snatch possession and billow the net.
Sensing more riches to be collected, the Banner went for the jugular but Grainne Nolan would be somehow denied twice by defiant goalkeeper Harvey before an injury-time defensive lapse allowed Aoibheann Malone to send the perennial finalists into the break 2-11 to 0-04 clear.
And that would be essentially it really as despite abandoning their defensive structure in a bid to mount a recovery, West Clare Gaels found it increasingly difficult to maintain possession or even provide outlets for theur own restarts as the Banner Ladies moved through the gears once more to tighten their grip on a ninth success in ten seasons.
The awe-inspiring Niamh O'Dea raided for five more points while also earning a 49th minute penalty that Louise Henchy converted to the left corner, with West Clare Gaels' hopes of a similar score just clearing the crossbar on two more occasions through a never-say-die Becky Madigan.
A young West Clare Gaels will be back and in time, better from this experience. However, in truth, a scorned Banner Ladies were never going to let another final slip from their grasp. And after seizing back their county crown, will be determined to exorcise a few more ghosts at provincial level, starting with a home quarter-final tie against the Tipperary champions (either Cahir or Aherlow) in a fortnight's time.
Scorers for Banner Ladies: Niamh O'Dea (1-9, 1f); Grainne Nolan (0-7, 1f); Aoibheann Malone (1-2); Louise Henchy (1-0, Pen); Ciara Corbett (0-2); Orlaith Lynch (0-1)
Scorers for West Clare Gaels: Becky Madigan (0-4); Ciara Harvey (0-2, 1f); Fidelma Marrinan (0-1)
Banner Ladies:
1: Emma O'Driscoll
2: Sinead O'Keeffe
3: Clare Hehir
4: Siobhan McMahon
5: Laoise Ryan
6: Laurie Ryan
7: Sinead Power
8: Louise Henchy
9: Louise Woods
12: Ciara Corbett
11: Grainne Nolan (Captain)
10: Niamh Keane
13: Niamh O'Dea
14: Aoibheann Malone
15: Aoibhin Ryan
Subs:
20: Sarah Ní Cheallaigh for Woods (26, inj)
17: Orlaith Lynch for Nolan (47)
18: Karen Roche for A. Ryan (51)
19: Eva O'Dea for McMahon (53)
21: Niamh Cavanagh for Laurie Ryan (54, inj)
West Clare Gaels:
1: Ciara Harvey
4: Michelle Marrinan
3: Sarah Marrinan
8: Grainne Harvey
5: Aine Moloney
6: Ruth Ferguson
2: Sophie O'Callaghan
9: Fidelma Marrinan
10: Colette Keniry
12: Aoife Lynch
11: Caoimhe Harvey (Captain)
7: Ciara McQuaid
15: Shauna Harvey
14: Becky Madigan
13: Niamh Lardner
Subs:
17: Niamh Morrissey for McQuaid (47)
18: Faye Haugh for O'Callaghan (55)
19: Laura McNamara for M. Marrinan (55)
20: Emma Ferguson for Lynch (57)
Referee: Michael Talty (Kilmurry Ibrickane)