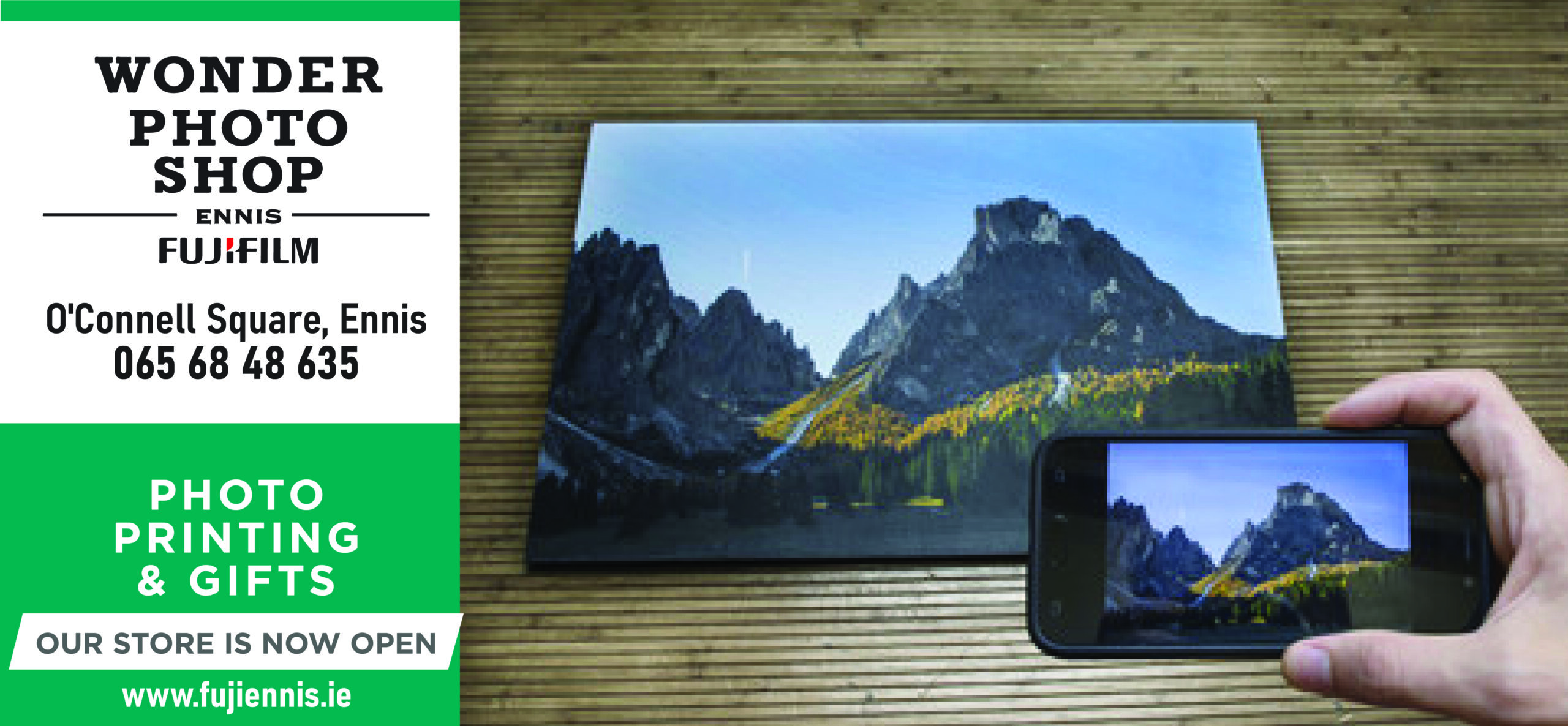 *Photograph: John Mangan
Daily case counts of COVID-19 are not offering a clear picture as close contacts are not being tested, the Department of Public Health Mid-West has flagged.
Considerable deductions have been observed in the amount of new cases emerging in Co Clare, figures this week continued to drop while the 14 day incidence rate per 100k of the population at 536.1 as of Tuesday evening is the ninth lowest in the country.
Across the Mid-West daily infection levels have dropped from 238 cases on January 12, to 70 on January 25 but the Department of Public Health Mid-West has warned that the current daily figures do not present a full picture, "we advise that people still consider everyone they meet a positive case".
Dr Mai Mannix, Director of Public Health Mid-West stated, "It will take a number of weeks before continued positive trends in the community are felt in our hospitals. While the number of Covid positive inpatients in University Hospital Limerick has decreased this week, much of this relates to the delisting of patients as Covid positive rather than recovered patients being discharged from hospital".
Speaking at a press briefing this week, Professor Philip Nolan, Chair of the NPHET Irish Epidemiological Modelling Advisory Group declared that numbers in Irish hospitals have "peaked and plateaued". Admissions per day to hospital has been decreasing for the past two weeks, Professor Nolan outlined. He cautioned that it will take "a long time" for numbers in hospitals to reduce with this to be visible by the end of February.
From the end of this week, numbers in critical care will begin to fall but at a very slow pace, Nolan added. It is likely that more than 100 persons will be in ICUs because of COVID-19 until the end of next month. "It will take a long time to bring the burden on our health system back to reasonable levels". There is "higher levels of infection in healthcare staff and patients than any other point in the pandemic," he stated.
Hospitals in the Mid-West remain "severely challenged" by the virus, UL Hospitals Group CEO, Colette Cowan admitted. This has resulted in "significant curtailment of scheduled care; difficulties in transferring or discharging patients due to outbreaks; and considerable numbers of staff unable to work through illness or contact with COVID-19".
Maria Bridgeman, HSE Mid West Community Healthcare Chief Officer stated that the battle against the virus "has been inhibited by many challenges including staffing so it is vital the public continue to play their part to save lives, please adhere to the public measures, please stay at home and please limit your contacts as every effort and sacrifice you make really does count".
The need to "hold firm, stay focused and continue to follow the public health guidelines," was reiterated by the Mayor of Clare, Cllr Mary Howard (FG). "Those who need us are relying on us," the Ennis representative added.
Chief Executive of Clare County Council, Pat Dowling described the current situation as "urgent" and "critical". He outlined, "While there are signs that we are beginning to flatten the curve of Covid-19 infection, the risk of transmitting or getting the virus is still very high. We must drive down the numbers. The health services, and our frontline workers, are operating under enormous strain".
Dowling confirmed that members of the public who need to access Clare County Council services can do so by phone, email, post or online. An appointments-based service will be in operation where necessary for delivery of essential services. The Clare Covid-19 Community Response Helpline is available to respond to the needs of vulnerable members of the community on 1800 203600.
Public compliance with the guidelines is high in Clare, Chief Superintendent Seán Colleran advised. "In general Gardaí are finding that people are adhering to the Government guidelines and we want to thank the public for this. However, it is vital that this continues over the coming weeks. This will help flatten the curve and save lives. We are asking people not to make journeys unless they are essential. To minimise their contacts. To maintain social distancing. To wash their hands. By taking these steps, we can help protect our loved ones, our neighbours and our communities".
Colleran highlighted that a fixed payment notice of €100 can be issued to a person for travelling without a reasonable excuse by a Garda Síochána and also for the non-wearing of face coverings on public transport and in certain premises unless the person has a reasonable excuse.
"There can be no public gatherings indoors or outdoors and events in private dwellings are not permitted. If a person is non-compliant we will encourage them to comply and will give the person every opportunity to do so but after directing the person to comply and they still refuse we will have no option but enforcement," Chief Supt Colleran added.