*Darren Cullinan. Photograph: Natasha Barton
NEWMARKET CELTIC will bid to make history this Saturday where a win in the Clare Cup final would see them record an unprecedented ten in a row, left-back Darren Cullinan has been there every step of the way.
From their 2012 extra time win over Avenue Utd B right through to beating the same opposition 2-0 in the 2020 decider, Cullinan has been donning the number three jersey for Newmarket Celtic and is set to wear it this coming weekend for their first Cup final encounter with Avenue Utd A since the 2018 tie which finished 3-2 after extra time.
Fellow full-back David O'Grady, Eoin Hayes and Eoin O'Brien along with Cullinan are chasing their tenth Clare Cup medal. The magnitude of the potential achievement creeps into conversations from time to time but it is not blighting their focus according to the number three. Plenty of changes have been visible off the field during this time for Darren who with his wife Serena now have two children keeping them on their toes, "my daughter was born when we won the first Cup, she knows no different all through the years with leagues and cups in Clare, she is on about it at the moment and hopefully we can do it again. I've the young fella thrown in now two years of age so hopefully we will have all that in the future to look forward to, we will look forward to the present now".
Duck admitted that he didn't feel he would still have the hunger to come back in the wake of pandemic-forced lockdowns. "The last two years with COVID, with the age I am it's hard to stay interested and keep tipping over when we couldn't train collectively, once things reopened a group of us got together and asked questions like how committed were we, what we were going to do and thankfully enough of us came back at had another go at it, this is where we are now. After the few weeks back training and meeting the lads regularly, thankfully the hunger did come back".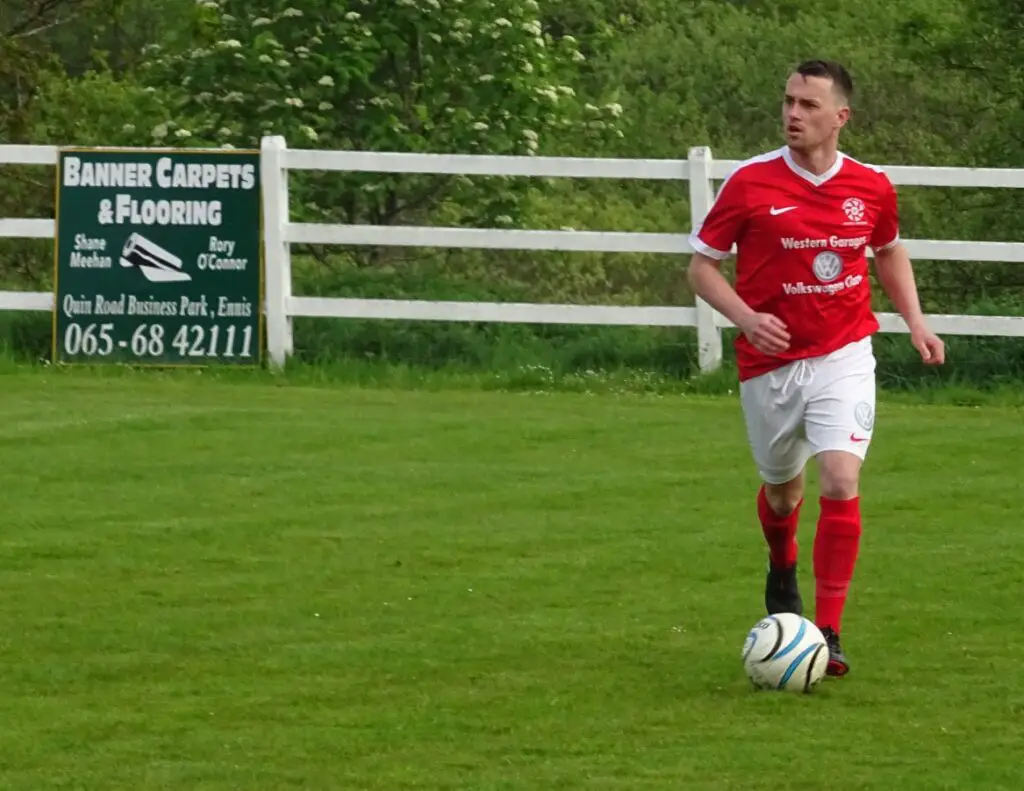 Wembley Rovers in Limerick was his club at underage and also for a year at junior level, when teammates of the time joined different clubs in Limerick and others moved onto the League of Ireland, Duck made the decision to return to Newmarket following their Premier Division success of 2008. "I saw what the lads were doing here, the likes of Paudie Cullinan, Philip Shier they had won the league, I was talking to my own mates like Eoin O'Brien and Eoin Hayes, they were here and I felt the time was right to go back. There's been moments you would think about trying different things again but overall it has been the right choice".
His nephew Harvey signed his first professional contract with Sheffield Utd in June of last year and is seeing his career go from strength to strength. "It is a huge achievement for any young fella, to have it within my own family is amazing, it doesn't surprise me, that might sound like a cliché but I'm not surprised because his attitude, the way he looks after himself and trains, he is probably far more beyond his years in terms of maturity, I'm looking back to how I dealt with situations when I was his age and it probably wasn't the greatest but he has a mature head on his shoulders, it's nice to see it, he's still going well so please God that will continue".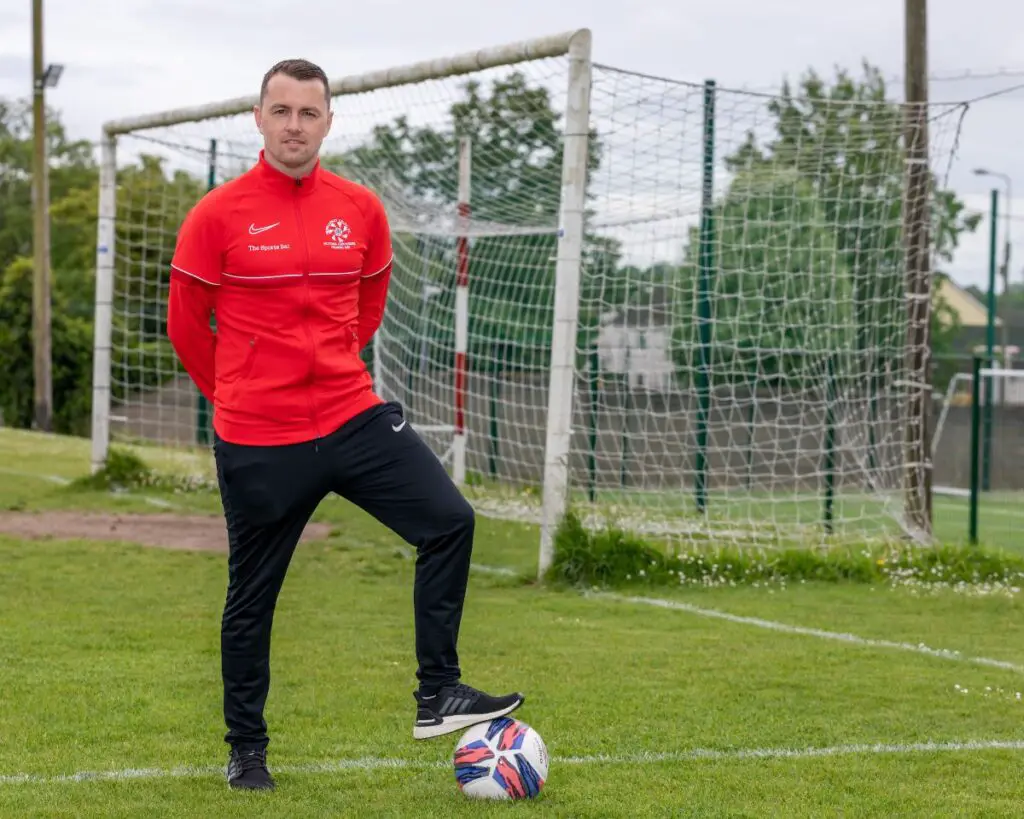 Getting pieces of advice from Harvey can prove difficult, he outlined, "He is actually a hard man to get a conversation out of! He is very quiet, you'd get bits and pieces but I'd like to think he might look at me and take a few notes or so I'd like to think".
Aged 34, Duck isn't the youngest on the side but he's not the oldest either with more injuries having an impact than in his younger days. "The body isn't what it used to be, there's a few aches and pains the whole time. We have Martin Cooney as a physio the whole time, he is excellent, there isn't an hour in the day that he is not available. Hopefully he can prolong it a bit more". Such is the age profile of the squad that Cooney can be considered among the over-worked medics involved with any team in Clare, "he is indeed but I'd say he would save himself a bit of time he cut down half the chat, it is mostly conversations that drag out the length of time with him, he is great to have".
Facing Avenue Utd on Saturday in the Cup final and again in Wednesday's league decider will be difficult for what is viewed as an ageing Celtic side, "It can be difficult, it's harping on again about the age of the squad and the recovery, the club is organised and has a good physio in place, there is nothing that isn't done to help us, there's no excuses, we know what we've to do and everyone will be ready when the time comes".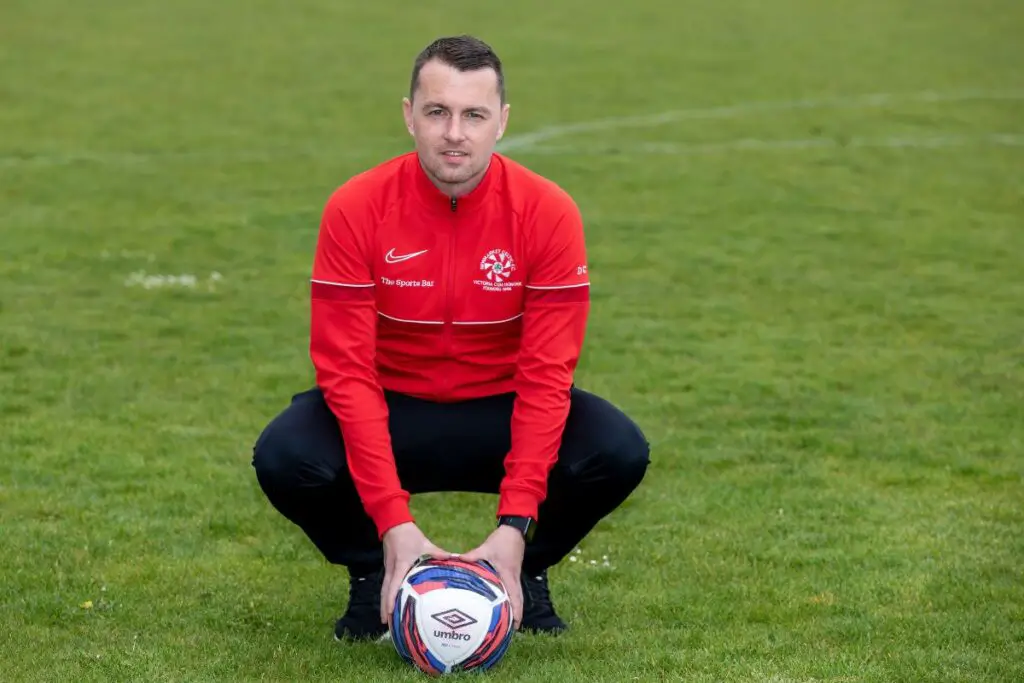 Players have came and gone during their Cup dominance and Cullinan does have regrets over the gaps this has left in the team and their potential progress in the FAI and Munster Junior Cups. "We're just in a situation where within Clare it is very difficult getting top lads in, losing them and trying to replace them again, it is difficult especially for Munster Junior and FAI Junior competitions. What we've done in them over the years has happened due to great management, great organisation and getting good players in, it has been very hard to maintain that though with lads working, travelling away and different situations, it is very hard to keep it going".
Working with Baker Hughes in Shannon, the Newmarket-on-Fergus native looks with a bit of envy at the youth at Avenue's disposal but he remains confident their experience can see them over the line. "They deserve the credit in fairness to them, they look like they've organised themselves up there, they have a decent squad up there. Time is on their side more so than us with regards to the age of the squad they have, we've played them enough times this season to know they have improved and it will take a good Newmarket team to beat them".