For the first time since the beginning of March, there have been no confirmed COVID-19 deaths in the space of 24 hours in Ireland.
Chief Medical Officer, Dr Tony Holohan said the confirmation that nobodyh had died in 24 hours from COVID-19 was "consistent" with the current pattern in the country. He flagged, "there is always an effect with weekend reporting" and referred to there being 4 deaths last Monday.
He said the positive development was "part of the continued trend" but urged the public to continue to adhere to public health advice. 1,606 people have died to date from the virus in Ireland, two cases have been de-notified by the Health Protection Surveillance Centre.
56 new cases have been confirmed by the HPSC across the country. There have been 24,698 confirmed cases since the outbreak of Coronavirus.
Latest detail for Co Clare which is from Saturday (May 23rd) has confirmed an additional one case. 322 people in the country have tested positive for the virus. Figures on the amount of individuals recovered per county have not been publicised.
Kilkenny 334 (0)
Clare 322 (+1)
Roscommon 319 (+1)
Kerry 308 (0)
Longford 281 (+1)
Laois 256 (0)
Wexford 217 (0)
Carlow 152 (0)
Waterford 151 (0)
Sligo 129 (0)
Leitrim 82 (0)#COVID19 17/26 counties with no new case.

0 new deaths in Ireland announced today (Monday).

— Páraic McMahon (@thepmanofficial) May 25, 2020
Of the 1,606 deaths in Ireland, 663 occurred in hospital and 76 in ICU. A total of 1,389 individuals that passed away had underlying conditions. 808 were female and 798 were male. 94 individuals have been admitted to ICU as of Monday morning, 49 of which remain there.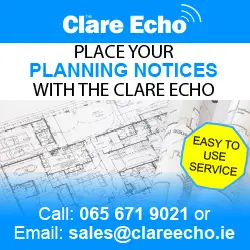 62.6% of those that have died are from long-term residential care settings. An increase of 40 cases in Irish nursing homes have been recorded with the figure now standing at 4,959. There are 458 clusters in residential settings.
Evidence is to be assessed before any potential change on social distancing guidelines are introduced, Dr Holohan stated. He said that the risk attached to the spread of the virus is greater from a distance of 1m than 2m.
He believed a two week interval in between the lifting of restrictions would be "too short". Holohan commented that the framework was not a rigid structure and that "international findings would influence any change". He insisted "the right approach for us to take is a cautious risk based approach".
"If we go too fast we will have to go backwards and that is a bigger challenge for us," he cautioned.
At present, there is no possibility of schools reopening in small groups and small numbers for students that are graduating from first and second level education. "Now is not the right time for indoor mass gatherings," Dr Holohan said.
Consultant Psychiatrist and HSE Integrated Care Lead, Dr Siobhán Ni Bhriain confirmed that "for the first time" there are less than 100 people now residing in the CityWest. The Dublin hotel is being used as a facility for individuals that are unable to self-isolate. She said that in the region of 80 people were currently based there.