*Cllr Cillian Murphy. Photograph: Valerie O'Sullivan
ABSENCE of major crashes at a road junction between Querrin and Lisdeen should not prevent it from undergoing improvements, a West Clare elected representative has said.
An appeal to undertake an assessment of all works required at Johnny Mac's Cross, the junction of the L2016 and L60521-0 "to make it safer for all road users" was made by Cllr Cillian Murphy (FF) at a recent sitting of the West Clare Municipal District.
Senior executive engineer, Alan Kennelly was agreeable to an assessment if it was the wishes of local councillors. "It appears to me from a cursory inspection that a lot of issues at the junction would be resolved if the shed and trees at the southwest corner and trees at the southeast corner of the junction were removed. Visibility sightlines would be greatly increased and overall junction safety much improved," he stated.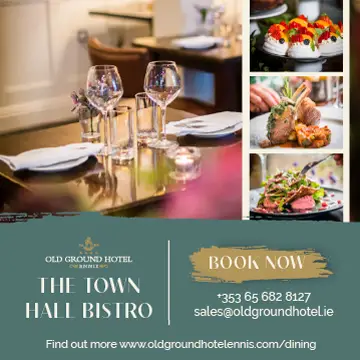 Cllr Murphy explained, "It is one of those junctions you pass without thinking on the main road but it is really scary coming out of the main road". Local residents and farmers have shared their concerns about the junction's safety with the county councillor, he said.
Murphy continued, "You have to come out well onto the midway point before you see it, I'm not aware of any major crashes but I'm aware of a significant number of close scares, myself included, an assessment of what will be required is the first step and then take a phased approach to delivering it, some aspects might be easier or less costly than others but we have to improve safety by a significant percentage".
His proposal was seconded by Cllr Gabriel Keating (FG) while Cllr Ian Lynch (IND) stated that the agreement "that a crossing is needed" was the common rhetoric from anyone who spoke to him about the junction.