Student nurses have been told there are no prospects of them securing posts in Clare and Limerick according to one elected representative.
Minister for Health, Simon Harris and Colette Cowan, CEO of UL Hospitals Group have received written correspondence from Cllr Cathal Crowe. The Fianna Fáil General Election candidate is seeking clarification following reports that no jobs are available for new graduates in hospitals with further cutbacks to services on the cards.
Cllr. Crowe had been contacted by a graduate nurse, who has been on placement, but has now been told that there is no prospect of her securing a post in the Clare-Limerick region. He described the situation in the Mid-West as "extremely worrying".
Last week, the Irish Nurses and Midwives Organisation (INMO) detailed that a recruitment ban had led to a backdrop of 1,317 vacancies among nurses and midwives posts.
"We all know that there is a shortage of nurses and midwives in the health service, yet we have a situation where there is a ban on hiring staff. This seems utterly bizarre. There is now a real concern that services will be cut as a result of this staff shortage. It's turning into a vicious circle and the patients are the ones who will suffer. It is also deeply frustrating for nursing graduates, who have spent the last four years studying and may now be forced abroad because the HSE will not hire them," the Mayor of Clare told The Clare Echo.
"We need to hear from the Health Minister on this issue. I have written to him and to the CEO of the UL Hospitals Group asking for answers. I find it difficult to understand how a recruitment ban could remain in place when our hospitals are under so much pressure – particularly heading into the winter period.This issue needs to be addressed as a matter of urgency. It is unacceptable to be considering further service cuts when those currently available are already struggling to cope with demand", Cllr Crowe concluded.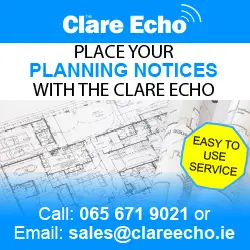 In a response to Crowe's letter, Minister Harris highlighted the temporary ban was due to budgetary constraints. The Wicklow TD flagged that the HSE's financial projections are planned to cater for retaining college nurses but not in their preferred locations. "The HSE are currently preparing financial projections to year end which will include provision for the retention of graduate nurses. I recognise the valuable role our graduate nurses perform in the health sector, and every effort will be made to accommodate requests for posts in specific hospitals on graduation, however unfortunately it is not always possible for the HSE to accommodate all graduate nurses in their preferred locations".