*Callum McNamara, Katie O'Flanagan, Shane Cusack, Glenn Murray, Brid Walsh & Peter Power.
Staying apart but coming together is the slogan of a Newmarket-on-Fergus fundraiser that takes place over the June Bank Holiday weekend.
Prominent organisations from the parish have pooled together to set a challenge with the ultimate goal of raising needed funds for groups and charities providing invaluable services in the locality.
Five clubs, Newmarket-on-Fergus GAA, Newmarket Celtic, Newmarket-on-Fergus camogie, Newmarket-on-Fergus ladies football and Newmarket-on-Fergus handball have joined forces in a bid to unite the community.
As charities are unable to hold physical fundraisers, GoFundMe's use has soared during COVID-19 as efforts are made to provide a financial backing to groups that carry out vital work. This has been recognised and forms a key aim of the Newmarket-on-Fergus 500 Mile Challenge.
Current guidelines from the HSE have prohibited gatherings of more than four people in an outdoor setting so for the Challenge, individuals are to run, walk, crawl or cycle one mile and then donate €10. Every cent raised will be divided between South Clare Meals on Wheels, Bunratty Search and Rescue, Newmarket-on-Fergus Men's Shed, Sláinte an Chláir and Pieta House.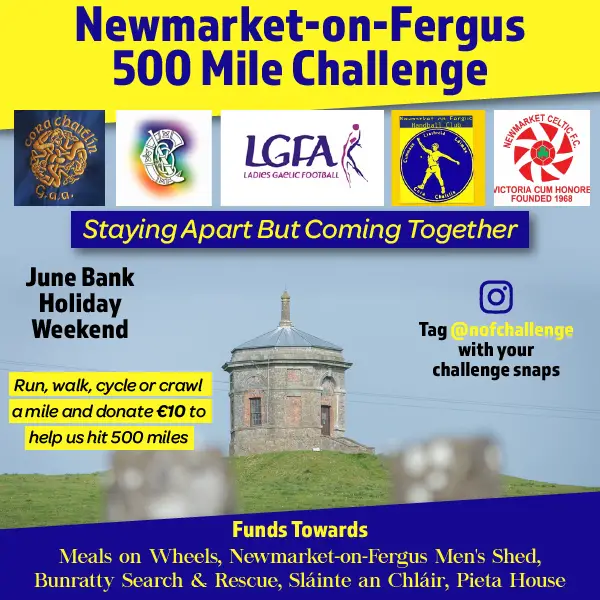 "There is an appreciation and respect for the outstanding work done by each of the chosen groups," said Newmarket Celtic secretary Grainne Hayes. She is of the view that the parish will come out in force "in their own time and while adhering to social distancing guidelines" for the challenge.
Darren Duggan remarked, "I think we are one of the only committees in Ireland to not have a WhatsApp group". Goalkeeper on the Blues championship winning side of 2012, the Galway based Garda has seen first-hand how people are coping during the pandemic and is adamant the 500 Mile Challenge will lift spirits during difficult times.
An Irish seanfhocail 'ni neart go gur le chéile' is mentioned by Páraic McMahon to highlight the power of a united community. McMahon of both The Clare Echo and Newmarket-on-Fergus parishes is also involved in the committee. "It is really in difficult times that we understand how strong a community can be and we want to demonstrate just that by giving as much as we possibly can to our five excellent beneficiaries".
"We've had many unforgettable days on the pitch, those days have to wait for now. What we can do at present is limited but we can come together by staying apart," said Aimee McInerney of the camogie club. Similar sentiments were expressed by ladies football Chairperson, Niamh Glenny who urged participants to wear their club and county colours.
Manager of the Newmarket Celtic A team, Mark O'Malley has encouraged people outside of Newmarket to get involved with the challenge. "All funds are going to groups that offer assistance to people all over the county, now is their chance to repay some of that fantastic help". Although the handball alleys are currently locked, club officer Podge Delaney insisted that its members were determined to play a leading part over the weekend.
To donate to the Newmarket-on-Fergus 500 Mile Challenge, visit the social media channels of any of the five organisations involved and click on the GoFundMe link below.
Jimmy Bullard and Marty Morrissey are just some of the famous faces that have shared their support for the 500 Mile Challenge.