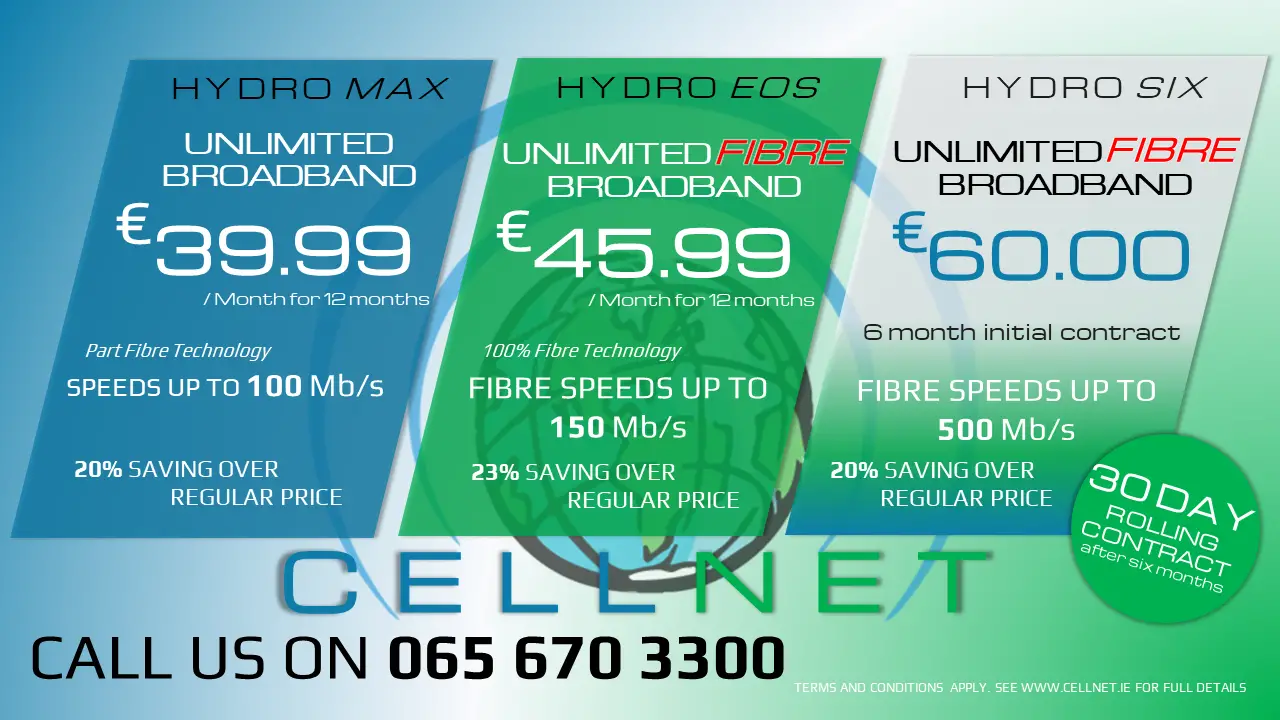 *Newmarket Celtic captain Shane Cusack and Paddy Purcell. Photograph: Mark Hayes
Newmarket Celtic A have made history by claiming their ninth Clare Cup title in a row.
Newmarket Celtic A 2
Avenue Utd B 0
Venue: Frank Healy Park, Doora
Experience and physicality appeared to be the biggest gulf between the sides and a decisive factor in determining the outcome of Sunday's Banner Carpets & Flooring Clare Cup Final. Had Avenue Utd B more of those attributes, they would have caused a major upset.
A young Avenue outfit tested their Premier Division counterparts and most definitely put up a better fight than their club's A team who went down without a fight to Celtic in the semi-finals of the competition earlier this week.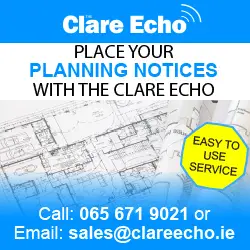 Filled with youth and energy, the Ennis club tore into proceedings intent on upsetting the favourites. That they did by dominating the first twenty minutes. Although Conor McDaid forced a diving save from Shane Cusack on twenty two minutes, a stumbling block throughout the tie was their inability to execute the final pattern of play when nearing closer to Cusack's goal.
Slowly but surely Newmarket began to get to grips with Avenue and despite playing second fiddle for the majority of the first half, crucially managed to take the lead before the interval undoing the hard-work of the First Division Champions.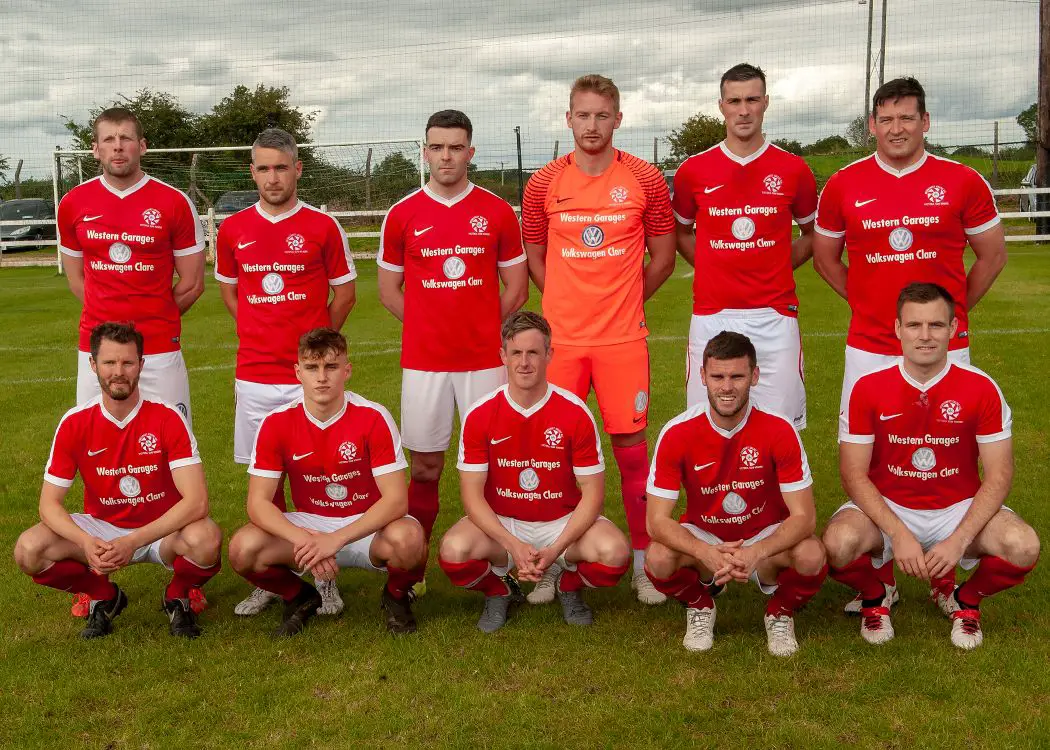 Aiden Jordan stopped a Ronan McCormack effort created following work by David McCarthy and Eoin O'Brien. Jordan's subsequent clearance eventually made its way to the opposite end of the field and to Celtic netminder Cusack. He would kickstart the attack that saw collaboration between Eoin Hayes and Colin Smyth before David McCarthy's shot on goal was deflected past Jordan to break the deadlock on thirty nine minutes.
Conor McDaid came close to testing Cusack on the restart but excellent tracking back by Eoin Hayes allowed him to get a vital block on the midfielder's attempt with fifty five minutes played.
Needing a goal to keep their chances alive, disaster struck for Avenue when they conceded another goal.
Laborious chasing by Kieran Mahony off the back of an Eoin O'Brien throw saw him dispossess Pa Sherlock before putting Kevin Harnett through on goal and the Clare senior footballer made no mistake to leave it at 2-0.
Some nervy moments in the Newmarket defence aside, Avenue's attack didn't worry Shane Cusack to see Celtic hold a clean sheet as they had done in both the quarter-final and semi-final ties of the competition.
While five Newmarket players (David O'Grady, Eoin O'Brien, Eoin Hayes, Darren Cullinan & Daithí O'Connell) won their ninth Clare Cup, several of the Avenue Utd squad were appearing in their first decider. The B side had lost to Celtic in the Cup finals of 2012 and 2016 but really tested the champions at times in this clash but came undone on the physicality stakes.
For them, Cullen McCabe and Conor Hehir stood out in the full-back positions while Conor McDaid was also prominent. Tomas Hehir who was one of the players of the Cup excelled in the early stages of the tie but found life difficult competing against the experienced pair of Stephen Kelly and Paddy Purcell.
Having dominated soccer in Clare for the majority of the last decade, it is only right that the history books associated with the sport in this county will hold a special place for this Newmarket Celtic side. As well as winning an unprecedented nine Clare Cups in a row, they have done the League and Cup double three years on the trot and are 3,451 days unbeaten in the Cup. For Mark O'Malley's side, David McCarthy, Callum McNamara, Stephen Kelly, Kevin Harnett and David O'Grady impressed most.
Newmarket's time to bask in their latest success is hard-earned and while they do so the remainder of clubs in the county must pause for serious reflection. If the lasted accomplishment does not spur the rest of the county to up their game and fight for the titles off Celtic, one would have to wonder what will.
CDSL Chairman Oliver Fitzpatrick hailed Newmarket as one of the greatest teams in the history of Clare soccer following the game before presenting the Cup to Shane Cusack and the man of the match award to Callum McNamara.
During his speech, Cusack singled out the exploits of Avenue Utd B during the league and cup this season and paid tribute to all match officials in the league. "We really appreciate the opportunity to get to finish the season," the goalkeeper said as he paid tribute to Fitzpatrick and CDSL officials for taking the decision to conclude all competitions. Praise for the club committee, management and backroom team was also voiced by Cusack who emphasised the setting of standards by their squad as being a key pillar for their success, "we are still as hungry as ever".
Newmarket Celtic A: Shane Cusack; David O'Grady, Paddy Purcell, Stephen Kelly, Eoin O'Brien; Callum McNamara; Eoin Hayes, Colin Smyth, Kevin Harnett, Ronan McCormack; David McCarthy.
Subs: Kieran Mahony for Smyth (61), Aaron Rudd for Harnett (78), Alan Kelly for McCarthy (82).
Avenue Utd B: Aiden Jordan; Cullen McCabe, Pa Sherlock, Phillip Ryan, Conor Hehir; Conor McDaid; Manus Doherty, Pa McDaid, Nathan Bonaventure; Ronan Lanigan, Tomas Hehir.
Subs: Eoghan Thynne for Bonaventure (61), Eoin Walsh for P McDaid (61).
Referee: Pa Gleeson