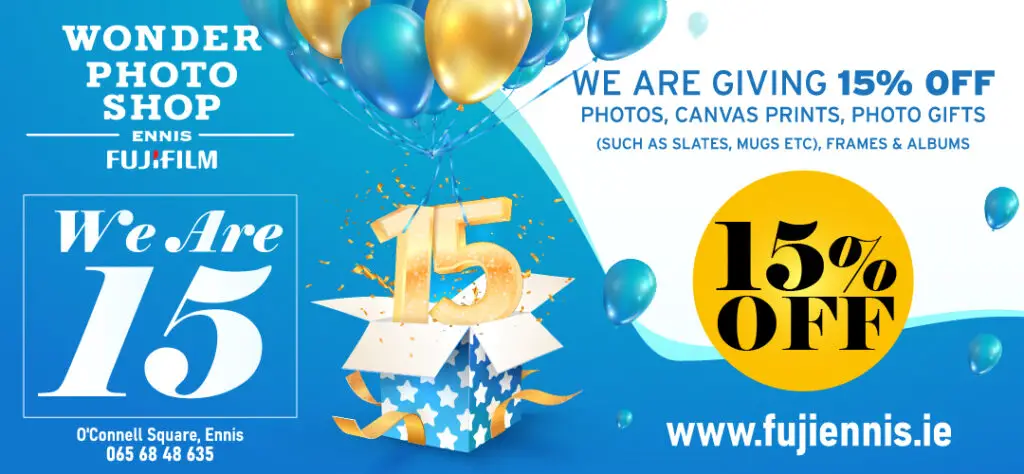 *Tadhg Noonan was on the scoresheet again for Newmarket Celtic. Photograph: Natasha Barton
GAMEWEEK TWO in the Maloney Garden Machinery Premier Division saw no major surprises but a return to winning ways for champions Avenue Utd.
Having suffered a shock start of the season loss to Lifford FC, Avenue Utd steadied the ship while Lifford kept their winning run going as did Bridge Utd and Newmarket Celtic.
Avenue Utd get back on track
Avenue Utd 6
Coole FC 0
Venue: Coole FC Grounds, Gort
Normality resumed for David Russell's charges on Saturday evening when they made the journey to Gort and returned home with their first three points of the season.
Gary Roche showed his ability to nab goals from the bench throughout their memorable run last year and he kept this reputation going, netting a double upon his introduction on Saturday evening to seal the 6-0 win.
An own goal edged Avenue ahead by the half-time juncture but the Ennis club would score two goals in as many minutes when both Dylan Casey and Ronan Kerin found the target.
Roche was not the only substitute to score with Dylan Barry also hitting the net in what was a much improved showing for the winners. Ben McDonagh made his first appearance for the side, the younger brother of fellow squad member Cian was introduced in the second half.
They'll face a step up this coming weekend when they travel to Kerry facing off with Killarney Celtic in the League Champions Trophy first round.
Avenue Utd: James Tierney, Conor Hehir, Jamie Roche, Kaylan O'Loughlin, Dylan Casey, Nneji Nnabuike, Mark Roche, Stephen Talty, Eliaz Kunz, Ronan Kerin, Stephen Jordan.
Subs: Dylan Barry for Nnabuike, Vincent Onouha for Mark Roche, Gary Roche for Kunz, Callum Barrett for Jamie Roche, Ben McDonagh for Talty
Coole FC: P Zeiga, J Mamala, J Farrell, K McCarthy, R Oliveira, C O'Neill, J McDonald, F Tuohy, H Luiv, N Andrade, A Oliviera.
Subs: S O'Sullivan, A Quinn, C Netto, T Murphy, A McMahon, R Nestor, N Smith.
Celtic receive stern test from Shannon Town
Newmarket Celtic 2
Shannon Town Utd 1
Venue: Lynch Park, Shannon
A second win was recorded by Newmarket Celtic but they were made earn the three points when they faced off with Shannon Town Utd.
There was a tenacity to the tie, sparked by the neighbours aspect but also with Colum Treacy, Jack Kelly and Ian Collins making Celtic's starting line-up, the trio had played for Shannon Town last season, both Treacy and Collins had been part of previous Newmarket set-ups while Kelly was the Town's captain last season after his move from Shannon Hibs.
Goals from captain David McCarthy and Tadhg Noonan who also hit the net last week for Newmarket in their facile win over Coole FC did enough for them to collect the three points. The tie also marked the first appearance for Darragh Leahy up front for the Reds, his presence was certainly a factor in the result and is sure to ruffle a few feathers of opposing Premier Division backs this season.
Kieran Hackett scored Shannon Town's goal in what was an improved showing from Steo Dolan's charges, they welcomed back several players who were unavailable for their loss against Tulla Utd.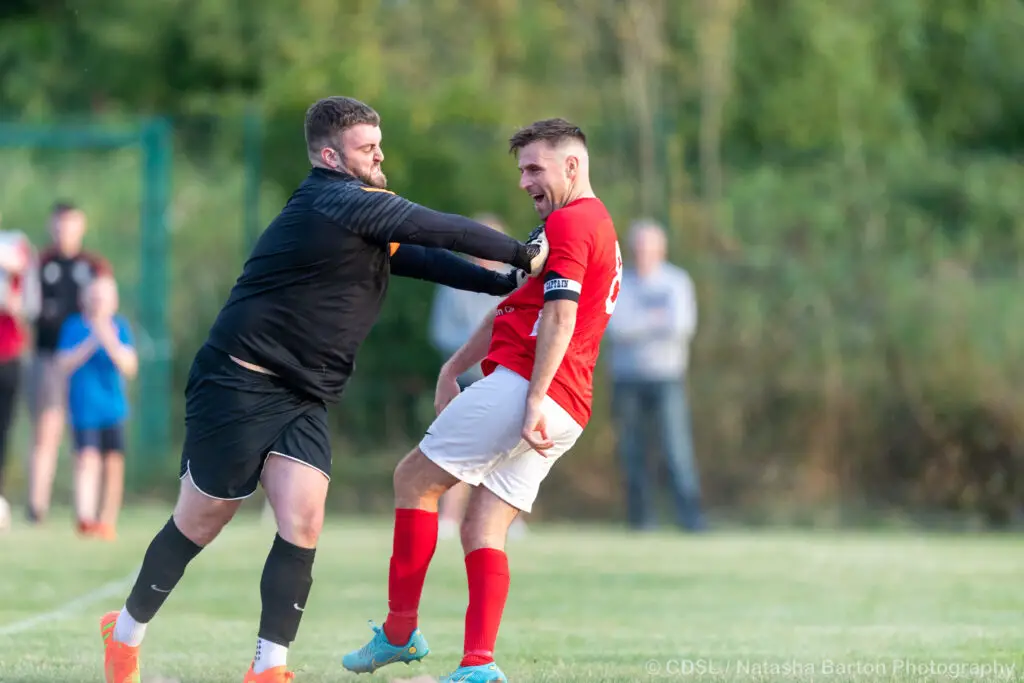 Newmarket Celtic: Shane Cusack; David O'Grady, Colum Treacy, James Fahy, Jack Kelly, Ian Collins, David McCarthy, Conor McDaid, Davy Lennon, Darragh Leahy, Tadgh Noonan
Subs: Kevin Harnett, Eoin Hayes, Aaron Rudd, Billy McNamara, Jashar Aliu
Shannon Town Utd: Shane Russell, Craig Riodran, Fionn McInerney, Natty Nyakujara, Cody Waller, Aaron Kelly, Colin Curran, TJ O'Dwyer, Ben O'Neill, Gavin Carrig, Kieran Hackett.
Subs: Charlie Morrison for Gavin Carrig (20), Eoghan Casey for Waller (70)
Referee: Michael Rock
Doubles from Downes & Daly as Bridge Utd produce the goods again
Bridge Utd 7
Tulla Utd 1
Venue: The Cragg, Tulla
Bridge Utd produced another strong display to go top of the league on scoring difference. They now share the same amount of points as Newmarket Celtic and Lifford.
It was a scoreless opening thirty minutes but Bridge Utd roared into life for the final quarter, scoring five goals prior to the sounding of the half-time whistle.
Jordan Downes and Leon Daly both bagged doubles as the Sixmilebridge side began to find holes in the Tulla defence and the experienced Alan Mulready then get in on the scoring act, heading home from a Leon Daly corner kick.
Tulla pulled a goal back through Eoin Hassett on the restart but the East Clare side from the Windswept Hill knew they had a mountain to climb in the second half.
This ascent proved insurmountable as fifteen year old Jack O'Halloran scored his first senior goal with a glancing header from a Kieran Quinlan corner. Fellow teenager, Darragh Hayes aged sixteen finished off the scoring with a tap in, Conor Maxwell and Adam Fitzpatrick helped to provide the opportunity for the youngster.
Absenteeism was definitely an issue for Tulla Utd, they were without players lining out for the Tulla intermediate hurlers including former Oscar Traynor player Daragh Corry. Mike Moloney's charges were also without a number of players for their win last weekend against Shannon Town Utd.
Bridge Utd themselves were without their hurlers and injured personnel such as the promising Liam Buckley but manager Mark Culbert will certainly be pleased with how well they've started this season's campaign.
Bridge Utd: Luke Woodrow, Jonathan Downes, Jason Whyte, Brandon O'Halloran, Alan Mulready, Kieran Quinlan, Jordan Downes, Adam Fitzpatrick, Paul Corry, Leon Daly, Alex Collins.
Subs: Steve Stewart for Jonathan Downes, Jack O'Halloran for Collins, Darragh Hayes for Corry, Conor Maxwell for Daly, Mikey Carey for Jordan Downes.
Tulla Utd: Eanna Culloo, Fionn Ryan, Diarmuid Molloy, Ray Bane, Adam McNamara, Jack McSweeney, Fiachra Hale, Darragh Murphy, Eoin Hasset, Eoghan Ryan, James Wallace.
Subs: Emmet Lynch for Murphy, David O'Donnell for Eoghan Ryan, Liam McInerney for Hale, Daragh Corry for Bane, Craig McNamara for McInerney.
Lot to like as Lifford make it two from two
Lifford FC 5
Mountshannon Celtic 0
Venue: Mountshannon
Lifford's impressive start to the Premier Division continued in earnest when they produced a 5-0 win against a youthful and inexperienced Mountshannon Celtic.
Playing a nice brand of football, Nathan Rezende's bicycle kick which went to the roof of the net typified how well Adrian Walsh's side were passing the ball and moving off it.
Lifford FC's Nathan Rezende with an early contender for goal of the season.

His bicycle kick was among the highlights as Lifford recorded a 5-0 over Mountshannon Celtic in the Maloney Garden Machinery Premier Division. https://t.co/Wi65B552dw pic.twitter.com/EiOTIjBwPc

— The Clare Echo (@ClareEcho) August 29, 2022
He finished with two goals over the ninety minutes as did Ethan Cronin while Kayo Fernando also got in on the scoring act.
In their first outing of the season, Mountshannon Celtic struggled with numbers and were down a number of experienced players due to hurling commitments involving East Clare teams in both the Clare SHC and IHC.
Lifford FC: Rhys Phillips; Ian McGuane, John Maher, Eoin Monaghan, Darragh Kerins, Seun Olanrewju, Nathan Rezende, Ethan Cronin, Gary McNaboe, Kayo Fernando, Kevin O'Connor.
Subs: Niall Guinnane for McGuane, David Keenan for O'Connor, Darragh Madigan for McNaboe, Zac Guilfoyle for Fernando, Chuks Obadeyi for Cronin.
Mountshannon Celtic: Rhys McNamara, Ben Harrington, Oran Scanlan, Niall Dear, Simon Ball, Oisin Hayes, Michael O'Brien, John Pearl, Harry Gaffey, Ronan Dooley, Sean Browne.
First Division League Cup
Group A
Bridge United B 1-2 Kilkishen
Shannon Hibs W/O Moher Celtic A
Group B
Connolly Celtic 0-1 Shannon Town B
Rhine Rovers 0-0 Newmarket Celtic B
Second Division League Cup
Group A
Avenue United B 1-2 Ennis Dons
Group B
Shannon Hibs B 0-5 Hermitage
Third Division League Cup
Group A
Tulla United B 1-2 Fern Celtic B
Group B
Fairgreen Celtic 7-0 Shannon Town C