A five year Traveller Accommodation programme was recently adapted by elected members of Clare County Council following a vote that one councillor described as "completely pointless".
Twelve councillors voted in favour of the programme with six casting votes against, eight were absent while two Fine Gael representatives abstained.
Findings from the 2016 Census say there are 30,987 Travellers in Ireland, 910 of which are in Clare amounting for one percent of the county's population. Clare County Council carry out an annual count on the amount of residents, as of November 2018 there were 305 Traveller Households resident in Clare.
Detail on the accommodation of Traveller families was provided in the November 18 count. 89 are in Standard Local Authority Social Housing, 42 are sharing with relatives, 35 have come under HAP, 32 are in Traveller Group Homes, 29 are in privately owned units with 19 in RAS / Leasing, 12 are on unauthorised sites, 12 are in Serviced Halting Sites, 6 are in Voluntary Housing with 4 in Emergency Accommodation.
According to the Council's document on the Traveller Accommodation Programme, "The survey provides information on need but this need is not reflected in terms of social housing applicants" of which there were 23. It added, "Traveller households who have expressed interest for standard social housing will be considered in their area of preference".
In the local authority's draft on the programme, it stated there was a total of 59 units of traveller specific accommodation in Clare, it listed eight houses and three serviced bays as being vacant. "As the basis of the needs assessment is unreliable, this Council will continue to allocate properties as they become available in line with our scheme of letting properties".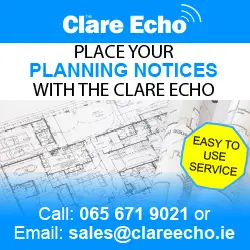 As part of the programme, the Council "will consider the development of a maximum of two additional halting site/group housing schemes/single instance housing to accommodate traveller families based on assessment of housing need".
This programme was proposed at the October meeting of Clare County Council. Cathaoirleach, Cllr Cathal Crowe (FF) cautioned that if councillors did not adopt the programme, the Council's Executive would which lead to Cllr Roisin Garvey (GP) describing the vote as "completely pointless".
A review of the programme is to be carried out in 2021.
FOR – Cllr Ann Norton (IND), Cllr Joe Cooney (FG), Cllr Alan O'Callaghan (FF), Cllr Cathal Crowe (FF), Cllr Michael Begley (IND), Cllr PJ Ryan (IND), Cllr Gerry Flynn (IND), Cllr Shane Talty (FF), Cllr Joe Killeen (FF), Cllr Joe Garrihy (FG), Cllr PJ Kelly (FF), Cllr Bill Chambers (FF).
AGAINST – Cllr Mary Howard (FG), Cllr Johnny Flynn (FG), Cllr Clare Colleran Molloy (FF), Cllr Pat McMahon (FF), Cllr Roisin Garvey (GP), Cllr Cillian Murphy (FF).
ABSTAINED – Cllr Paul Murphy (FG), Cllr Gabriel Keating (FG)
NOT PRESENT – Cllr Mark Nestor (FF), Cllr Pat Daly (FF), Cllr Pat Hayes (FF), Cllr Pat Burke (FG), Cllr Tony O'Brien (FF), Cllr John Crowe (FG), Cllr Mike McKee (SF), Cllr Ian Lynch (FG).