*Photograph: John Mangan
Ireland is seeing "a slow decline in cases (of COVID-19) in all settings" with 38 additional diagnoses made and 5 more deaths reported across the country with no increases recorded in Co Clare.
On Thursday, the Health Protection Surveillance Centre confirmed that a further 5 people with COVID-19 had died in the Republic of Ireland. A total of 1,664 people have now died since the outbreak of the virus, of this 694 occurred in a hospital environment and 82 in ICU with 1501 reported to have underlying conditions.
38 additional cases of the Coronavirus are known to the HPSC in the past 24 hours. To date, 25,142 individuals have tested positive for COVID-19, the recovery rate in the country is currently at 90%. As of 2pm today, 144 people remained in hospitals across Ireland being treated for the virus.
Co Clare has recorded no increase in COVID-19 cases for the first time in four days. Figures attributed to the county as of Tuesday (June 2nd) from the HPSC state that 369 persons have received a positive diagnosis for the Coronavirus.
Clare 369 (0)
Kilkenny 339 (0)
Roscommon 337 (+1)
Kerry 308 (0)
Longford 284 (+1)
Laois 260 (0)
Wexford 213 (0)
Carlow 169 (+3)
Waterford 152 (0)
Sligo 129 (0)
Leitrim 83 (0)#COVID19 14/26 counties with no additional cases.

— Páraic McMahon (@thepmanofficial) June 4, 2020
Professor Philip Nolan, Chair of the NPHET Irish Epidemiological Modelling Advisory Group told Thursday's press briefing that "many markers of the disease continue to decline". He highlighted that the numbers were lower this week than the previous week. "The number of new cases detected per day of the swab being taken are at unprecedentedly low levels".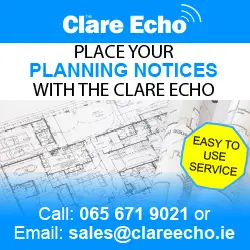 "We are seeing a slow decline in cases in all settings at very low levels," Professor Nolan outlined. The number of deaths per day are "very low" in residential or congregated settings at present, he said.
Hospital admissions linked to the virus have been in single figures for two weeks, Nolan confirmed. He said the average number of confirmed cases was now 48 compared with 60 last week, 178 people were in hospital with COVID-19 last week having been "almost 300" a week previous and the figure is now down to 144.
Numbers in ICU care are "slower to decline for complex medical reasons," Professor Nolan said. To date, 410 individuals have been admitted to ICU, 36 remain with no admissions in the past 24 hours.
House parties being organised "with abandon" is a "continued concern," Chief Medical Officer, Dr Tony Holohan told the press briefing. "If you see a crowd, stay away, if you are invited to something that has a crowd, stay away".
From Saturday's 8,018 healthcare workers that have tested positive for the virus, 302 have been hospitalised, 44 admitted to ICU and 7 have died.
NPHET have had no second thoughts on recommending that Ireland enters phase two of the roadmap for reopening the country. A Cabinet meeting to discuss the proposals is to take place tomorrow morning. Dr Holohan said NPHET were not under pressure from the Government to speed up the easing of restrictions, "it's a public health assessment on a continuous basis".