*Photograph: John Mangan
Ennis' NCT centre has reopened.
15 National Car Test (NCT) centres resumed operations at the beginning of June with the remainder such as Ennis reopening towards the end of the month and the beginning of July.
All NCT certificates were extended by a further four months to minimise pressure on the testing service during COVID-19 restrictions. Minister for Transport, Shane Ross (IND) announced the suspension at the end of March.
At the time of the suspension, no return date was given on when drivers would be able to get their cars tested. As such, operators cancelled all 84,476 appointments which were booked at the time.
Customers that had already booked their car in for testing have been advised to check new test dates on the NCT's website.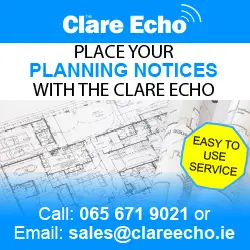 During the restrictions, Applus the company which operates the NCT centres confirmed that vehicle inspection lifts were replaced where necessary.
Use of the lifts was temporarily suspended at the end of January, following the completion of a detailed condition survey a month later, it was revealed that 85 of the 106 lifts in the country were in need of repair. "All centres reopening will have functioning lifts and all tests will be completed in full," a spokesperson said.