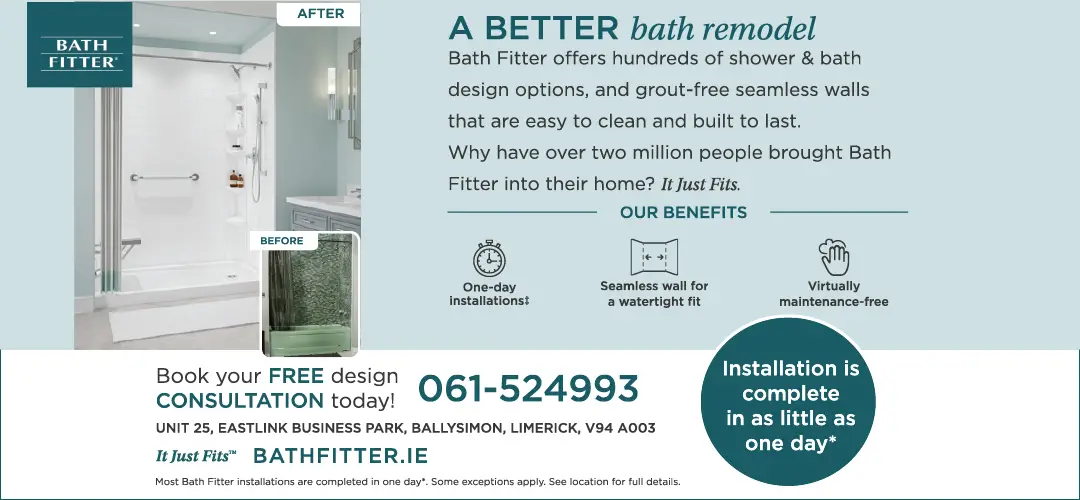 *Niall Bonfill takes on Gary Donnellan. Photograph: Gerard O'Neill
NAOMH EOIN, Kilrush Shamrocks, Kilmihil and Wolfe Tones are the final four teams left in the race to secure promotion to the senior ranks of Clare football.
As the club heads into their 50th anniversary, Naomh Eoin made history at on Saturday evening when qualifying for their first ever intermediate football championship semi-final.
Founded on January 6, 1974, the team from the parish of Cross and Kilbaha upset the form book when they accounted for last year's beaten finalists Cooraclare by the minimum margin.
There was almost another upset but Kilrush put in a strong finish to justify favouritism when recording a two point win over last year's junior A championship winners, Liscannor.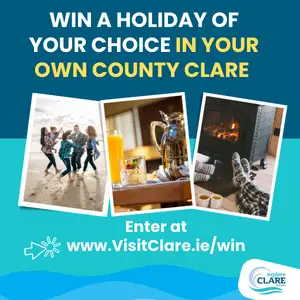 Wolfe Tones proved too strong for Coolmeen on Sunday when they recorded a five point win to seal their semi-final place. Kilmihil prevailed in the last of quarter-finals on Sunday evening.
History makers Naomh Eoin oust Cooraclare
Naomh Eoin 3-8
Cooraclare 2-10
Venue: Shanahan McNamara Park, Doonbeg
The West Clare side got off to a great start with two early goals from wing forward Fergal Keane but with the help of a goal from Micheál Garry, Cooraclare hit back to lead by the minimum margin at the break when the score was 1-6 to 2-2.
The favourites stretched their lead to five points early in the second half helped by a goal from the penalty spot from Ciarán O'Donoghue but Naomh Eoin bounced back and a goal from Conor Magner helped them to get back on terms quickly.
Throughout the final quarter the lead changed hands on a couple of occasions before Owen Lynch, with his fifth of the tie, fired over what proved to be the winning score to the delight of the West Clare outfit's followers.
Fergal Keane, Conor Magner, Sean Bolfil and Conor Tevlin were prominent for the winners in this win.
In fairness to Cooraclare it must be noted that they played in this season's campaign without a number of key players from last year's team including inter county men Pearse Lillis who has emigrated and Brian McNamara who is out through injury while Sean O'Donoghue has also returned to live in the US. That said, however, one cannot take away from Naomh Eoin's great victory
Naomh Eoin; Sean Roche; Declan Keniry, Conor Tevlin, Eoin Hanrahan; Adam Haugh, Mark McQuaid, Tomas Bonfil; Sean Bonfil, Gavin Magner; Fergal Keane, Niall Bonfil, Odhran Lynch; Conor Magner, Gearoid Lynch, Owen Lynch;
Subs; Seamus Boland for G. Lynch; Eoin Daly for McQuaid;
Cooraclare; Mark Lillis; Gary Donnellan, Fergal Donnellan, Ronan Donnellan; Thomas Downes, Robert Ryan, Jake Garry; James Burke, James Chambers; Sean Browne, Mark Tubridy, Padraic O'Donoghue; John Lillis, Micheál Garry, Ciaran O'Donoghue;
Subs; Jack Morrisssey for Tubridy; Jack Carey for R. Ryan; Finn O'Driscoll for Browne; Kevin O'Gorman for J. Lillis
Referee; Michael Talty (Kilmurry Ibrickane)
Favourites Kilrush just get over the line
Kilrush 1-13
Liscannor 1-11
Venue: Páirc Naomh Mhuire, Quilty
An outstanding display from Gearoid O'Brien who scored 0-7, steered favourites Kilrush to this win over Liscannor at Quilty on Saturday evening but they experienced some anxious moments before getting over the line.
Last year's junior A champions produced another great team performance led by long serving former Clare captain Alan Clohessy.
There was little between them from the word go and they went to the break on level terms at 0-6 each.
Kilrush had a great start to the second half when Billy Clancy found the net but Liscannor weren't ruffled and they hit back quickly for a goal from Tom Hanrahan who had moved from defence to wing forward.
It was point for point from here on and with the 60th minute looming and the sides on level terms, extra time looked very likely.
Kilrush weren't to be denied, however, and two late points sealed victory and their place in the semi-finals.
In addition to Gearoid O'Brien, the team's goalkeeper Stephen Ryan made a huge contribution with a couple of outstanding saves while Billy Clancy was another to make a big contribution to this victory.
In what was essentially a great team performance, Alan Clohessy, Dara Blake, Brian Considine and Gavin Duffy were prominent for the North Clare side.
Kilrush Shamrocks: Stephen Ryan; Padraig Browne, Ross Cullinan, Niall Brennan; Ben Cody, Evan Power, Sean Canny; Sean Madigan, Darragh Bolton; Tadhg Lysaght, Billy Clancy, Dean Neary; Dylan O'Brien, Conor Fennell, Gearoid O'Brien.
Subs; Jamie Griffin for Cody; Callum Bond for Fennell;
Liscannor; John Kerin; Tom Hanrahan, Robert Lucas, Michael Foley; Francesco Bonito, Brian Considine, Padraig Haugh; Stephen Murray, Gavin Duffy; Alan Clohessy, Kevin Scales, Brian Leyden; Joe Hanrahan, Cian Guerin, Dara Blake;
Subs; Davy Commane for C. Guerin; Oisin Leyden for T. Hanrahan;
Referee: Jim Hickey (Cratloe)
Wolfe Tones justify favouritism
Wolfe Tones 0-14
Coolmeen 0-9
Venue: Clarecastle
Wolfe Tones justified favouritism when they proved too strong for Coolmeen in this quarter final tie played at Clarecastle on Sunday but the Shannon outfit were made fight all the way by a Coolmeen outfit that at one stage at the beginning of the season didn't look like they would be able to field a team.
Tones had the better of the opening half exchanges and they were 0-7 to 0-2 in front when the half time whistle sounded.
However this scoreline could have been different but Coolmeen were guilty of some missed chances early on while Cathal O'Connor saw his effort for a goal rebound off the upright with the winner's defence beaten.
Meanwhile, at the other end, Craig Rordan, Cian O'Rourke, Billy Connors and Darragh Lohan were amongst the winners' scorers as they built up a lead they would hold to the finish.
Coolmeen piled on the pressure in the third quarter when Aidan Corry, Cian Murphy and Dylan Power hit the target but, overall, the Shannon outfit was better balanced and marched on to the semi-final.
Wolfe Tones: Shane Russell; Shane Nihill, Jayme O'Sullivan, Aaron Brennan; Jason McAuley, Sean Brennan, Eoghan Casey; Joe McGuley, Daithi Lohan; Dean Devanney, Craig Riordan, Aaron Kelly; Cian O'Rourke. Darragh Lohan, Billy Connors;
Subs: Rory Hayes for A. Kelly; Jamie Roughan for Craig Riordan; Colin Riordan for O'Rourke; Brian Monaghan for Connors; Stephen Donnellan for O'Sullivan;
Coolmeen; Jason O'Leary; Daniel Forde, Gary Meaney, Alan Normoyle; Dylan O'Halloran, Brian Markham, Riain Meaney; Eoin O'Connor, Cathal O'Connor; Ben Cleary, Dylan Power, Mark Meaney; Aidan Corry, Cian Murphy, Ronan Murphy
Subs: Thomas Coffey for R Murphy; Jamie Brooks for B. Cleary; Adam Wallace for R Meaney; Eoghan Corry for M. Meaney; Riain Meaney for G. Meaney
Referee: Barry Keating (Lissycasey)
Kilmihil recover after early black cards set back
Kilmihil 1-11
Banner 1-5
Venue: Lissycasey
Reduced to thirteen men early in the tie with two of their defenders in the sin bin for ten minutes each, Kilmihil recovered from this to take control in the second half and book their place in the semi-final with this merited victory.
Goalkeeper Sean Scott Cafferky was black carded after two minutes and the resultant penalty for the Banner was converted by Shane Meehan who drilled the ball past substitute goalkeeper Damian Lineen.
Kilmihil introduced Lineen to replace Cafferkey and they withdrew forward David Egan. They reversed this decision when Cafferkey's ten minutes in the sin bin ended.
Kilmihil were down to thirteen soon after as Dan Keating was black carded but they settled and they struck for a goal midway through the half when Ciaran Downes finished off a David Lernihan delivery and they went on to lead by three points at half time when the score was 1-6 to 1-3.
Banner were very lively in the opening quarter and they certainly had their opponents under pressure but Kilmihil's greater experience helped them get a grip on the tie.
Ciaran Downes and Martin O'Leary kicked all of the winner's total between them with Downes contributing 1-7. and O'Leary landing the remaining four points.
Kilmihil: Sean Scott Cafferkey; Fionn Febrarro, John Finnucane, Mikey Keating; Gearoid O'Grady, Dan Keating, Gavin Downes; David Lernihan, Stan Lineen; David Coughlan, Ciaran Downes, Jack Keating; David Egan, Sean Crowley, Martin O'Leary;
Subs; Damian Lineen for Egan; Egan for Lineen; Conor Crowley for D. Keating (inj); Padraig O'Grady for M. Keating;
Banner; Mark Cleary; Eoin Walsh, Kenneth Higgins, Mufala Flynn; Cian Rynne, James Coakley, Justin McGrath; Niall Walsh, Matthew McGrath; Conor Dennehy Shane Meehan, Brian McDonald; Oisin McMahon, Thomas Meenaghan, Sean McMahon;
Subs: Diarmuid Toner for C. Rynne; Johnny Martyn for J. McGrath; Mufhad Akinwale for M. McGrath
Referee: Jim Hickey (Cratloe)